How Tall Is Snoop Dogg?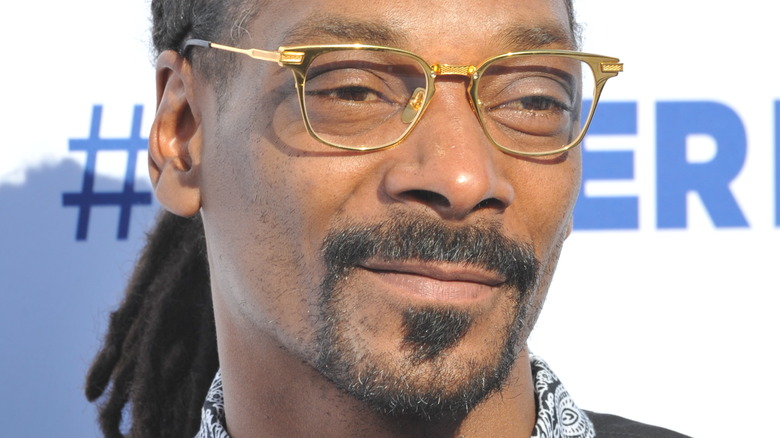 Jaguar PS/Shutterstock
When it comes to someone like Snoop Dogg, there are quite a few tidbits of info that are undeniably intriguing. For instance, you might have wondered about how Snoop Dogg got his stage name. On the other hand, you might not have known that he has famous relatives. Of course, you surely know that he's one of the most successful, respected, and recognizable rappers in the music industry. And that's due, in part, to the star's distinct image.
Just consider the fact that, in October 2016, Vogue declared Snoop Dogg to be a "legend" of not only music, but of fashion, as well. High praise, indeed! With the star still going strong style-wise in October 2021, Complex took a look at a few of his most memorable and notable outfits over the years, including his old-school pinstripe suit from 1996, as well as the sweater vest he wore to an event in 2004 — orange, green, and black argyle, no less!
Of course, a savvy fashion sense isn't the only thing that makes Snoop stand out in a crowd when it comes to his appearance. He also happens to be pretty darn tall.
Snoop Dogg is tall enough to be a professional athlete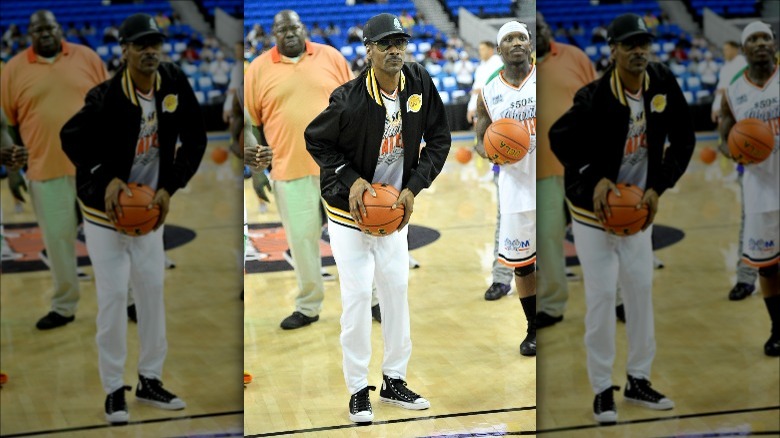 Allen Berezovsky/Getty Images
When Snoop Dogg discussed having the opportunity to take the stage during the 2022 Super Bowl LVI halftime show, he explained to The Associated Press, "For me, when performing, I never let the moment get bigger than me." That's definitely an impressive feat considering he happens to be a big man. Celeb Heights puts him at 6-foot-3, while Heightline claims he's a tad taller at 6-foot-4. Either way, he's taller than the average man in the United States who stands at 5-foot-9, according to Medical News Today.
On the other hand, the average height of an NBA player is just over 6-foot-6, per Run Repeat. That means Snoop could definitely take to the court if he has the skills since he certainly has the height. And there's no doubt that he's quite a sports fan who supports teams from California, which is the place he calls home. After all, Snoop has been known to cheer on the Los Angeles Lakers and Los Angeles Rams, according to RapTV. On top of that, he's even put his athletic skills — and height — to good use while attending training camps run by the Las Vegas Raiders.
Of course, Snoop didn't go into sports professionally, but instead, found fame in the music industry just like a few other particularly tall stars.
Snoop Dogg is among the tallest rappers in the business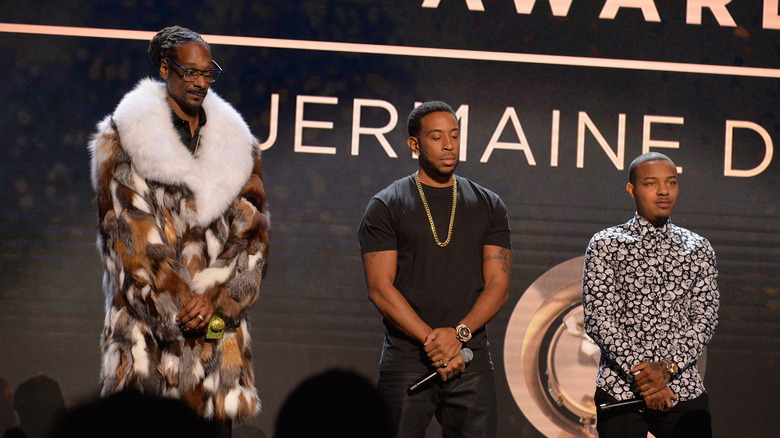 Michael Tullberg/Getty Images
Snoop Dogg is one of the biggest rappers in the game in more than one way. Along with the fact that Snoop is worth quite a bit of money thanks to his successful career, he's also among the tallest rappers around. Frankly, his height tends to surprise some people, with one person taking to Twitter to share a clip of actor Anna Kendrick seemingly taken back by Snoop's size, while another social media user commented, "I did not know Snoop Dogg was that tall."
At the same time, there are some rappers who are around his height or even a touch taller. Machine Gun Kelly, The Game, and G Eazy are all slightly shorter than Snoop at 6-foot-3, while Waka Flocka Flame is the same height as Snoop at 6-foot-4, according to Playback.fm. Kia Shine, 2 Chainz, Andre Nickatina, and Dave East are all one inch taller, while Yung Gravy tops them all at 6-foot-s6.
On the other end of the scale (or height chart), there are rappers who are on the shorter side. For instance, Kanye "Ye" West is around 5-foot-8, per Celeb Heights, as is Ludacris, while Tyga is just a quarter-inch taller. Kendrick Lamar is 5-foot-6 as is Lil Jon, and Lil Wayne is 5-foot-5. Bow Wow is shorter than that and over a foot shorter than Snoop at three-quarters over 5-foot-3. It looks like having a big game does not have a lot to do with whether or not you're a big person.