Kate Middleton Looks Absolutely Gorgeous In Relaxed Belize Ensemble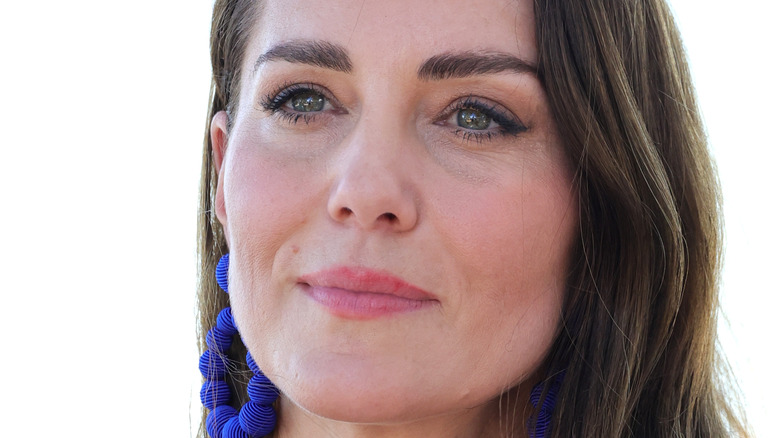 Chris Jackson/Getty Images
Kate Middleton's style has remained a much-needed constant in what has seemed like at least two years of chaos for the royal family. Whether she's being photographed chatting with her husband's alleged lover, standing by William's side as he fields questions about his fallout with Harry, or subtly rolling her eyes when talking about Meghan Markle, there's never a hair out of place.
Kate's royal family members are likely grateful when her impeccable sense of style grabs headlines, distracting from their own exploits. Since Meghan joined the family, the royals have faced an onslaught of bad press. There was Meghan and Harry's abrupt departure from royal life, followed by their infamous 2021 Oprah Winfrey interview in which they claimed Meghan was the object of relentless bullying and racist comments from the family, and finally, the most recent drama surrounding Harry's upcoming memoir.
A little scandal isn't going to stop the royals from royal-ing, though. Kate and the future king, Prince William, have continued to work despite the bad press. Kate and Will are currently on tour through the Caribbean, and as usual, Kate's style is all anyone can talk about.
Kate Middleton style distracted from political drama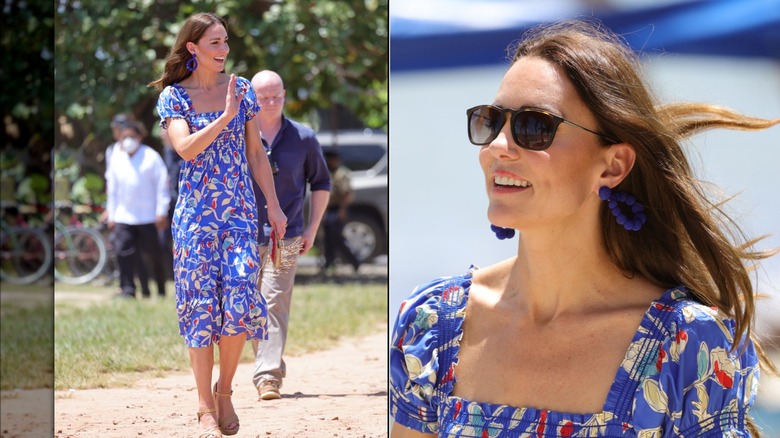 Chris Jackson/Getty Images
Kate Middleton and Prince William's 2022 Caribbean tour got off to a rocky start when the first stop had to be canceled last minute due to protests. The villagers who live near the cacao farm Kate and Will were supposed to visit were angered over the royal's plan to use their football field as a space to land their helicopter. They were reportedly not so much asked as told, which led to anti-colonial protests by the villagers. Following the advice of local authorities, the royals opted to skip the visit to the cacao farm (the first stop of their tour), and found a different cocoa farm to visit the following day, per People.
In typical Kate fashion, the duchess was so well dressed that she distracted from the previous day's drama. While touring the sustainable chocolate farm, Kate wore a blue floral Tory Burch midi dress in the colors of the Belize flag, per Town and Country. The duchess completed the ensemble with a brightly colored wicker clutch, electric blue Sezanne earrings, and neutral wedges.
The couple was all smiles chatting with the farmers and even took some time to dance with the locals. "[William] shook his waist to the music. He had beautiful rhythm," Laura Cacho, who danced with the prince, told BBC. But, as usual, it was Kate who stole the show: "Kate was excellent as well and definitely has Garifuna culture in her."