Hayden Panettiere Pens Heartbreaking Tribute To Comedian Donny Davis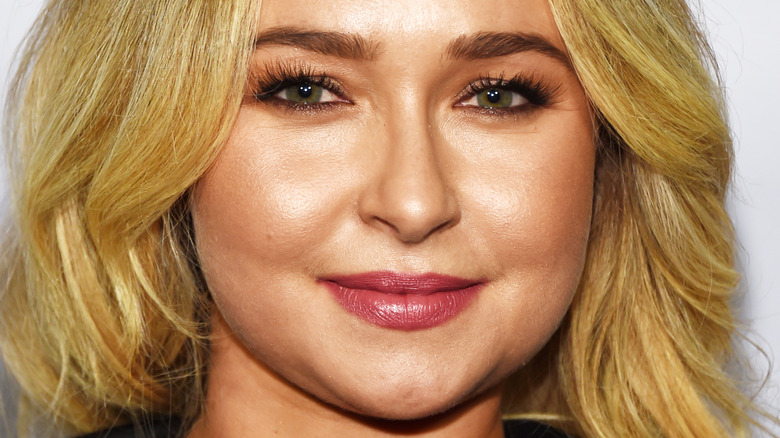 Amanda Edwards/Getty Images
Comedian Donny Davis was announced dead on February 22 at the age of 43, as reported by Las Vegas' 8 News Now, tragically adding another name to the list of celebs who have died in 2022. Davis was found unresponsive in a Resorts World Las Vegas hotel room, and according to a Metropolitan Police Department report, per Las Vegas Review-Journal, the performer was turning blue and biting his tongue before being transported to Sunrise Hospital. He was pronounced dead and, at the time of this writing, the investigation is ongoing and the cause of death has not been confirmed.
Davis was a 4-foot-2-inch comedian known for his appearances on "Chelsea Lately" and a brief role in the film "Pain & Gain." Even more notably, Davis danced in Britney Spears' Las Vegas residency show, toured with Joe Jonas, and worked with many famous faces including Miley Cyrus and Steven Tyler. He also hosted private parties for celebrities while performing at party bar Beacher's Madhouse, according to The Hollywood Reporter. Several friends have shared kind words about Davis in recent weeks.
"[Donny Davis] was a dynamo, with more confidence than I could ever hope to have," Ryan Phillipe shared on Instagram with a series of photos throughout their friendship. "It was impossible to be around him without having a good time. His energy was boundless and he got everything he could out of life with the time he had here." He noted the comedian was "unforgettable," and others agree. Hayden Panetierre has now shared her own insight into the loss.
Hayden Panettiere shares how much she misses her friend
One month after the death of Donny Davis, Hayden Panetierre has shared a small tribute to the comedian. The "Nashville" star posted a photo on Instagram with Davis. The two have their backs to the camera and both are dressed in black formal attire. They are facing a long stretch of a red carpet that leads to an audience in the distance. "You never know how long you have with the people you love," she wrote in the caption.
Despite their friendship being one out of the public eye for the most part, there are a few captured moments of them socializing at birthday parties and getting to spend time together behind the scenes at the 2011 premiere for "Scream 4," per Entertainment Weekly. "My little big brother was there for me through everything," Panetierre continued in her post. "I miss you." 
Davis, with his vast connections in entertainment, has left behind joyful memories from those who knew him best. Fellow comedian Jeff Ross was quick to share a series of photos on his own Instagram when the news broke, stating, "Donny Davis was a rock star ... I'm gonna miss my beautiful generous friend." Ross paid another tribute to his friend on St. Patrick's Day. He posted a photo with Davis in a leprechaun outfit while at Paris Hilton's house — he seriously knew everyone — and, as Ross explains, "Donny was always the life of the party."