The Real Reason Charlamagne Tha God Went To Prison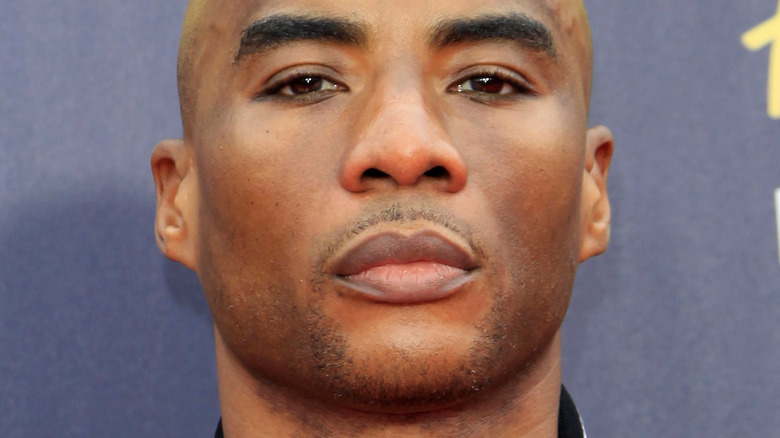 Kathy Hutchins/Shutterstock
No one can deny that media personality Charlamagne tha God has made quite the name for himself. Born Lenard Larry McKelvey, Charlamagne is a staple figure in American music, with his 2020 induction into the Radio Hall of Fame to prove it. He achieved the feat along with DJ Envy and Angela Yee, with whom he co-hosts "The Breakfast Club," the country's most popular hip-hop and R&B morning show. 
But Charlamage's influence goes way beyond the realm of music. Like hip-hop and R&B, Charlamagne isn't afraid to touch upon politics and community issues. In December 2021, Charlamagne made headlines when he hosted Vice President Kamala Harris on his late-night Comedy Central show, "Tha God's Honest Truth." If listeners expected Charlamagne to give Harris a platform to defend her and President Joe Biden's administration amid low approval ratings and ongoing criticism, they were in for a shock. Instead, per The Guardian, the host asked bluntly: "Who is the real president of this country, Joe Biden or Joe Manchin?" (At the time, the question itself was a reference to Senator Manchin's onslaught against the Build Back Better bill.)
But Charlamagne's future didn't always look so promising. Before the radio host was interviewing high-profile politicians, he was a small-town South Carolina kid trying to make it amid often adverse conditions, according to The New York Times. Options were often scarce and his choices were frequently poor. Charlamagne paid the price for them — and ultimately learned his lesson. 
Charlamagne tha God once had trouble with the law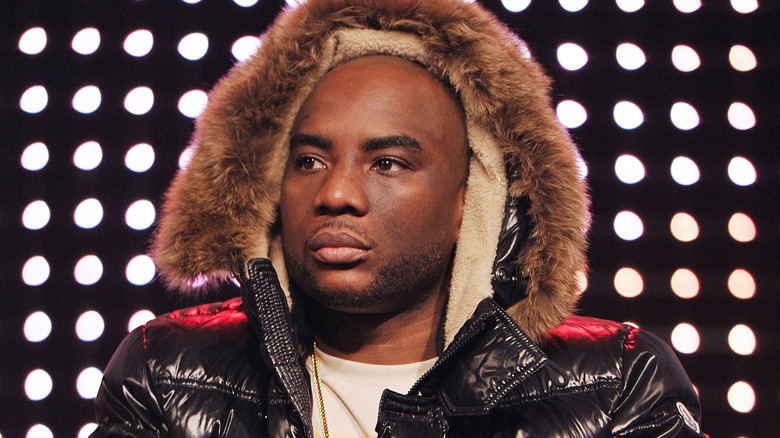 Mike Coppola/Getty Images
As a teenager, Charlamagne tha God started making money by selling drugs. He was arrested for possession of marijuana and cocaine with the intent to distribute twice, he told The New York Times in 2013. He was also arrested for involvement in a shootout, though he contended he was only a witness. "I was in the back seat of a car and a shooting happened, and so all of us ended up going to jail for it," he said. In a 2017 interview on "Elvis Duran and the Morning Show," Charlamagne also admitted to selling crack.
Charlamagne's parents did what was within their power to dissuade their son from pursuing a life in crime. "I had to bust him upside his head a lot of times to get him back on the right track," Charlamagne's father, Larry McKelvy explained to NYT. "He got in with the wrong crowd and did a lot of crazy stuff." Since his dad's tactics were clearly not working, McKelvey opted to let the judicial system teach Charlamagne a lesson. "The third time he got locked up, I let him sit there for approximately 41 days," he recounted.
McKelvey had given Charlamagne plenty of warnings that he would not post bail if he wound up in jail again, the host said on "expediTIously with Tip T.I. Harris." He doesn't blame him. "I was wild," the media personality added.
Charlamagne tha God was also accused of sexual assault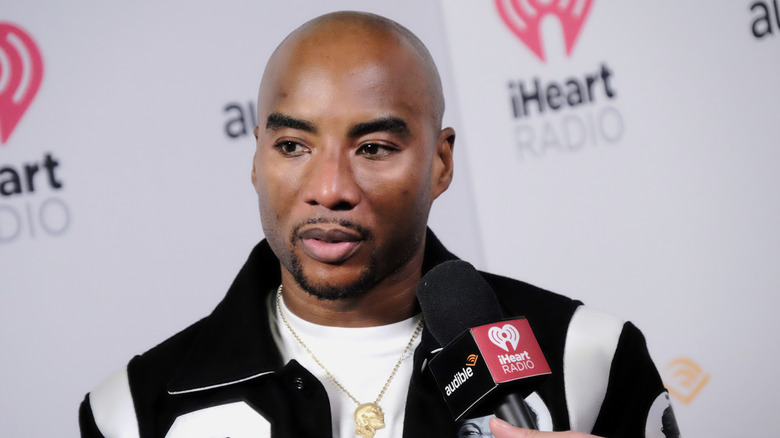 Tommaso Boddi/Getty Images
In 2001, when Charlamagne tha God was in his early 20s, he was accused of sexually assaulting a 15-year-old during a party he organized, TMZ reported in 2018, when the news resurfaced. According to the report, Charlamagne cooperated with authorities and submitted to DNA testing, which reportedly didn't match the samples retrieved from the victim. Charlamagne was arrested for criminal sexual conduct with a minor but pleaded guilty to contributing to the delinquency of a minor for allowing the underage victim to consume alcohol in his home, according to The Daily Beast. Charlamagne was sentenced to three years' probation for the lesser charge. 
In July 2018, the victim, Jessica Reid, detailed her trauma to HollywoodLife, describing also being drugged. Reid said she decided to tell her side of the story after seeing Charlamagne's 2013 interview with YouTuber DJ Akademiks, in which he contended he was falsely accused and argued he was arrested because the police had no other leads. "I saw him try to discredit me and I believe assassinate my character," Reid said. 
If you or anyone you know has been a victim of sexual assault, help is available. Visit the Rape, Abuse & Incest National Network website or contact RAINN's National Helpline at 1-800-656-HOPE (4673).