Pete Davidson's Mom Reacts To Possibility Of Her Son Having A Baby With Kim Kardashian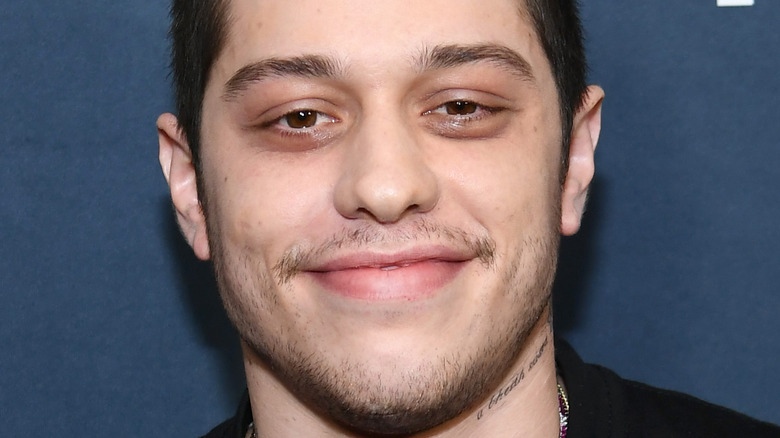 Dimitrios Kambouris/Getty Images
Several signs point to Kim Kardashian and Pete Davidson being committed to their relationship for the long haul. The reality star spoke about throwing caution to the wind when she decided to officially date Davidson. "It feels good. I think it's just in life, like no matter what it is, I encourage my friends and the people that I love just to be happy, and I went for it," Kim said while appearing on "The Ellen DeGeneres Show" on March 16. Time has made the Skims honcho less guarded about dating. "I'm in my 40s, like f**k it," she added.
To show his level of commitment to Kim, the "Saturday Night Live" star got some new ink that included Kim's name. "The 'Kim' one isn't a tattoo. It's actually a branding," she revealed on "Ellen." Davidson even started hanging out with members of his girlfriend's inner-circle. The comedian chilled with Scott Disick and two buddies while they watched a movie, and Davidson filmed himself as the other three fell asleep. Disick later posted the funny clip to his Instagram on March 20, per People.
The new celebrity power couple was spotted getting off a plane together in Los Angeles on March 22 after stopping off in New York, according to another People report. Two days earlier, Davidson and Kim were photographed smooching in a car, per TMZ. That photo sparked an enthusiastic reaction from Davidson's mother.
Pete Davidson's mom has a surprising Instagram response
A Kim Kardashian Instagram fan account reposted a photo of her and Pete Davidson sharing a kiss in a parked car. One excited fan predicted that kids were in the couple's future, and tagged the comedian's mother, Amy Waters Davidson. "She will be pregnant with his child by the end of the year. @amyymarie118," the fan wrote. That prediction sparked a surprising reaction from Davidson's mom who replied with "yayyyy!" (via Page Six). The fan was happy to see Waters Davidson approved and responded with heart and kiss emojis.
While Davidson's mother appears to be on board with him dating the "Keeping Up With the Kardashians" star, she has not always been so keen about her son dating celebrities. She was trepidatious in 2018 when Davidson was dating Ariana Grande. "Pete's mother was very nervous about his relationship with Ariana when they started dating," a family friend told Us Weekly at the time. Apparently, the comedian's mom was worried about her son's mental health, but eventually came around on the relationship. "Pete's mom has grown to love Ariana and can see how much she loves Pete," the source added.
The "Big Time Adolescence" star has a famously close relationship with his mom. Even while Davidson rose to fame, he still lived at home in his mother's basement. In 2019, while appearing on "Dressing Funny" (via People), the comedian joked about wanting to find "the saint who's going to take my mom off my hands."