The Extreme Way Pete Davidson Put Kim Kardashian's Name On His Chest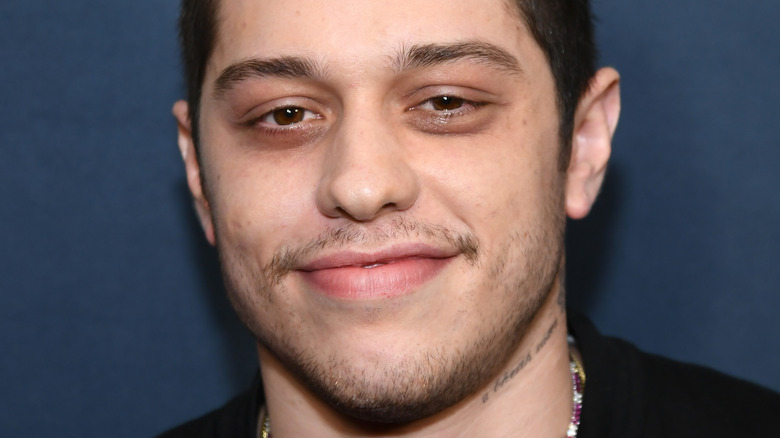 Dimitrios Kambouris/Getty Images
Since news broke of their relationship in October 2021, Kim Kardashian and Pete Davidson have been inseparable. The two have been frequently spotted going out on dates, vacations, and hanging out with their respective families. "They're clearly not hiding their romance," a source told Us Weekly about the couple. "It seems like they want to just be able to do things any normal couple would do and have fun together."
While the couple has tried their best to keep their romance private, Kanye "Ye" West has ignited a massive feud with his soon-to-be ex-wife, repeatedly attacking Davidson on social media and weaponizing his fans against him. However, Davidson has made it clear that he won't stay silent anymore if West continues to harass him or Kim online.
"Kim is literally the best mother I've ever met," Davidson wrote to Ye in an alleged text, which was released by comedian Dave Sirus, at Davidson's request, per the Daily Beast). "... You are so f***king lucky that she's your kids mom. I've decided I'm not gonna let you treat us this way anymore and I'm done being quiet." Now, days after Davidson stood up to Ye, he made his loyalty to Kim extremely clear — and the way he did it has fans wincing.
Pete Davidson has multiple tattoos dedicated to Kim Kardashian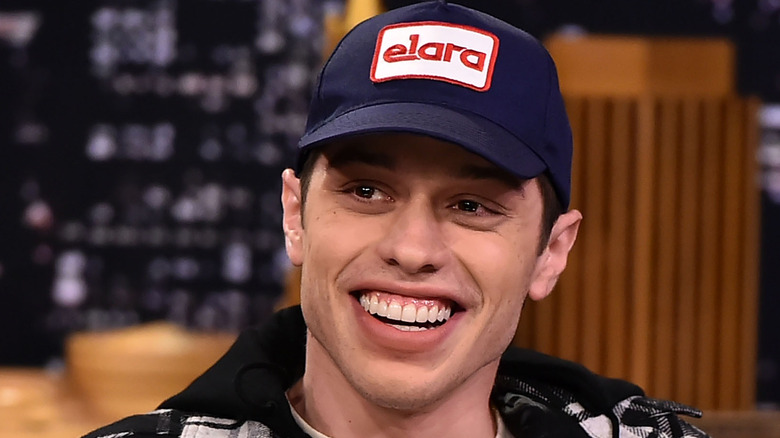 Theo Wargo/Getty Images
Nothing says real love than having your lover's name branded on your body — and that's exactly what Pete Davidson did for Kim Kardashian. Kim revealed the romantic gesture during an appearance on "The Ellen DeGeneres Show" on March 16, telling Ellen DeGeneres that Davidson had her first name literally branded on him.
"He wanted to do something that was really different. The first tattoo he got, I was like 'Oh so cute! Thank you.' The second, whatever. 'That's so cute.' But that's what tattoo people do, right? They get tattoos of what's going on in their life," Kim explained to DeGeneres about Davidson's body art, but noted that he wanted to make her name permanent so that he "can't get rid of" it. She added, "He's in the process of getting rid of his arm tats and neck tats so he's like, 'I don't want to be able to get rid of it or cover it up. I just wanted it there as a scar on me.'" Kim then called Davidson "so cute" for doing it.
Per Insider, Davidson once had over 70 tattoos on his body. However, he told Seth Meyers that he wanted to have most of them lasered off so he could get more acting roles and spend less time in the makeup chair, per People. Still, Davidson's new branding shows that Kim certainly has a permanent spot in his heart — and body.