The Tragic Death Of Madeleine Albright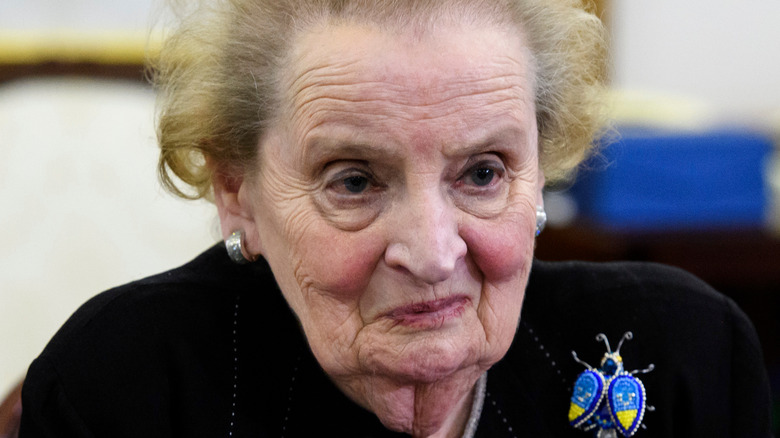 Paparazzza/Shutterstock
Madeleine Albright, the first female U.S. secretary of state — who served in the Bill Clinton administration – died at the age of 84 on March 23, according to CNN. Albright's death was confirmed in a statement by her family on Twitter, confirming the cause of death as cancer. "She was surrounded by family and friends. We have lost a loving mother, grandmother, sister, aunt, and friend."
Albright was one of the most high profile politicians in United States history, having been chosen by Clinton as ambassador to the United Nations in 1993, according to NBC News. In 1996, Clinton nominated her as secretary of state, and in 1997 she was nearly unanimously confirmed by the Senate. She served as secretary of state until the end of Clinton's term in 2001, and she was instrumental in the expansion of NATO.
In the wake of Albright's death, let's take a look back at her influence on the political sphere and the hardships she overcame. 
Madeleine Albright was a trailblazer for women in politics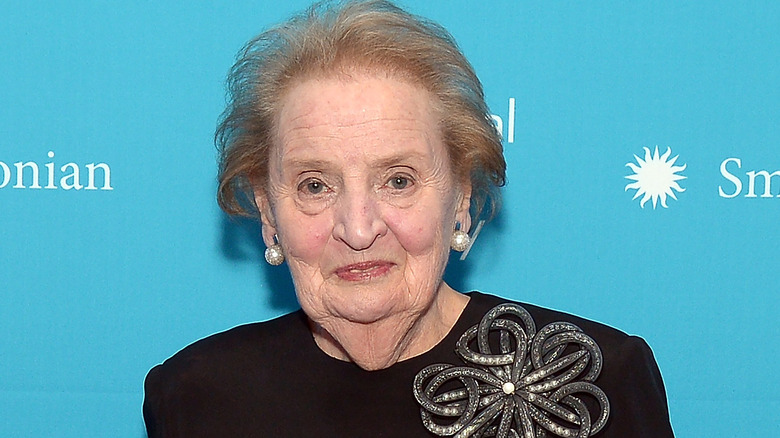 Shannon Finney/Getty Images
Madeleine Albright was born on May 15, 1937 in Smíchov, Prague, per BBC. She fled her home country with her parents to the United States 10 days before the Holocaust, and had devoted her life to fighting totalitarianism and fascism. Albright graduated from Wellesley College in 1959 before attending and earning her masters and doctorate degrees from Columbia University in 1967, according to CNN. Albright dedicated most of her life to politics and was an instrumental figure in U.S. foreign policy between the Cold War and 9/11, advocating for the expansion of NATO and military action in Kosovo. Albright was awarded the Presidential Medal of Freedom in 2012 from former President Barack Obama for her contributions to the United States.
After she finished her term as secretary of state, Albright continued to be involved in politics and served as chair for many of her organizations, according to her family's statement. She also was a professor at Georgetown University's School of Foreign Service up until her death, and released several books throughout her life — with the most recent release being 2018's "Fascism: A Warning."
In one of her last interviews before her death, Albright told USA Today that people shouldn't be afraid to speak up, and that her willingness to interrupt served her well throughout her career. "It took me a long time to find my voice." she said. "But having found it, I'm not going to shut up."