William And Kate's Latest Activities On Their Tour Took Everyone By Surprise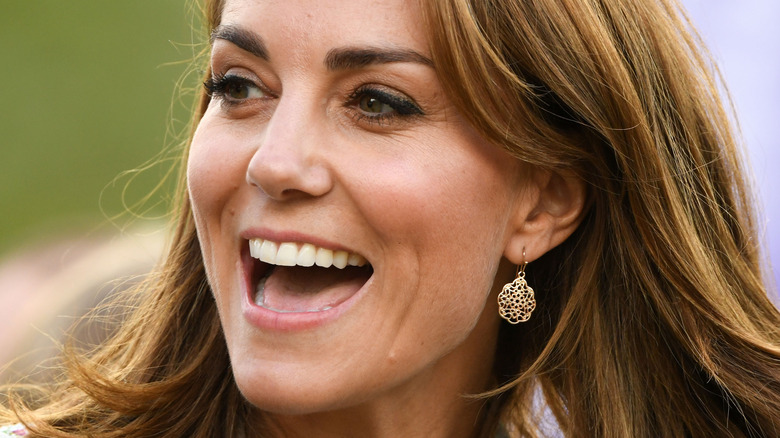 LINGTREN.COM/Shutterstock
Prince William and Kate Middleton are in the middle of their tour of the Caribbean, where they've visited the countries of Belize and Jamaica, though these visits did not go entirely as planned. For one thing, the Duke and Duchess of Cambridge did not receive the warmest of welcomes when they first arrived in either country, where they were immediately greeted with "anti-colonialism" protests, according to The Independent. Protestors in the Jamaican capital reportedly demanded apologies from the royals as well as reparations for slavery. The outlet reports that the government of Jamaica is also in the middle of removing the queen as its head of state, so the timing of Will and Kate's arrival makes the royal visit a little awkward.
If you expected some sort of official royal response to these criticisms, you may be surprised by the recent posts on the official Instagram account of the Duke and Duchess of Cambridge, which don't mention the controversies or protests at all. In fact, Kate and William's activities on their tour resemble those of a tropical vacation. Between hanging out in the jungle and busting out their best dance moves with locals, the Cambridges have shown a looser side to themselves in the Caribbean. The royal couple's latest tour outings continue to surprise royal fans, who never pictured Will and Kate having this much fun.
William and Kate take their tour underwater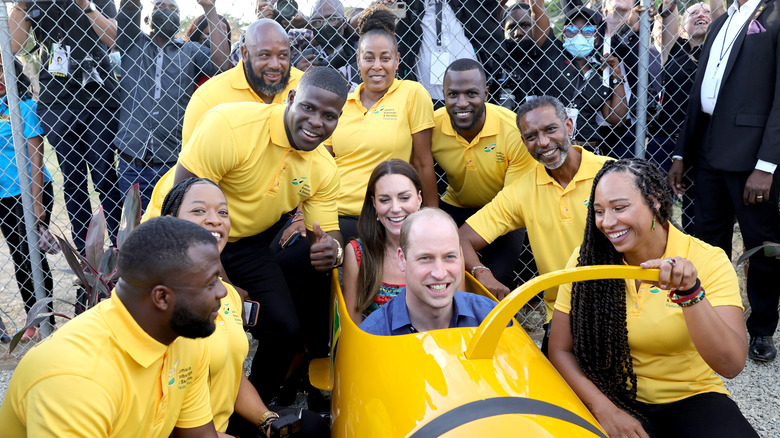 Chris Jackson/Getty Images
Despite the protesting controversy, the latest updates given on Prince William and Kate Middleton's activities while on their Caribbean tour show the royals having a grand old time. While in Kingston, Jamaica, the Cambridges played a friendly soccer match with locals, took selfies with the Jamaican bobsled team, and even posed for pics while sitting in the bobsled themselves, according to Entertainment Tonight. Meanwhile, the official social media accounts for the Duke and Duchess of Cambridge posted photos and videos of the couple going scuba diving in the Belize Barrier Reef, where they swam with sharks and took in the local underwater fauna. 
Many royal fans definitely didn't expect to see the elegant and composed couple going scuba diving. "Put this on the list of things I never thought I'd see W&K doing," one person tweeted in response. Another wrote, "Wow! Is there anything these two can't do? They multitask." One royal fan tweeted, "Catherine can now add scuba diving to her impressive repertoire." Another eagle-eyed fan noticed that Kate appeared to wear her famous 12-carat sapphire engagement ring during the underwater excursion, tweeting, "I would have left that back at the hotel!" We suppose you can take Kate out of Kensington Palace, but you can't take the palace out of Kate on tour!