The Truth About Madeleine Albright's Children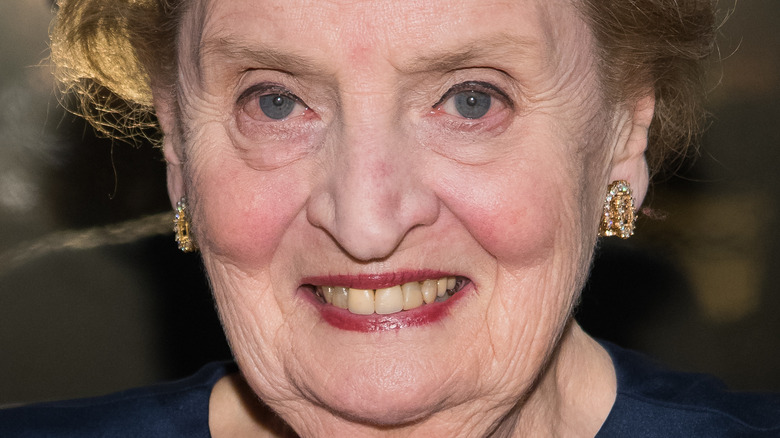 Mike Pont/Getty Images
The first woman to hold office as U.S. Secretary of State, Madeleine Albright, has died at the age of 84. Her time in the Bill Clinton administration highlighted her advocacy for increased human rights and global democracy. According to CNN, her death was announced by an email sent out to the Albright Stonebridge Group and her family confirmed the news on Twitter. 
In addition to her long list of prestigious accomplishments, Albright was named one of USA Today's Women of the Century in 2020 on the 100th anniversary of the 19th Amendment. She openly discussed the different standard she encountered in her field as a woman. Luckily, her "solid foreign policy background" landed her rightful opportunities, but at times there was push-back. "I didn't have any problems with foreign governments ... I had more problems with the men in our own government," she said. But this hardly slowed Albright down, and her direct approach on home soil and overseas proved effective. 
"I was fairly direct, I have to say, because I think that sometimes it's important in terms of the tone," she explained. "I don't think frankly that I was rougher, tougher, or anything than any man. I just think that people were surprised to hear some of that language from a woman." Despite her years of dedicated experience in foreign affairs and various political works, Albright also raised children who would go on to follow in her steps in their own ways. Here is a little about the next generation of Albright women.
Madeleine Albright's daughters have 'very dynamic jobs'
In an interview with MAKERS discussing the challenges of being a working mom, Madeleine Albright said, "I have three daughters, all of whom are married, and all who have children, and all who have very dynamic jobs, and we talk about this all the time, that it's not easy." It may not be easy, but this family is a determined bunch. In 1961, she gave birth to twin daughters Alice Patterson Albright and Anne Korbel Albright, who were born six weeks premature. In 1967, she gave birth to another daughter named Katherine Medill Albright, per Biography.
Alice was a Williams College graduate and went on to receive a master's degree in international affairs from Columbia University. She was married in 1987 and her twin sister was the maid of honor, according to The New York Times. Anne graduated from Dartmouth with a focus in history and economics — later graduating cum laude from Georgetown University Law Center. She has a long list of experience in law, according to her Maryland government profile, and she was appointed as a judge for the first 6th Circuit Court in Montgomery County in the state in 2011.
Katherine, known as Katie, also graduated from Williams College and Georgetown University Law Center. She works as an attorney and is also the executive director of Safe and Sound, a child advocacy organization in San Francisco. She has represented public schools as a deputy city attorney and co-founded the Kayole-Gitau Nursery School and Community Center in Nairobi, Kenya.