Teddi Mellencamp Shares Results Of Her Biopsy For Suspected Melanoma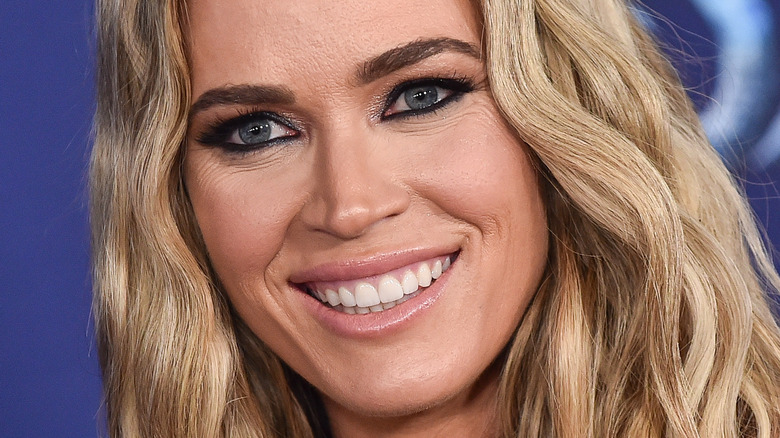 DFree/Shutterstock
Teddi Mellencamp had some nerve-wracking news for fans on March 17. The former "The Real Housewives of Beverly Hills" cast member revealed on Instagram that she was nervously awaiting biopsy results for suspected melanoma. After friend and ex-castmate Kyle Richards noticed a growing discoloration on her back, Teddi wrote, "[S]he immediately took me to the doc who within minutes said it looks like melanoma and did a big removal." Teddi also used the post as an opportunity to encourage other women to get their skin checked annually. The reality star shared that she "had been avoiding" it due to her "own anxiety for a very long time," and took comfort "in being honest" with fans.
Melanoma is described by Mayo Clinic as "the most serious type" of skin cancer, forming in the skin cells that produce our pigmentation. Teddi — who is 40 years old — falls into the group most at risk for melanoma, although cases are rising in women under 40, per Mayo. Treatable if detected early, one of the most significant signs of possible melanoma is changes in the coloration of a mole, as was Teddi's case. 
Five days after Teddi's biopsy, the nutrition and wellness coach returned to social media to share her results.
Teddi hopes her melanoma experience inspires others
Teddi Mellencamp is counting her blessings. In a March 22 update on her melanoma biopsy, the fitness coach and reality star wrote, "Got my results back and it's good news: melanoma in situ which means the cancer cells were contained in that area of my skin and have not spread any deeper!" Per Cancer Research UK, "melanoma in situ" is also known as stage 0 melanoma, or sometimes "pre cancer," as the cancer cells have stopped growing past our top layer of skin (i.e. the epidermis). 
Teddi continued, "I feel blessed and relieved but also grateful to have diligent friends and doctors to watch out for me. I'll now need to have 3-month checkups, while always making sure to wear sunscreen (a given, I know!) and protective clothing." The former Bravo star, beaming in the post's accompanying selfie, also hoped that her early action in detecting the melanoma would inspire others to check themselves. "Our skin is something a lot of us take for granted but not me anymore— and I hope not you either," she concluded. 
Current "The Real Housewives of Beverly Hills" star Crystal Kung Minkoff cheered on the good news, writing an emphatic, "Yeah!!!!!!!!" Meanwhile, aesthetician-to-the-stars Candace Marino praised Teddi's candor about her experience, writing, "So happy to hear you got good news with your diagnosis! And thank you for spreading this info to your following! So important."