Jon Stewart Reveals How Pete Davidson Is Really Doing Amid All The Kanye West Drama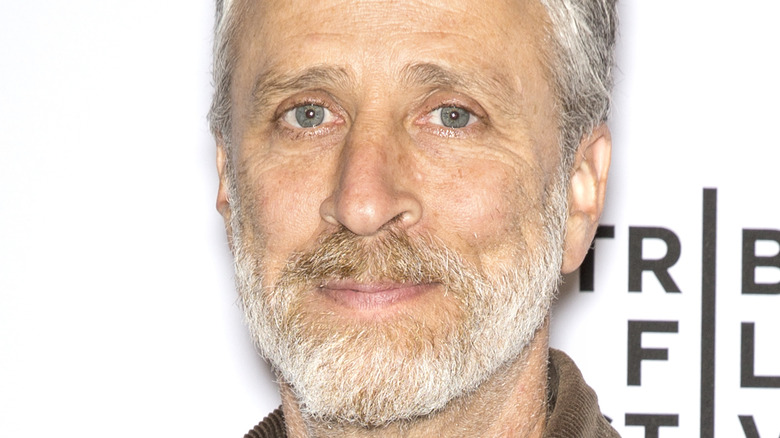 Ovidiu Hrubaru/Shutterstock
Amid the Grammys 2022 cancellation of Kanye "Ye" West's performance and the rapper's 24-hour Instagram ban lingers the question: When will Ye's online reign of terror against comedian Pete Davidson end? Despite a source telling People in early March that "Pete is being as calm and cool as possible," Davidson appeared to confront Ye directly in a text message exchange shared (and since-deleted) by friend Dave Sirius, per Page Six. Among other things, Davidson allegedly wrote Ye, "You don't scare me bro," adding, "It's so sad to watch you ruin ur legacy on the daily." Although he did not mention specifics (like Ye's music video in which he buries a claymation version of Davidson alive), the comedian promised, "If you continue to press me like you have for the past 6 months I'm gonna stop being so nice."
Despite Ye's verbal threats toward Davidson both on social media and in his music ("God saved me from that crash / Just so I can beat Pete Davidson's ass," he raps on "Eazy," per Genius), some believe Ye's aggression stops at talk. Ye's own ex-bodyguard, Steve Stanulis, told Fox News in late March that Davidson had nothing to worry about physically. As he explained, "Pete is high-profiled... As much street clout Kanye has, or whatever you want to call it, he's not stupid... I think it's all social media drama, absolutely." 
Now, Jon Stewart has added his insight into Davidson's view of this one-sided feud.
Jon Stewart hearts Pete Davidson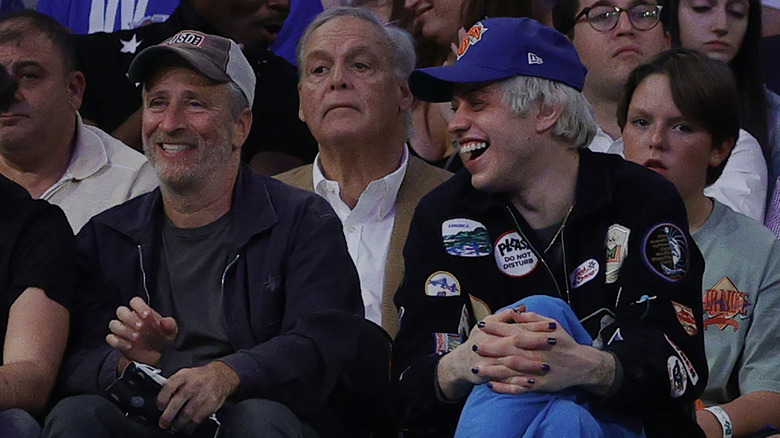 Sarah Stier/Getty Images
We love a wholesome bromance! During a March 22 appearance on Howard Stern's SiriusXM radio show, Jon Stewart was asked about longtime friend Pete Davidson's feelings amid Kanye "Ye" West's continued online attacks. Stewart, gushing with pride, responded, "I think he's doing as best you can in that situation when you're dealing with something that's so explosive and loaded, with all kinds of other things. I just love that kid," according to People. 
Stewart also described how he has taken the "King of Staten Island" star under his wing in a way, sharing, "He and I know each other from comedy, from going on the road... I always have a very paternal instinct on those guys because I've seen too many of my friends get in trouble and some of them die, and you don't [want that]." 
This isn't the first time Stewart has sung Davidson's praises in public. During a 2021 game of "Wheel of Opinions" on "The Tonight Show Starring Jimmy Fallon," Stewart asserted in a surprise appearance, "Here's one opinion you may not know, I love Pete Davidson." It's unsurprising the two comics bonded so easily. When the topic of "Mets vs Yankees" arose during the game, Davidson said in front of the famously Mets-loving Stewart, "I always root for the Mets because their fans are sad."