Sharon Stone Claps Back At The Tabloids Questioning Her Style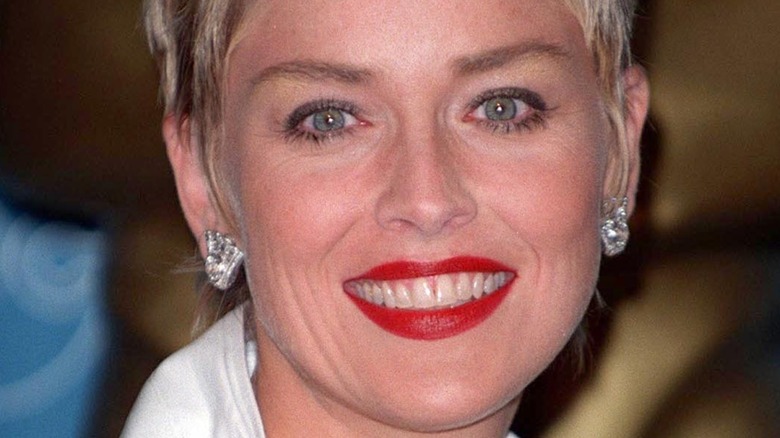 Featureflash Photo Agency/Shutterstock
We can all agree that you don't want to mess with "Basic Instinct" star and iconic beauty Sharon Stone. The legendary actor has never shied away from giving her opinion on a variety of topics, whether it's sharing some choice words about acting with Meryl Streep, slamming the online dating app Bumble for blocking her from using the platform, or chirping podcast host Joe Rogan for spreading COVID-19 misinformation. She once even defied actor Jonah Hill's request for fans to stop commenting on his body by — you guessed it — commenting on his looks, per Page Six. The "Sliver" star is a rebel through and through.
Now, the stylish and sleek woman who stole Robert DeNiro's heart in "Casino" is clapping back at tabloid columns that exist solely to deconstruct and critique the style of celebrities when they're going about their day. According to Stone, their tactics are just a little too akin to Regina George's Burn Book in "Mean Girls." Stone took to social media to let them and everyone else know that she's not here to make "fetch" happen. 
Sharon Stone slammed Us Weekly for what she called "Mean Girls" coverage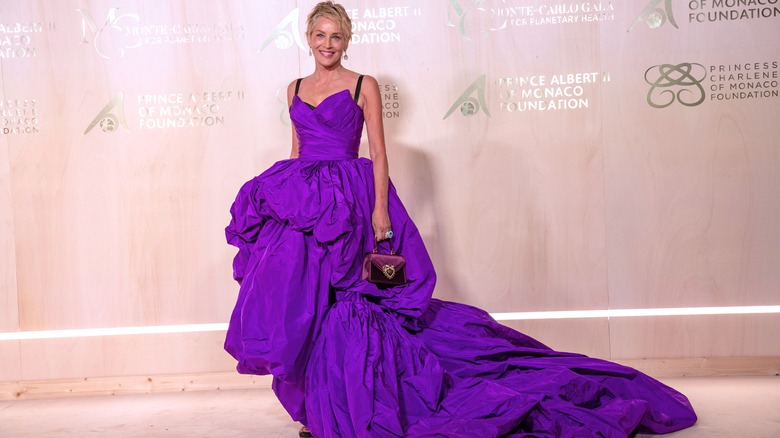 Macri Roland/Shutterstock
Sharon Stone's tweet included a picture of the magazine's glossy page, with a photograph of Stone not on a red carpet or at a press junket, but just walking down the street minding her own business. The glossy page included the remarks of three supposed fashion experts commenting on her casual look of a sweater, brimmed hat, and jeans. With the comments overlaying her street style, they read, "She's the only tourist who travels with emotional baggage," "Her Basic Instinct is to shop at Goodwill," and "She just doesn't give a rip."
Putting aside the fact that tabloids generally tend to shame women in the public eye for their looks while men are exempt, there's an added cruel and nasty undertone to these comments that Stone likened to "Mean Girls." She tweeted, "US MAGAZINE, when is mean girl season over? I wore my sister's fave sweater she gave me to lunch when mom was in hospital, she brought me the hat as a present." 
Stone stans are flocking to her defense on the platform, writing, "Tabloids really never cease to amaze me with how scummy they are." Another wrote, "Who are these 3 hollow empty vessels that feel the need to opine on something so petty and unimportant ... I hope the era of mean spirited celebrity fashion commentary is coming to an end."