Why Liam Hemsworth Hated Kissing Jennifer Lawrence In The Hunger Games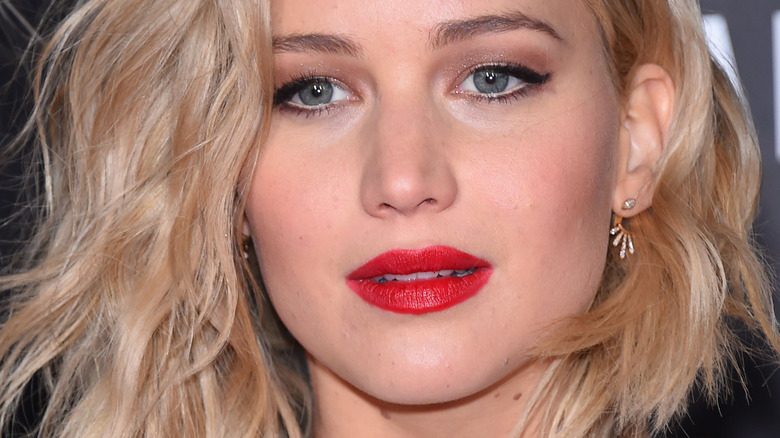 DFree/Shutterstock
Jennifer Lawrence became equally popular for her Oscar-worthy acting skills as she did for her unselfconsciousness and penchant for oversharing. As soon as Lawrence burst out onto the scene, she showed she wasn't above tripping at the Oscars, climbing over chairs while holding a wine glass, or freaking out in front of the camera when Jack Nicholson complimented her.
J.Law is also not afraid to dish the dirt on her co-stars' attitudes behind the scenes. For instance, how did Lawrence find Leonardo DiCaprio and Timothée Chalamet's onset behavior in "Don't Look Up"? Annoying, as she said on "The Late Show with Stephen Colbert" in December 2021. "They drove me crazy," Lawrence said, referring to a car scene the three shot together. According to Lawrence, DiCaprio wouldn't shut up about the song they were listening to, and Chalamet was overly excited about being "out of the house," she said. "It was hell." 
Lawrence is just as comfortable making fun of her own behavior. "I don't wash my hands after I go to the bathroom," she said on "MTV After Hours with Josh Horowitz" in 2015. She later clarified that it only applies when she uses her own bathroom at home. "I would never use a public restroom and not wash my hands," she told Sky News. Lawrence also admitted that her hygiene — specifically, her oral hygiene — on set depends on whom she's co-starring with. With Liam Hemsworth in "The Hunger Games," she couldn't bother too much.
Jennifer Lawrence ate stinky food before kissing Liam Hemsworth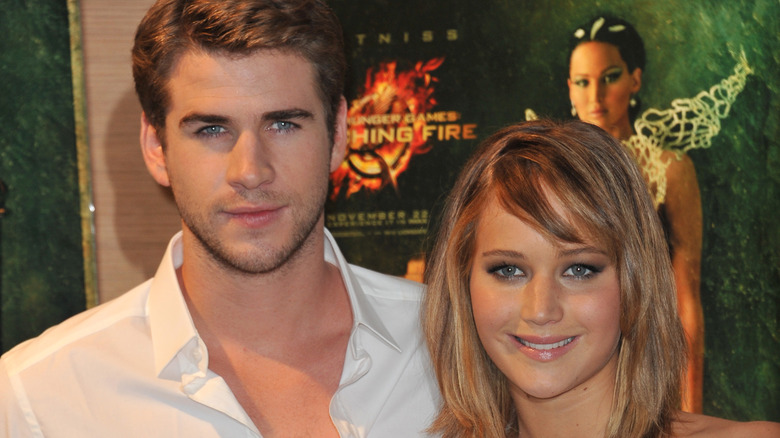 Featureflash Photo Agency/Shutterstock
Jennifer Lawrence wasn't paying much attention to her hygiene when she filmed "The Hunger Games" alongside Liam Hemsworth and Josh Hutcherson. "Whenever I had to kiss Josh and Liam for 'The Hunger Games,' who cares? I'd eat like mustard and tuna, like, who cares?" she said on "The Graham Norton Show" in 2016. In fact, she often ate foul-smelling foods when she knew they would have intimate scenes for kicks. 
That habit made the experience "awkward," Hemsworth said on "The Tonight Show Starring Jimmy Fallon" in 2014. "If we had a kissing scene, she would make a point of eating garlic or tuna fish or, you know, something that was disgusting," the Australian actor told Fallon. At least she would inform him of it before the kissing happened so he could prepare. "Fantastic, I can't wait to get in there and taste it," he joked.
However, Lawrence must have changed her tune at some point, as she admitted to kissing Hemsworth for reasons unrelated to work. "Liam and I grew up together. Liam's real hot," Lawrence said during an appearance on Andy Cohen's "Watch What Happens Live!" in 2015. "What would you have done?" When Cohen replied that he would've kissed Hemsworth, Lawrence confessed that "yeah," she had done exactly that. Those kisses seemingly never amounted to more, considering they often refer to each other as pals, with Hemsworth calling Lawrence one of his "best friends" in the Fallon interview.
Jennifer Lawrence was more careful with other actors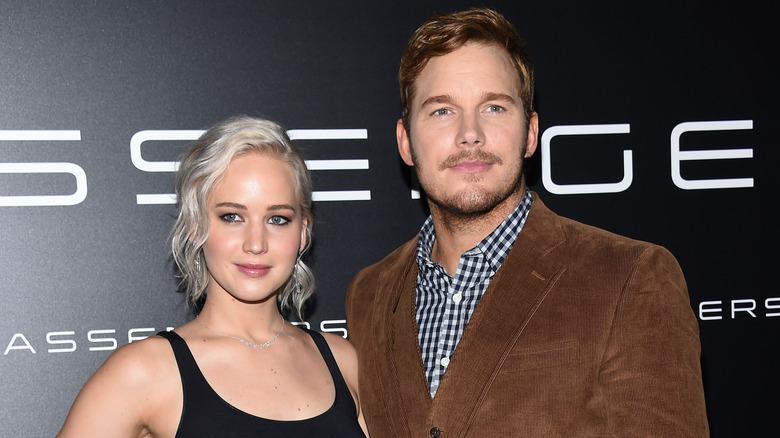 DFree/Shutterstock
Considering Jennifer Lawrence, Liam Hemsworth, and Josh Hutcherson became close friends while working with each other for so many years, their interactions often toed the line between professionalism and friendship, per E! News. It often got awkward — and unfortunately for Hutcherson, he, too, was not spared when it came to Lawrence's kissing-related antics. "In the resuscitation [scene in the film] there was a kiss and there was slobber, and the slobber sort of got connected to my face. It will be very hot," Hutcherson told the audience at San Diego Comic-Con in 2013, ahead of "Catching Fire" (via MTV News). Lawrence, who was by his side, agreed. "There's all this snot coming out of my nose, and when I go to kiss Josh, it connects with his mouth."
For later projects, Lawrence's approach to kissing co-stars in films differed from her "Hunger Games" experiences, mostly because she co-starred with less familiar faces. In an appearance on "The Graham Norton Show" in 2016, Lawrence recalled how sharing the screen with Christian Bale in "American Hustle" forced her to clean up her act. "I was really clean and mints and mints and mints," she recounted. Chris Pratt, with whom she co-starred on the sci-fi "Passengers," also inspired Lawrence to ensure she always had fresh breath. "With Pratt I ate mints," she confirmed.
In her defense, Lawrence wasn't the only culprit when it came to unpleasant kisses with her co-stars. Bradley Cooper, with whom Lawrence has shared an onscreen smooches in "Silver Linings Playbook," admitted she told him he was also memorable for the wrong reasons. "After the second take [Lawrence] said, 'You're a wet kisser,'" Cooper recalled on "The Graham Norton Show," per the Daily Mail. "It was not a compliment."