The Truth About Wanda Sykes' Wife, Alex Sykes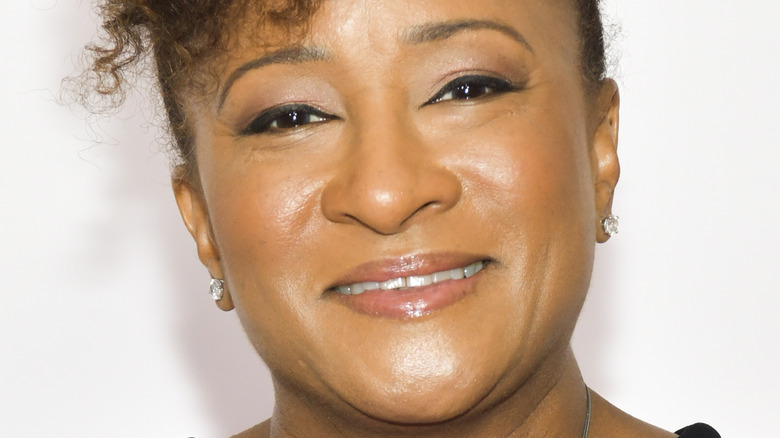 Rodin Eckenroth/Getty Images
Wanda Sykes has crafted a solid career from being naturally funny. Her decades of comedy have led her to paths in writing, stand-up, television, and film — which makes her a perfect candidate to help host the 2022 Academy Awards alongside Regina Hall and Amy Schumer. The news was revealed by Schumer on "Good Morning America" and Wanda, as well as her wife Alex Sykes, are gearing up for the big day.
Wanda has had much success with her stand-up comedy, rising to popularity throughout the '90s and joining the writing team on "The Chris Rock Show." She won a Primetime Emmy Award for outstanding writing in 1999, and since then, has had 14 additional nominations. Wanda spoke about her comedy process to the Windsor Star. "I go on (stage) with a plan in mind, but if I sense that the audience is into something, I'll be inspired to come up with stuff right there on the stage," she said. This proves to be true when incorporating material about her family.
Wanda explained that her wife is a good sport, so she can't help but work her into sets. "If I know she's in the audience, I will deliberately bring up something we had been discussing just to test it ... If they agree with me, I'll tease her about it afterwards." Being married to someone who has been named one of Entertainment Weekly's 25 funniest people in America (via BET), surely comes with a natural sense of humor about being teased. Here's everything we know about the comedian's wife, Alex.
Wanda Sykes' wife instantly caught her attention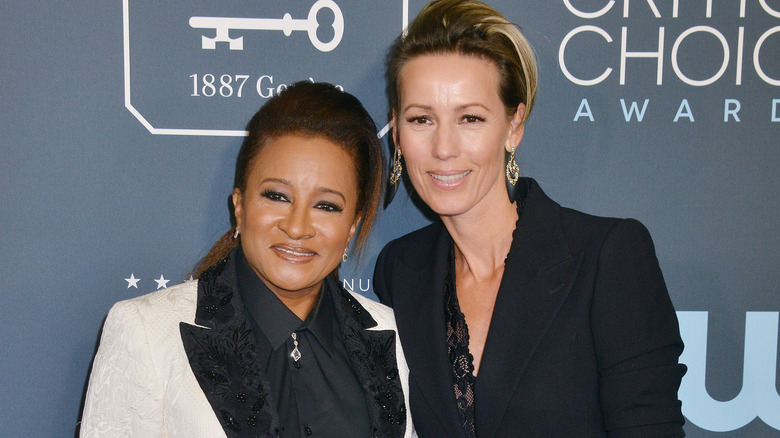 Tsuni-USA/Shutterstock
The circumstances that led Wanda Sykes to meet her wife actually revolved around a kitchen. The comedian first noticed Alex Sykes (née Niedbalski) on her way to Fire Island resort in New York City. She took notice of Alex on the ferry ride and was instantly interested. "Something really said to me — like, audibly — 'Wow, that's what you need, Wanda,'" she shared with The Guardian. Instead of striking up a conversation, Wanda complained about her love life to a friend, who wished she would stop talking about remodeling her kitchen as small talk and suggested she change her approach. Wanda doubled-down.
She shared details of her renovation to the next person she encountered, who then introduced her to someone who sold granite countertops. That someone was the very same woman she had seen on the ferry. How absolutely kismet! As for what else to know about Wanda's dream woman, Alex was born in France and has worked in interior design as the senior vice president of sales for a Canadian countertop company, per Suggest.
Wanda and Alex dated nearly two years before tying the knot in 2008. Shortly after, the actor came out as gay during a speech before Californians voted on Proposition 8. She revealed in the HBO documentary "The Out List" that coming out wasn't something she had planned. "I was like, 'Oh, this is a big (expletive) deal. I'm a Black woman. A celebrity. And I'm out.' It was big deal. No regrets," she said in the doc (via USA Today). Since then, Wanda and Alex have celebrated many happy moments. 
Wanda and Alex Sykes share their joy online
Wanda Sykes and Alex Sykes welcomed twins Olivia and Lucas in 2009, per Today. They keep the kids out of the spotlight, but Wanda has used her experience as a parent for some stand-up material. In an interview with Vulture, she said, "I was like oh my god what did we do? At one time I was contemplating taking one back. I was like, can we return one?" Since she also uses her wife as comedy inspiration, she noted that Alex is funny — "sometimes not intentionally."
Alex and Wanda have shared many of these silly moments together on Instagram through birthday shoutouts, Valentine's Day snippets where Wanda can show off her French, their restoration of a 1980 Citroën, and of course, anniversary celebrations. In 2020, Wanda posted a photo from their private wedding ceremony in 2008 to mark 12 years with her partner. Sharing so much of their affection for one another with fans feels important to the couple. "It makes a huge difference," Wanda told People.
The 94th Academy Awards will be the next big moment to celebrate. Wanda teases Alex about her fixation on big occasions and has joked about keeping news from her as long as possible. This time around, she revealed that her wife's response to the hosting duties was, "What am I going to wear?" The comedian, on the other hand, is simply "looking for some comfortable shoes." For more candid check-ins and spontaneous dancing, stick with their social media journey.