The One Thing That Hurt Tiger Woods The Most In His Divorce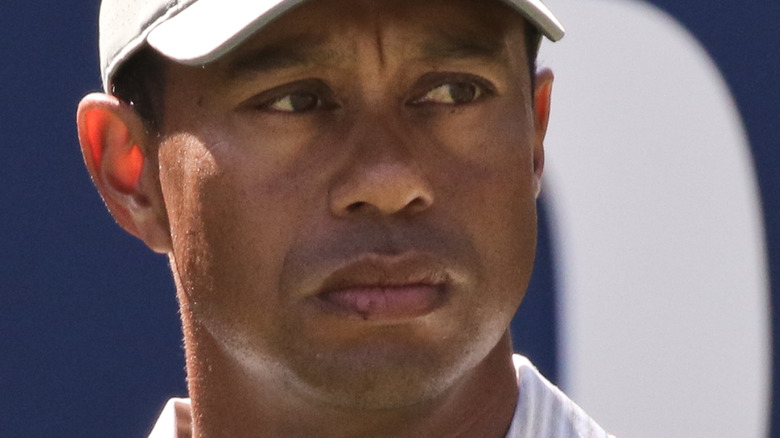 Debby Wong/Shutterstock
Although it's to be expected that a sports star's performance will be affected by their personal life, it's rarely as dramatic as the fall from grace experienced by that of Tiger Woods. It's been over a decade since the November 2009 car crash that opened the tabloid flood gates that exposed Woods' extramarital affairs. After the sex scandal involving the golfer hit the headlines, Woods and Swedish Born model Elin Nordegren finalized their divorce in 2010, according to Forbes. The divorce settlement reportedly cost Woods $100 million, and a further loss of $34 million in endorsements at the time, per Bleacher Report.
The golfer's prestigious public image was soon considered almost irreparably tarnished, and his career as of this writing remains a mere shadow of what it could have been before the divorce. By 2009, he had won 14 majors and 71 PGA Tour titles. Over a decade later, those totals only grew to 15 majors and 82 titles in total.
Following numerous bouts of surgeries, rehabilitations, DUI scandals, and a devastating single-car accident in Los Angeles in February 2021 which left his leg severely injured, Woods' career still hangs in the balance. However, despite all he has lost, the one thing that hurt Tiger Woods most in his divorce was the disappointment he caused.
Tiger Woods strayed from his values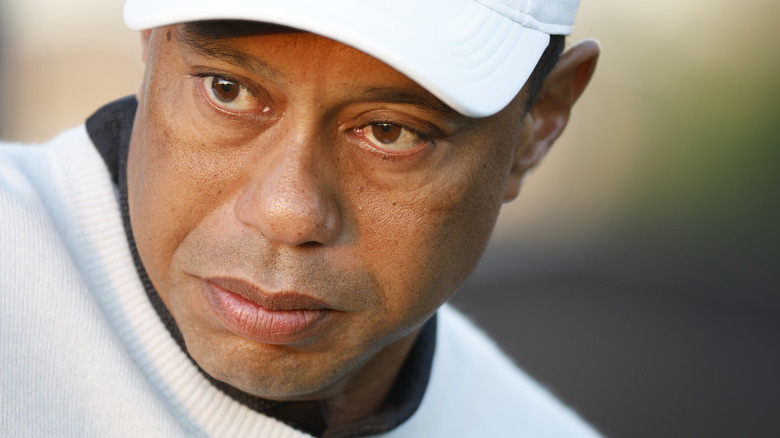 Cliff Hawkins/Getty Images
In a heartfelt public apology (via CNN) at the TPC Sawgrass clubhouse in 2010, Tiger Woods unveiled regret for all of those affected by his actions. "I hurt my wife, my kids, my mother, my wife's family, my friends, my foundation, and kids all around the world who admired me," Woods said. Stating his embarrassment for the "tough position" he put his family, friends, and business partners in, he then added that he "[had] a lot to atone for."
Ultimately, the golfer came to the conclusion that what hurt him the most in the divorce was a betrayal of what he as a person stood for. his Woods pointed out that his actions strayed from his "core values," admitting that his behavior pulled him away from his Buddhism. He stated that, although he knew his actions were wrong, he had convinced himself that "normal rules didn't apply" to him because he had "worked hard" and "deserved to enjoy all the temptations" that came with the money and fame. Tiger also expressed remorse for the pain he had caused his mother and his now ex-wife Elin Nordegren in an ESPN interview, stating that both had been very tough on him but understood that it was because he "hurt them the most." 
Thankfully, the estranged couple came to an amicable arrangement where Nordegren has sole physical custody of their children, but shares legal custody and decisions about the children's future with Woods.
Tiger Woods hurt and disappointed his family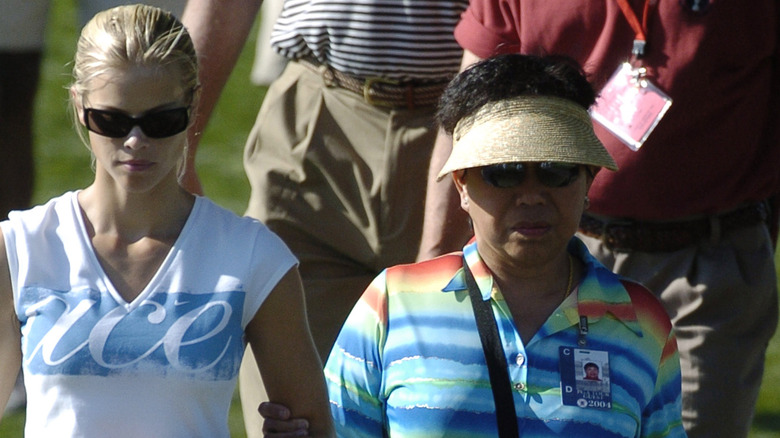 Al Messerschmidt/Getty Images
The most prominent family member to shed light on the divorce was Tiger Woods' mother, Kutilda Woods. In 2009, a source close to Kutilda told the Daily Mail that she loved her son and would "support him through anything" but that she was "hurt, angry, and disappointed in Tiger," and she didn't understand "how he could do this to his family."
Woods' oldest half-brother, Earl Jr., also weighed in, telling KSAZ Fox 10 (via UPI) in 2010 that their father would "be disappointed with him... He would probably want to know how he's going to fix it. You're grown enough to get into this mess; how are you going to repair it?" Earl Jr. added that Elin Nordegren and her father-in-law had mutual respect for one another, saying "she was family" and that his "dad and her really connected."
This is despite the fact that his father had also supposedly had an affair over a decade prior to Woods' scandal unfolding. In an interview with E! News, a high school girlfriend, Dina Parr, stated that the revelation left a teenage Tiger devastated. She said that "he would just call crying and say, 'My dad is with another woman,' and that would be really all he could say."