Kandi Burruss' Daughter Has Grown Up To Be Gorgeous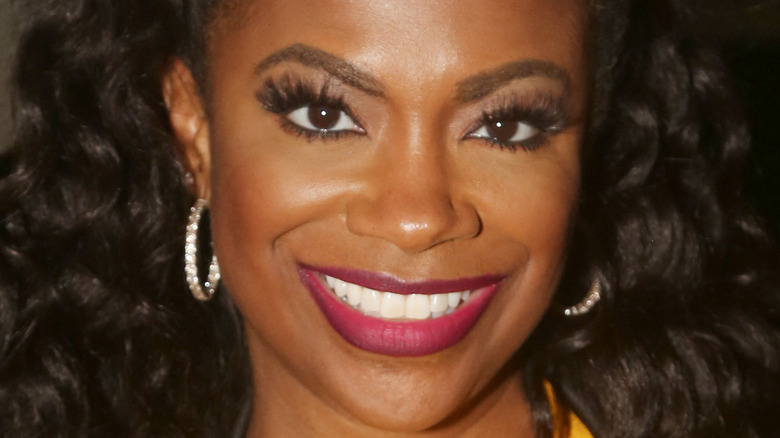 Bruce Glikas/Getty Images
Kandi Burruss' firstborn daughter, Riley Burruss, has been one of the most popular Real Housewives kids with fans ever since she made her debut alongside her famous mom on "The Real Housewives of Atlanta" for Season 2 way back in 2009 (yes, it really has been that long!). Riley was just 7 years old when the season premiered on Bravo and, with Kandi being a staple on "RHOA" ever since, fans have been able to see Riley grow from a child to a stunning young woman.
She's also started to share her own thoughts on all the drama that's swirled around her family over the years, including sharing her two cents on one of Kandi's biggest storylines — the tension between her mom, Joyce Jones, and her husband, Todd Tucker. But don't expect Riley to be throwing any shade at her family members, as she stayed classy when asked about their past drama on "Watch What Happens Live with Andy Cohen" in May 2021. "I mean, when it first started, I don't think people realized I was, like, 10, so I really didn't realize what was going on and how crazy it was. But now I think it's just kind of funny," she admitted. "I know for him it's probably way more serious, but, for me, it's just like, I have to laugh."
But what does Riley look like today and how much has she grown since she made her reality TV debut way back when?
Always Kandi's baby
Despite being all grown up now, Riley Burruss will always be mom Kandi Burruss' baby. The Xscape singer shared the most adorable birthday tribute for her daughter in August 2021, posting several snaps of herself and her firstborn over the years. The main image was one of her and Riley today as they flashed matching peace signs to the camera with their arms around one another. "Happy Birthday to my first born @rileyburruss! No matter how grown you get you're still my baby," Kandi wrote in the caption. "I love you so much & Im proud of the woman you are becoming. I hope this year brings you happiness & a lot of 'A's'!"
Riley's own Instagram post from her big day also shows us just how much she's changed since we first met her on "The Real Housewives of Atlanta." The gorgeous teenager showed off her long, blonde locks and flashed a smile as she posed in front of her birthday cake as she told fans she was enjoying "a southern birthday."
Riley, who's daughter to Kandi and Russell "Block" Spencer, has proudly showed off how much things have changed too, as she first shared a series of throwback snaps with her famous mom for her birthday in April 2021. Posting a number of photos of the two together when Riley was a baby, Riley told her mom in the caption, "Happy birthday to the best mom and role model" with a red heart. Adorable!
Riley Burrus is super smart
Not only is Kandi Burruss' daughter Riley Burruss drop-dead gorgeous, but she's also super smart to boot. In May 2021, she opened up about moving to college, revealing on "Watch What Happens Live with Andy Cohen" that she'd swapped Atlanta for the Big Apple. "I am a freshman at NYU. I'm starting to focus more on YouTube, so that's that. But I'm just chillin', really," she explained, a few months after sharing snaps in her NYU hoodie on Instagram.
The star has also become a strong, independent lady, revealing she'd moved into her own apartment off campus while chatting. Riley admitted to Bravo in January 2021 that she found the process of being out on her own "stressful," but explained that it made her realize just how close she is with her famous family. As for what she wants to do beyond that? Well, just call her a lawyer. Riley shared her big plans to head to law school after doing some internships in the field. Being as smart as she is though, Riley still has quite a few options. "I'm currently a nutrition major, but I'm trying to switch to music business. So that'll go with entertainment law," she explained. "But I'm trying to do [a] business major."
Riley also dished to Bravo about growing up in front of the cameras, admitting, "I like that it's that aspect where I can look back and just see me growing up." Beauty and brains, for sure!