The Real Reason Gwen Stefani Was Just Spotted Without Her Wedding Ring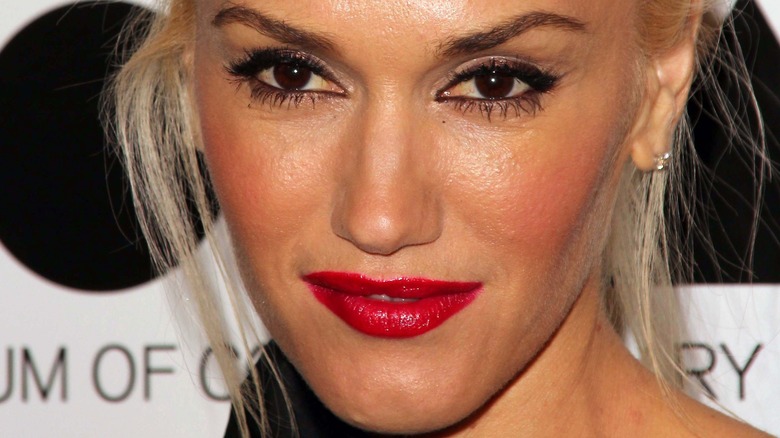 s_bukley/Shutterstock
It's no secret that Gwen Stefani was pretty darn excited to marry Blake Shelton before they tied the knot in Oklahoma back in July 2021. The star has proudly showed off her connection to the country star all over the place, with her adorable excitement regularly spilling across social media and into interviews. Sharing their engagement news on Instagram in October 2020, Stefani even admitted that she said "yes please!" when her boyfriend of around five years popped the question.
The star also admitted that she wasn't averse to other people referring to her man as her husband — even before he officially popped the question. Speaking to Extra in October 2020, Stefani revealed that plenty of people called him her "husband," and admitted that she found the whole thing to be "cute." She asked, "Do you know how many people say my 'husband' about him? I guess we're just together," noting, "People got used to it or something like that. But it's pretty cute." Then, of course, there was the series of gorgeous photos she posted to Instagram in July 2021 to let everyone know she'd married the love of her life, as well as Gwen and Blake flashing their wedding rings on "The Voice."
So, it would be pretty surprising then for Stefani to ditch her wedding ring, right? Well, that's exactly what happened during a March 24 appearance as she left that special finger totally bare — despite wearing rings on almost every other finger.
Stefani sans ring
Yep! Gwen Stefani was sans her wedding ring from Blake Shelton when she chatted on "Jimmy Kimmel Live!," but before fans panic there could be trouble in paradise for the beloved "The Voice" couple, there's a perfectly reasonable explanation. After Kimmel joked Shelton would have struggled to find a spare finger on the accessory heavy star's hand, Stefani glanced at her left hand and realized she'd forgotten to slide the sentimental jewelry back on after cleaning it.
"I forgot to wear my ring. It's like the first time! I thought, 'Okay, I'm going to put it in the jewelry cleaner so Jimmy sees how sparkly and amazing my ring is and then, hello empty finger!" she said. The mom of three admitted she was "so embarrassed" she'd forgotten to put it on and apologized to her husband, who she adorably referred to as "Blakey." Stefani then made it extra clear there's absolutely no drama here, adding, "I love my husband, and I love being married to him. It's just the greatest thing that's ever happened to me."
It's not too surprising Stefani wants to keep her rings clean, though, because we know her engagement ring in particular is super pricey. And we really mean super pricey, as Hello! reported her engagement ring alone could be worth around $500,000! The star clearly loves the jewelry too (who wouldn't?) and has proudly showed it off multiple times, including on "Home & Family" in December 2020.