J.K. Rowling Lashes Out After Putin Compares Himself To Her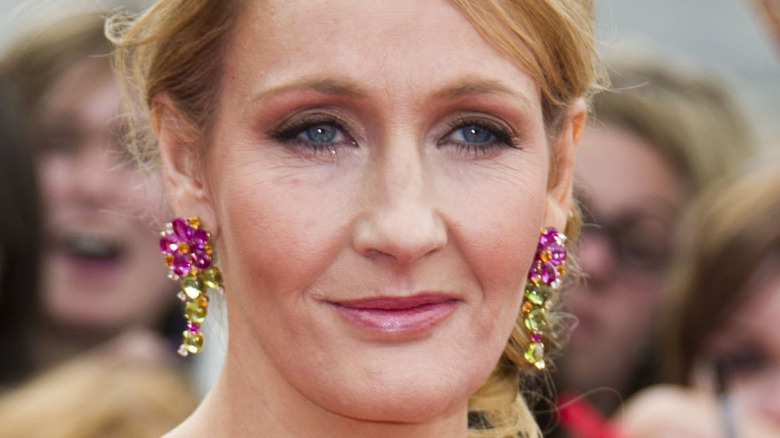 Featureflash Photo Agency/Shutterstock
Vladimir Putin now knows how J.K. Rowling feels — or so he claims. During a March televised broadcast, the Russian president denounced the boycotts of Russian products worldwide, oddly comparing it to recent critique of Rowling. The "Harry Potter" author has been heavily criticized for comments about transgender people, even by members of the "Harry Potter" film franchise themselves. According to Putin, her backlash "because she didn't satisfy the demands of gender rights" is similar to Russia's struggle, per Deadline. "They are now trying to cancel our country. I'm talking about the progressive discrimination of everything to do with Russia," Putin insisted in the address. 
The ban on Russian imports into the West has been far-reaching. Even before President Joe Biden declared a ban on Russian diamonds, seafood and vodka (per BBC), the Fédération Internationale Féline (FIFe) — an international cat organization — banned Russian cats from competition shows for three months beginning in early March. "The Board of FIFe feels it cannot just witness these atrocities and do nothing," an official FIFe statement read, per NPR. Netflix is also withholding its services from Russian subscribers, and Disney, Sony, and Warner Bros. are suspending all film releases in the country for the foreseeable future.
So how does J.K. Rowling feel about Putin's pretty random show of solidarity? The author has tweeted her response.
J.K. Rowling to Vladimir Putin: We are not the same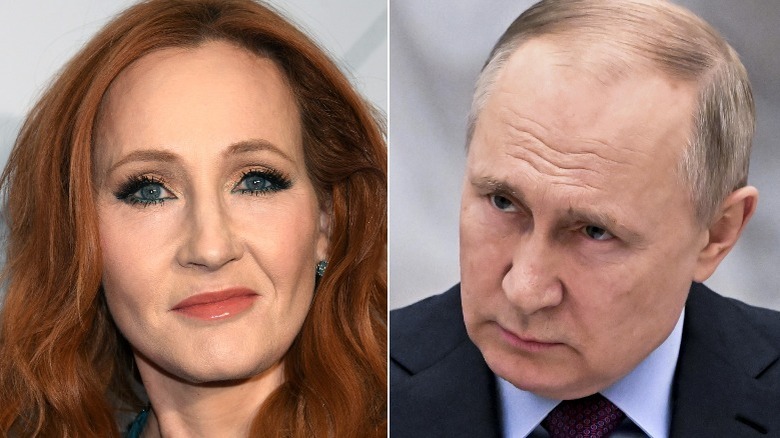 false/Shutterstock & Dia Dipasupil/Getty
J.K. Rowling sees no potential alliance between herself and Vladimir Putin. As the author wrote in a March 25 tweet, "Critiques of Western cancel culture are possibly not best made by those currently slaughtering civilians for the crime of resistance, or who jail and poison their critics," with Rowling including an #IStandWithUkraine hashtag. The writer has indeed been actively supporting Ukrainian relief causes, tweeting on March 7 that she would "personally match donations" up to £1 million ($1.3 million) toward the Lumos organization, which is providing supplies and aid to children in Ukrainian orphanages. 
Twitter, while normally divided on the topic of J.K. Rowling, applauded her acerbic jab at Putin. David Frum, writer for The Atlantic, tweeted, "J.K. Rowling seems like one of the world's nicest people, I can hardly imagine how revolted she must feel that Putin invokes her in his justification for his invasion of Ukraine." Another Twitter user emphatically replied, "I agree!" Meanwhile, another individual slammed Putin's comparison by pointing out Russia's own censorship of its culture in schools. "Russia cancels the teaching of sociology, cultural studies and political science in all pedagogical universities of the country," she wrote, linking to an accompanying Russian article.
Sounds like Putin had to reach far and wide for a potential Western ally.