Meghan McCain Reacts To Her Husband's Major Career Move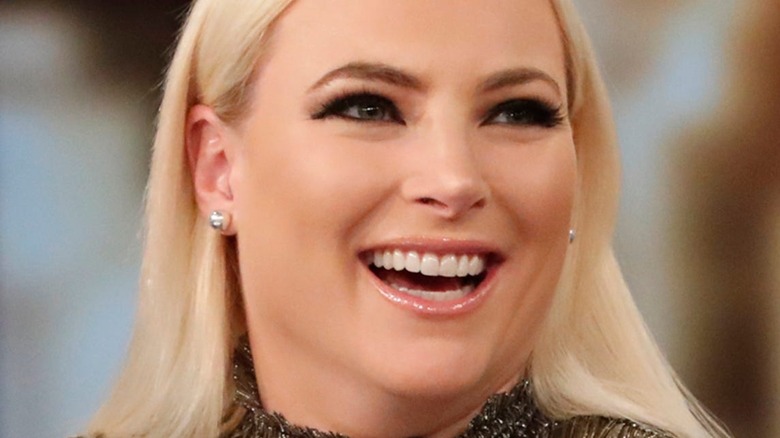 false/Shutterstock
Meghan McCain may no longer be a panelist on "The View," but she is still making her voice heard. One month after leaving the daytime talk show, she joined the Daily Mail as a columnist. "I've been an avid reader of the website for many years and have been impressed by its global influence and reach," she said in a statement at the time, per People. She added she had "always respected the way DailyMail.com tackles issues across the entire political spectrum" and looked "forward to sharing" her opinions "without fear or favor."
Since then, McCain has released several op-eds and rehashed her drama with Joy Behar on Twitter. She has also taken her role as a wife and mother seriously, often posting about her home life on social media. But while she continues her career in political punditry, her husband, Ben Domenech, has announced a major career move — and she couldn't be happier about it.
Meghan McCain's husband is moving on
Meghan McCain is excited about her husband's future, following the announcement that he's stepping down as publisher of The Federalist after 10 years. Ben Domenech dropped the news on March 25, writing, "Everything in life has a season, and my season as a Publisher has come to an end. In year ten, I am moving on two pursue new things, wishing nothing but the best for my Federalist friends who continue their effort." Domenech founded The Federalist — a controversial website that covers politics, religion, and culture in September 2013, per Women's Health.
In response to Domenech's announcement, McCain tweeted, "I love you baby," indicating that she is supportive of his career change. However, McCain's followers couldn't help but bring up the controversies Domenech created while he was in charge at The Federalist. "It's always a good idea when people guilty of plagiarism keep on the move," one user wrote, referencing reports that he had plagiarized other writers when he blogged for The Washington Post in 2006.
Although Domenech hasn't indicated where he'll go, he has forged a close relationship with Fox News in the past few years, with the network signing him as a contributor in 2021, according to Deadline. Perhaps he'll make Fox News his permanent home soon.