Maren Morris Shares Vivid Details Of Her Postpartum Depression Struggle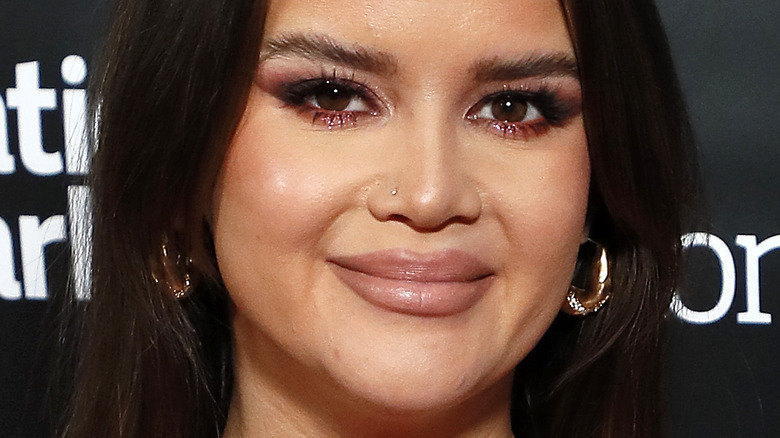 Paul Morigi/Getty Images
Not only are superstar Maren Morris and singer-songwriter Ryan Hurd the epitome of country cool, but they have one of the sweetest love stories around. As they were both coming up in the Nashville music scene, they met during songwriting sessions in 2013, according to The Boot. "We would write and then after we'd go over to a bar in midtown and have a couple beers," Hurd told People in 2017. "That's when we started making a real connection, beyond a creative partnership." Among their slew of hits, the duo co-wrote Hurd's "Love in a Bar," which is an autobiographical account of their real-life love story, according to Rolling Stone.
Hurd proposed to Morris in 2017 and the lovebirds tied the knot in 2018, per People. To commemorate the special occasion, Hurd released a single titled "Diamonds or Twine" in honor of his fiancée. "I wrote this song for you, played it for you in Michigan the night I asked you to marry me," he wrote on Instagram. "Diamonds or Twine, no matter what, I'll be wrapped around your finger." People reports that the couple welcomed son Hayes Andrew in 2020 — yet shortly after the birth, Morris opened up about her struggle with postpartum depression, telling "CBS This Morning" that it felt like "drowning." Since then, other new moms like Kylie Jenner have come clean about their own mental health struggles. Now, Morris is sharing an in-depth look at how she was able to overcome her postpartum depression.
Maren Morris credits her husband as her biggest supporter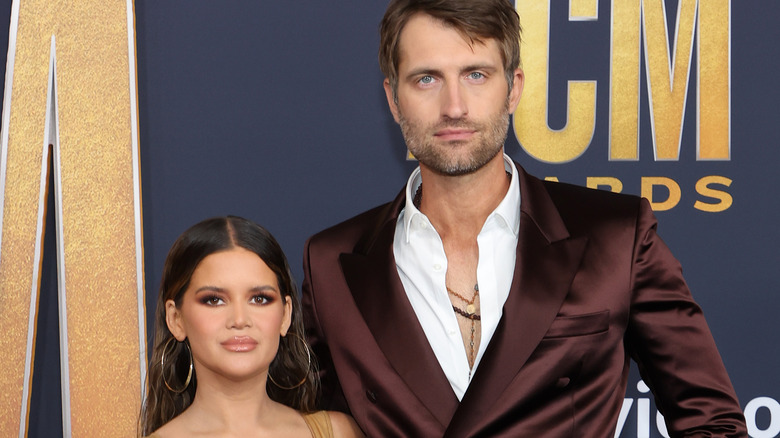 Mike Coppola/Getty Images
For Maren Morris, the pandemic has been a good opportunity to be cognizant of her mental health. "I just think there's not a stigma as much around talking about it and reaching out for help," she told People. That's because — rhinestones, designer cowboy boots, and massive net worth aside — Morris still struggles with her mental health. After her son Hayes Andrew was born, she spoke to "CBS This Morning" about her feelings of crippling self-doubt. "You're trying to become a new mother and good parent and do everything right and you just feel like you suck at every level," the "Bones" singer explained. Thankfully, "[I have] people that love me around me that are like, 'Hey, if you're drowning right now, there's help.'" Among her support network, Morris credits husband Ryan Hurd for helping her get through the fog of depression. In fact, "I wouldn't have made it through with my head this high without him," she told People.
Morris' story isn't an unusual one. According to PostpartumDepression.org, 1 in 10 women will experience the effects of postpartum, and "some studies" report that number can even be as high as 1 in 7. Per Us Weekly, celebrities have been increasingly vocal about their mental health after giving birth, with A-listers like Olivia Munn and Reese Witherspoon sharing their stories. "My hips still feel wonky ... my postpartum anxiety is still here ... but I got myself up," Munn wrote on Instagram Stories in March, via Us Weekly.