The Real Reason Taylor Hawkins Left Alanis Morissette's Band For The Foo Fighters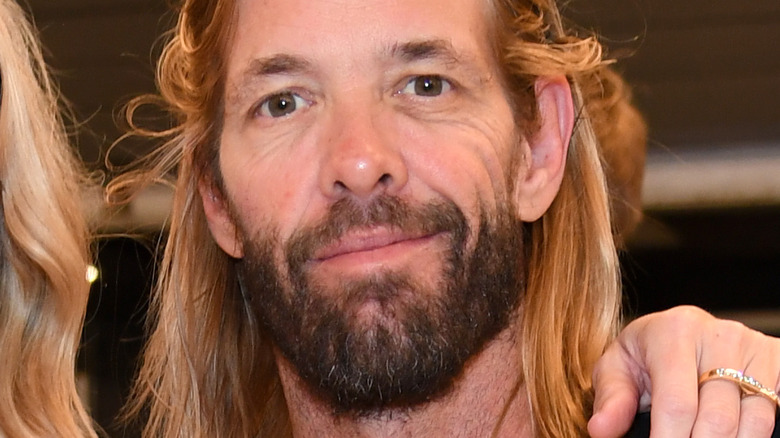 Kevin Mazur/Getty Images
The Foo Fighters are synonymous with rock and roll and have been since their formation. In fact, the band cemented their legacy when they entered the Rock and Roll Hall of Fame in 2021, per Rolling Stone — though they weren't a fully formed unit from the jump. 
After leaving Nirvana in 1993, Grohl set out to make his own band — creating the Foo Fighters in 1994. Starting the band off, Grohl had himself, Nate Mendel on bass, William Goldsmith as the drummer, and Pat Smear on the guitar. From there, it didn't take long for the Foo Fighters to hit record-breaking success — with a hit album and playing festivals to tens of thousands of fans, Grohl told Guitar World, despite the fact Goldsmith and Grohl didn't exactly see eye to eye. Then, Goldsmith left the band in 1997. While many thought the Foo Fighters would go crashing down, little did anyone know his replacement would become a key member of the band — and become Grohl's best friend.
The spot went to Taylor Hawkins, who, at the time, was the drummer for Alanis Morissette. Working with Morissette had Hawkins playing sold-out stadiums around the world. But when a spot opened up in the Foo Fighters, Hawkins left his spot playing worldwide stadiums with Morissette to become a Foo Fighter, a band that had only recently started and was a decision that left many baffled.
Taylor Hawkins left because of his relationship with Dave Grohl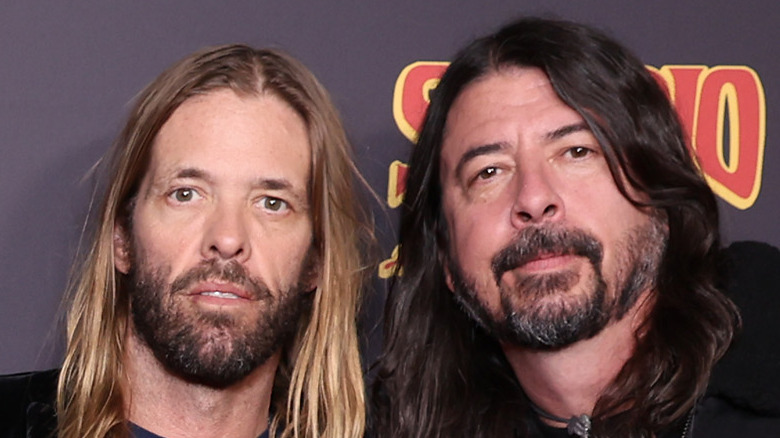 Rich Fury/Getty Images
Taylor Hawkins' big break as a drummer came in 1995 when he became the drummer for Alanis Morissette. At the time, Morissette was touring for her album "Jagged Little Pill," one of the best-selling albums of all time. In fact, Classic Rock Magazine notes that "Jagged Little Pill" outsold any album ever put out by Elvis Presley, the Rolling Stones, and the Beatles. And knowing the success Hawkins was experiencing, Dave Grohl didn't know if Hawkins would give it up to join the Foo Fighters — a known band, but at the time, not as known as Morissette.
But when Grohl called Hawkins saying he was looking for a drummer, Hawkins dropped everything. "I'm your guy," he told Grohl, per 95.5 KLOS. The two had met years prior and had an immediate connection. Grohl said when he met Hawkins, he knew Hawkins was "either my twin or my spirit animal or my best friend." That connection is what Grohl believes led Hawkins to leave his spot in Morissette's band to join the Foo Fighters.
"I think it had more to do with our personal relationship than anything musical," Grohl further added. "To be honest, it still does. Our musical relationship — the foundation of that is our friendship, and that's why when we jump up onstage and play, we're so connected because we're like best friends."
The Foo Fighters hit major success when Taylor Hawkins joined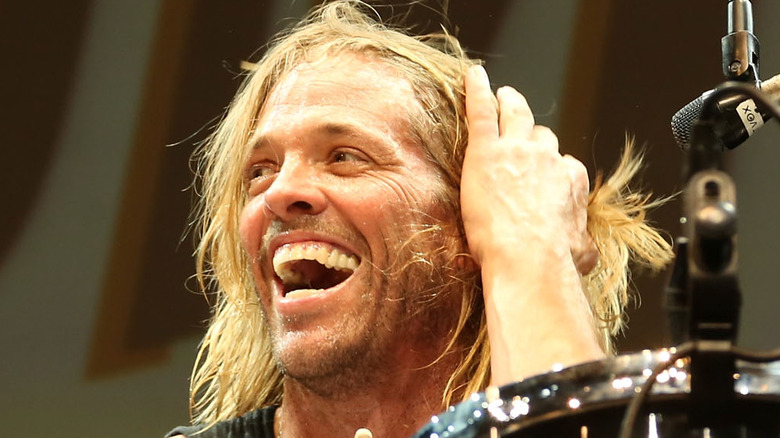 Ashley Beliveau/Getty Images
After becoming the Foo Fighters' official drummer in 1997, Taylor Hawkins was a part of the band's major successes — playing on their biggest albums, including "One by One" and "In Your Honor," per CBS. Not only that, after joining, Hawkins appeared on the album "There Is Nothing Left to Lose,"  an album that won the band their first Grammy for best rock album.
But, despite all the success, what it meant to be a member of the Foo Fighters and getting to play alongside Dave Grohl never got past Hawkins. In an interview with Spin in 2002, Hawkins revealed that part of the reason behind his drug use was because he didn't believe he was good enough to play in a band alongside Grohl (via The New York Times) Then, during the Foo Fighters induction to the Rock and Roll Hall of Fame in 2021, Hawkins chose to thank Grohl, "because none of this s*** would have happened if it wasn't for Dave. Thanks for having me in your band," he said. 
Yet, while Hawkins was undoubtedly thankful for Grohl, Grohl was equally as thankful for Hawkins. In his 2021 book, "The Storyteller," Grohl called Hawkins his "brother from another mother, my best friend, a man for whom I would take a bullet." Continuing, Grohl added, "Upon first meeting, our bond was immediate, and we grew closer with every day, every song, every note that we ever played together."