Regina Hall's COVID-19 Joke At The Oscars Has Fans Fuming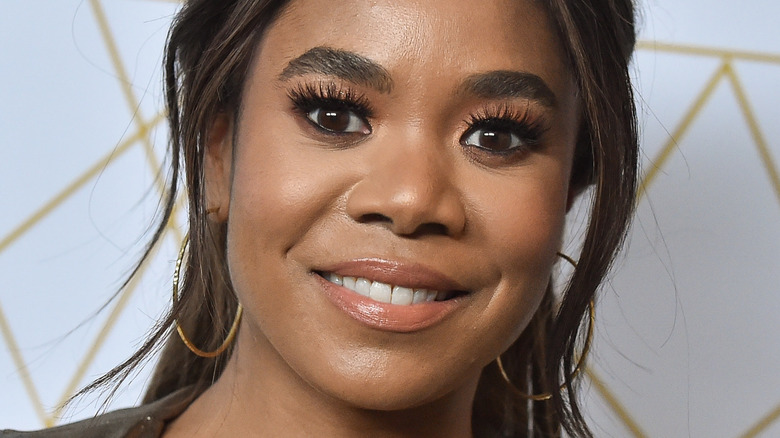 DFree/Shutterstock
When Oscars cohost Regina Hall promised, come ceremony night, "Our intention is to laugh," she wasn't, well, joking. At the March 27 awards, Hall broke into an elaborate comedy bit about the desirability of Hollywood's most eligible bachelors. Calling leading men Simu Liu, Bradley Cooper, Tyler Perry, and Timothée Chalamet onstage for a shady-sounding "COVID test," Hall joked to them, "Take your masks off if you have them... and your clothes." 
But the "Nine Perfect Strangers" star didn't stop there. Also hilariously referencing Will Smith and Jada Pinkett Smith's much-discussed unconventional marriage, Hall said to Will, "You're married, but you know what? You're on the list, and it looks like Jada approved you, so you get on up here!" Although the "King Richard" star declined, he and Jada both seemed to genuinely laugh at Hall's light jab. In the most unexpected moment, Hall thoroughly patted down presenters Josh Brolin and Jason Momoa, giving the audience a sample of her "emergency" testing. "That isn't a thing," Brolin facetiously protested at one point. 
While Hall drew loud laughs within the theater itself, it seems Twitter had more-than-mixed feelings about her comedic display.
Did Regina Hall's COVID test joke go too far?
Maybe Regina Hall should have edited out the last portion of her COVID testing bit at March 27's Oscars ceremony, based on the reactions. Some fans did enjoy Hall's mastery of comedic timing as she jokingly lusting over different Hollywood leading men. "Regina Hall's 'Covid test' bit is easily the funniest thing an #Oscars host had done in a decade," one viewer tweeted. However, other denizens of the Twittersphere weren't as comfortable with the sexual tone of Hall's sketch. "I'm glad they had a spare five minutes for some groping 'jokes,'" one user wrote sarcastically. 
Many were of the opinion that had Hall been male, the reaction to her frisking presenters Josh Brolin and Jason Momoa would be universally horrified, not entertained. "No because that skit was HORRIFIC. If the genders were swapped, can't imagine. This is so so harmful for us woman and I cannot believe she was ok to do that. Regina Hall should he ashamed," one Twitter user wrote. Another noted Hall's joke about "Euphoria" star Jacob Elordi's age, writing critically, "multiple jokes about boys being legal so she can touch them. Like what??"
Looks like Hall's jokes didn't quite land the way she was probably hoping.