The Oscars Speech That Won The Night Will Leave You In Tears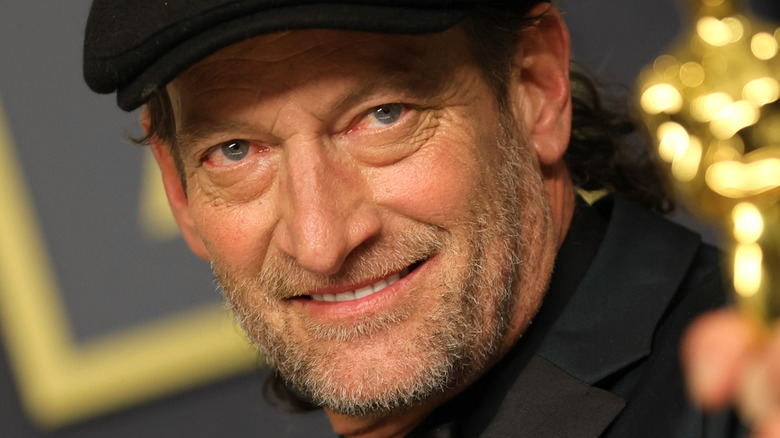 Mike Coppola/Getty Images
"CODA" star Troy Kotsur has been making history this whole award season. His win at the Screen Actors Guild for Best Supporting Actor made him the first deaf man to do so. His win at the BAFTAs for Best Supporting Actor made him the first deaf man to do so. And when he won the Oscar for Best Supporting Actor at the 2022 award ceremony, he was the first deaf man to do so. The only other deaf actor to take home an Oscar statue for one of the solo acting awards was Kotsur's "CODA" co-star Marlee Matlin, who won the trophy for Best Actress in 1987 for her role in "Children of a Lesser God."
But despite making history now, Kotsur's road to the Oscars hasn't been an easy one. He told Backstage just before the Oscars that in the early days of his career, his family was worried it wouldn't work out for him simply because he's deaf, and opportunities for deaf people in Hollywood are limited. "My wife was beginning to get worried. My family members were worried. They thought that it was really impossible for a deaf actor to get an opportunity in Hollywood. It's just like 1% of actors. It's almost like a hair in my beard, just this one hair, and that represents the opportunities that I was given."
Now, though, Kotsur is an Oscar-winner, and his acceptance speech at the March 27 show nearly brought everyone to tears.
Troy Kotsur dedicated his Oscar win to the Deaf community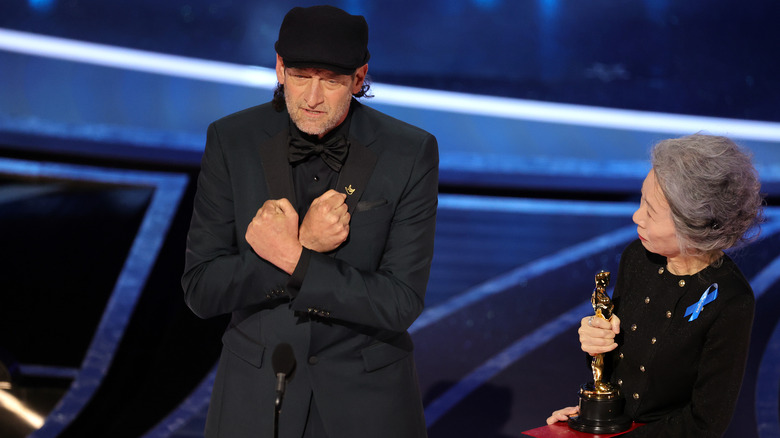 Neilson Barnard/Getty Images
When "CODA" star Troy Kotsur took the stage to accept his Oscar for Best Supporting Actor, he gave the audience a speech that they won't soon forget. After joking about teaching President Joe Biden "dirty sign language" during the cast's visit to the White House, Kotsur got more serious about dedicating his win to the people in his life. 
"My dad, he was the best signer in our family," Kotsur signed to the audience. "But he was in a car accident, and he became paralyzed from the neck down, and he no longer was able to sign. Dad, I learned so much from you. I'll always love you. You are my hero. Thank you to my biggest fans, my wife and my daughter, Kyra, and my hometown of Mesa, Arizona, and Mark Finley, my manager, and our team."
To wrap up the touching speech, Kotsur showed love to his community and those he's lost. "I just wanted to say that this is dedicated to the Deaf community, the 'CODA' community, and the disabled community," he signed. "This is our moment. To my mom, my dad and my brother Mark, they're not here today. But look at me now. I did it. I love you. Thank you." And if his speech wasn't enough to bring you to tears, the audience signing their applause right back to him might just do it.