The Interview That Has Come Back To Haunt Will Smith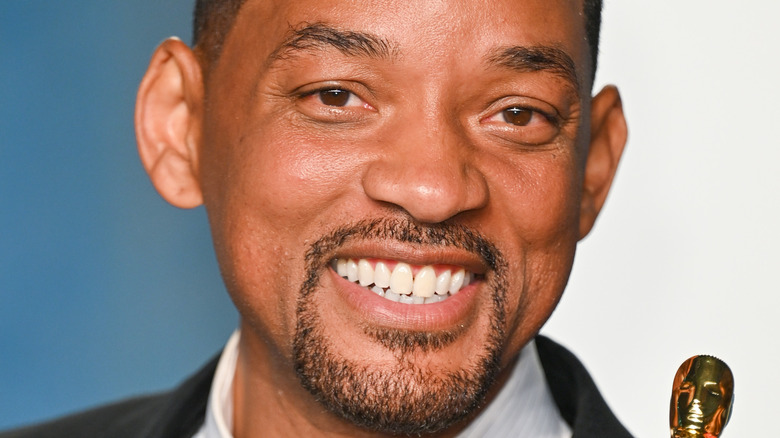 Karwai Tang/Getty Images
Will Smith hitting Chris Rock at the 2022 Oscars has fans seeing the beloved actor in a new way. When Rock, a presenter at the ceremony, cracked a joke about Will's wife Jada Pinkett Smith, the "King Richard" actor interrupted the show to smack Rock on stage — an unscripted move that no one saw coming. Will appeared to be defending Jada's honor as Rock ridiculed her baldness, which is brought on by her struggle with alopecia, per CNN. "Keep my wife's name out of your f***ing mouth," Will shouted at Rock.
Many have deemed Will's now-viral slap of Rock as a long time coming, after the comedian took a shot at Jada at the same awards show in 2016. Then-host Rock clowned Jada for openly boycotting the ceremony that year. "Jada boycotting the Oscars is like me boycotting Rihanna's panties," he said, per Entertainment Tonight. "I wasn't invited." An insider told People that harsh feelings lingered ahead of the March 27 show after Rock's 2016 joke, sharing, "Will was still mad about that."
Things clearly came to a head when Will made things physical during the event, where he later won the Oscar for best actor. "I want to apologize to the Academy. I want to apologize to all my fellow nominees," he said during his acceptance speech, later adding, "I hope the Academy invites me back." In the aftermath of the shocking Oscars slap, an old interview has resurfaced that shows Will lashing out in an eerily similar way.
Will Smith slapped a reporter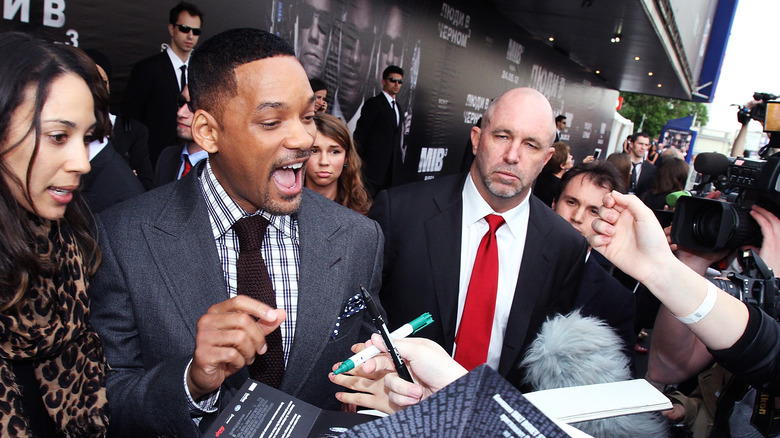 Epsilon/Getty Images
Chris Rock isn't the only person Will Smith has laid a hand on over the years. Smith appeared to slap a reporter at the Moscow premiere of "Men In Black 3" in 2012. In footage published by TMZ, Smith was seen swatting the face of a reporter who got too close on the red carpet. According to the outlet, a Ukrainian journalist hugged Smith and went in for a kiss, clearly crossing a boundary for the actor. "What the hell is your problem?" Smith asked the reporter before backhanding him.
Smith recounted the incident in a later interview with David Letterman. "It's just awkward, Dave," he laughed. Smith also commented on the kissing incident supposedly being some sort of prank on the star, saying, "They were like, 'Oh, no, we're sorry, you know. It's just his shtick, you know.' I said, 'Well, that's why his ass got shtuck.'"
Years after Smith slapped the reporter, the "Fresh Prince of Bel-Air" star didn't seem to show more remorse about his physical reaction. In fact, Smith revealed in an interview with Rap Radar in 2018 he'd received props from Jay-Z for standing up for himself. "I thought it would be negative and everything, and in this new social media world, it actually, the authenticity was accepted and respected and that was a new thing for me," Smith said (via ShowBiz Cheatsheet). Long before Smith slapped Rock at the Oscars, the best actor winner let the world know he wasn't one to be messed with.
Will Smith warned haters of repercussions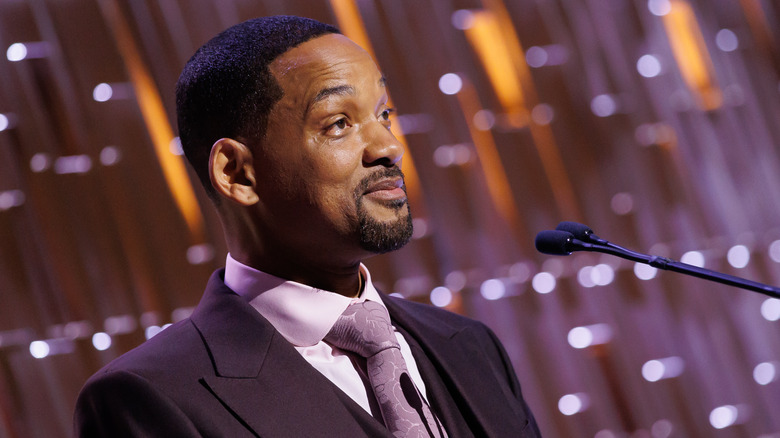 Rich Polk/Getty Images
Though he's gone on to win Oscars gold, Will Smith has proved he's still West Philadelphia "born and raised," true to the lyrics of his "Fresh Prince of Bel-Air" theme song. While many were shocked that Smith slapped Chris Rock at the Academy Awards, the incident has certainly shown a more authentic side to Smith. Like Smith warned on his 1999 track "Wild Wild West," "Swallow your pride, don't let your lip react / You don't wanna see my hand where my hip be at." Ironically, Smith's lyric about hitting back at smack-talkers came from the titular movie Rock ridiculed during his monologue as host at the 2016 Oscars. "I get it... you said it's not fair Will was this good and didn't get nominated," Rock said of Smith's wife's move to boycott the show. "You're right, it's also not fair that Will was paid $20 million for 'Wild Wild West.'"
In his best actor acceptance speech, Smith touched on the chatter he and his family are subjected to in the spotlight, which undoubtedly includes constant speculation about his marriage. "I know to do what we do, you gotta be able to take abuse," Smith said tearfully. "You gotta be able to have people talk crazy about you. In this business, you've gotta be able to have people disrespecting you. And you've got to smile and pretend that's okay." Clearly, Smith was done pretending at the Oscars and reacted in a way that still has audiences gobsmacked.