Will Smith's Behavior At The Oscars After Parties Has Everyone Scratching Their Head
DFree/Shutterstock
Everyone was shocked when Will Smith slapped Chris Rock at the 2022 Oscars. The viral moment had fans and stars alike reacting in utter disbelief. "Wtaf????? That wasn't scripted?????" host of "The Daily Show" Trevor Noah tweeted. Others made snap judgments about the altercation, addressing whether the actor's attack on Rock was warranted after the comedian roasted Smith's wife's appearance on stage. "This is the 2nd time that Chris has made fun of Jada on the #Oscars stage, & tonight he went after her alopecia," actor Sophia Bush tweeted. "Punching down at someone's auto-immune disease is wrong." Rapper Nicki Minaj agreed that Smith's outburst over his wife was explained. "while y'all seeing the joke he's seeing her pain," she tweeted.
Smith himself had an emotional response to his actions. Taking the stage to accept his Oscar for Best Actor for "King Richard," Smith tearfully said, "Love will make you do crazy things." He added, "This moment is really complicated for me." Smith's outburst has no doubt rocked audiences everywhere, but it's his behavior following the ceremony that really has fans scratching their heads.
Fans can't understand Will Smith's face-saving moves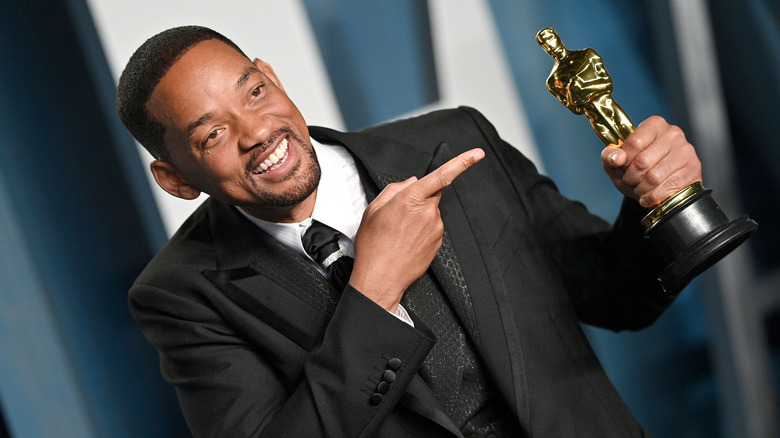 Lionel Hahn/Getty Images
Following his Oscars outburst, Will Smith did the unexpected after his Best Actor win. Smith appeared unfazed by his attack on Chris Rock and celebrated his win with a smile at the Vanity Fair Oscars after party, the New York Post reports. Not only did Smith keep his chin up with his trophy in his hand, but the star also jovially danced to his old hits, "Gettin' Jiggy Wit It" and "Miami," at the function — almost as if the show-stopping moment never happened.
Smith's sudden change of heart had many fans confused. "Laughs at a joke, instantly turns violent, then cries about it and needs comforting, then goes to an after party and lives it up," one Twitter user wrote. "Will Smith is one strange cat." Another fan joked Smith's moves at the after party were a result of his bad memory, tweeting alongside a video of Smith partying it up, "will smith at the after party forgetting what happened." Many weren't impressed by Smith's face-saving behavior, with one fan calling him an "over privileged bully," tweeting, "People who can't behave themselves shouldn't go to fancy parties." While the evening's festivities have wrapped for Hollywood's big winners, the discussion about Smith's now-famous slap is clearly far from over.