Will Smith's Pre-Oscars Social Media Post Reads Completely Differently Now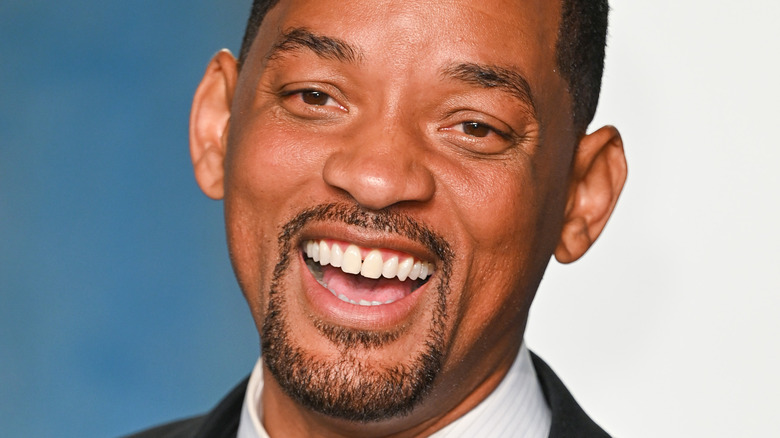 Karwai Tang/Getty Images
Will Smith had the most memorable moment at the 2022 Academy Awards, and it had little to do with taking home the award for Best Actor. After Chris Rock made a joke about his wife's short hair, the "King Richard" star stormed the stage and slapped the comedian. "Wow. Will Smith just smacked the s*** outta me," an incredulous Rock said, per Us Weekly. "Keep my wife's name out of your f***ing mouth!" the Hollywood A-lister screamed after returning to his seat. Not long after, Smith took the stage to accept his first ever Oscar for best actor. He was overcome with emotion as he referenced the incident with Rock in his acceptance speech. "Art imitates life: I look like the crazy father," Smith said, likening his outburst to his onscreen character. "But love will make you do crazy things," he added.
The infamous slap immediately went viral and sparked reaction from viewers and celebrities. "It was just a joke. Jokes are what Chris Rock does ... This was a mild joke for him. And i love GI Jane," Mia Farrow tweeted. "What you saw on TV was a guy with real issues. That's crazy, that's crazy when you can't contain yourself," Howard Stern said on "The Howard Stern Show" the next morning, per The Hollywood Reporter. Smith's son, Jaden Smith, even tweeted after the incident, "And That's How We Do It."  The altercation has also completely recontextualized a post the best actor winner made just before arriving at the Oscars.
Will Smith's caption foreshadowed his chaotic night
Prior to appearing on the red carpet for the 2022 Academy Awards, Will Smith showed off his tuxedo in a short Instagram video. Shortly thereafter, the actor gave another glimpse of his Oscars look when he uploaded a video to Instagram that included Jada Pinkett Smith who wore an emerald gown. The Hollywood power couple posed seriously in their eye-catching outfits before a quick montage of selfies showed them making silly faces for the camera. Interestingly, the reel was set to a popular TikTok audio with the narration, "Good morning everyone. God has let me live another day and I'm about to make it everyone's problem." Even more curiously, Smith wrote in the caption, "Me 'n @jadapinkettsmith got all dressed up to choose chaos."  The phrase "choose chaos" took on a different connotation once the "Concussion" star slapped Chris Rock. 
Fans rushed to social media to react to Smith's intriguing choice of words. "the FORESHADOWING!!!!" one fan tweeted in part. Another fan delighted in the dramatic irony of his caption, tweeting, "LMFAO WELL YALL VERY MUCH DID." Other fans seemed to think the caption didn't quite capture the shock of the Oscars moment, with one Twitter user writing, "Will Smith said 'choose chaos' cause he couldn't say 'choose violence' for legal purposes." Following the altercation, Smith seemed to weigh in on his own foreshadowing by commenting on his post. "You can't invite people from Philly or Baltimore nowhere!!" he wrote, per Newsweek.