Fans Can't Stop Praising Denzel Washington For His Handling Of The Will Smith Controversy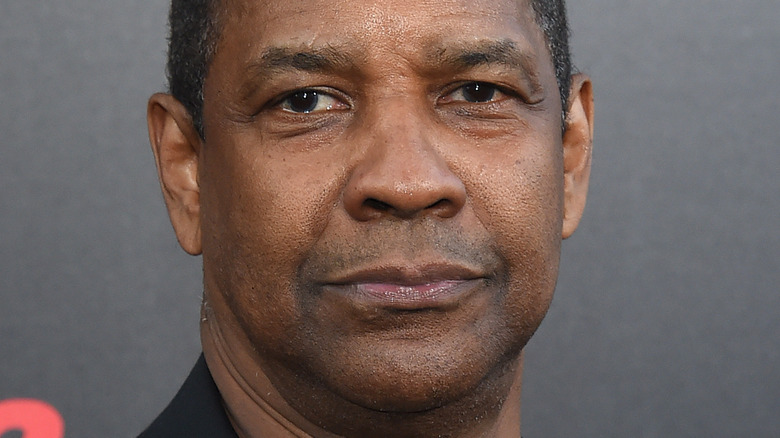 DFree/Shutterstock
It turns out that the "La La Land"/"Moonlight" mixup only got a short-lived tenure as the most bananas Oscars moment in history. During the March 27 broadcast of the 2022 Academy Awards, Will Smith got on stage and smacked Chris Rock across the face after the comedian made an ill-advised joke about Jada Pinkett Smith's shaved head — a result of her alopecia — thereby taking its place in history as one of the wildest things to happen during the live telecast. But, for all the ensuing hullabaloo, anger, and tears, there were also moments of grace. One such moment that fans on Twitter still can't stop talking about is Denzel Washington's reaction. 
You would not have seen Washington offering Smith comfort and council during the commercial break if you were watching the live show, but Smith referenced the veteran actor's wise words during his acceptance speech for Best Actor for "King Richard." In his remarks, Smith said Washington told him, "At your highest moment be careful because that's when the devil comes for you."
Denzel Washington comforted Will Smith and Jada Pinkett Smith
Thanks to social media, we got some more context behind what happened during the Awards ceremony off-screen, including a video of Denzel Washington and Tyler Perry coming up to Will Smith and Jada Pinkett Smith during the commercial break after The Slap. You can see Washington and Perry brush Will's shoulders as if to say, "brush it off," then Washington walks over to where Jada is still sitting, kneels by her side, and appears to comfort her. Amid all the hot takes about the actual smack itself, a lot of social media users drew attention to this moment, as well. 
"Make Black men practicing conflict resolution a part of the hot takes," offered one user. One person tweeted, "Black Hollywood like 'we got it from here,'" which another person quote-tweeted with, "Denzel Washington & Tyler Perry quickly holding an emergency community meeting like the church elders they are." Another Twitter user observed, "Only Denzel Washington could turn a chaotic moment and career low for Will Smith into a beautiful moment. That man is the GOAT," and another person called Washington, "a wise OG."