James Corden's Skit About Will Smith's Controversy Has Fans Beyond Cringing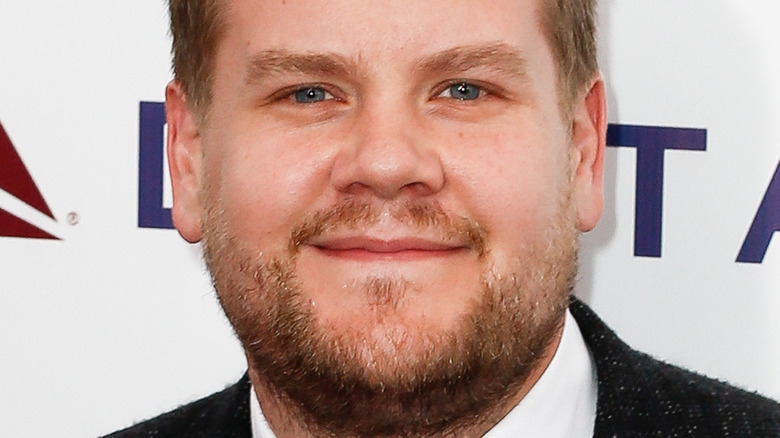 Debby Wong/Shutterstock
There's no doubt that Will Smith and Chris Rock's drama at the Oscars is the biggest story in Hollywood at the moment. Rock made a joke about Jada Pinkett Smith's buzzcut at the Academy Awards on March 27, clowning her struggles with alopecia. In response, Will stormed the stage to deliver Rock a slap to the face. Once Will returned to his chair, he shouted at Rock to keep Jada's name out of his "f***ing mouth." Later in the broadcast, Will accepted the Oscar for his role in "King Richard," and eventually issued an apology to Rock on Instagram. According to Newsweek, the Academy is currently investigating the incident as many wonder if they could take away Will's award.
Since the slap heard 'round the world, many celebrities have slammed Will for his actions. Actor Zoe Kravitz posted a photo of herself at the Oscars to Instagram, writing that it was an evening "where we are apparently screaming profanities and assaulting people on stage now." Producer Judd Apatow also weighed in on the drama with Will, suggesting in a since-deleted tweet that Will's attack could have killed Rock, per Just Jared. 
Of course, late night hosts have been feasting on the drama that went down at the Oscars, and James Corden was no exception. The host didn't waste any time talking about the scuffle on his show, and he even did a little song and dance about it that's turning some heads.
James Corden parodies the Jada Pinkett Smith joke with a song
The way James Corden addressed the Will Smith drama is turning some heads. The host recapped the Oscars incident on "The Late Show With James Corden," joking that the slap caused him to lose a bet. "I mean, the whole incident threw me off in a huge way, also completely ruined my chances in the Oscar pool. I had Dame Judi Dench smacking Woody Harrelson," he teased. Corden then applauded Chris Rock for being the bigger man by handling the situation so well and "keeping the show moving."
In a later segment, Corden sang "We Don't Talk About Jada" to the tune of the hit "Encanto" song, "We Don't Talk About Bruno." The parody of the controversy, albeit brilliant, was pretty cringe. Naturally, fans took to social media to share their thoughts about Corden's song and dance. One fan raged in response to the skit, "I HATE JAMES CORDEN ... I HATE ENCANTO." Other viewers took issue with Corden seemingly siding with Rock in the situation. "so James Corden would find it funny if Chris Rock made fun of his own wifes medical condition?" one viewer tweeted. "Who cares what James thought. Ask Jada!" Another Twitter user wrote, "I genuinely think it's literally impossible to find someone as unfunny as James Corden." Ouch!