Who Is Villanova Basketball Coach Jay Wright And Who Is His Wife?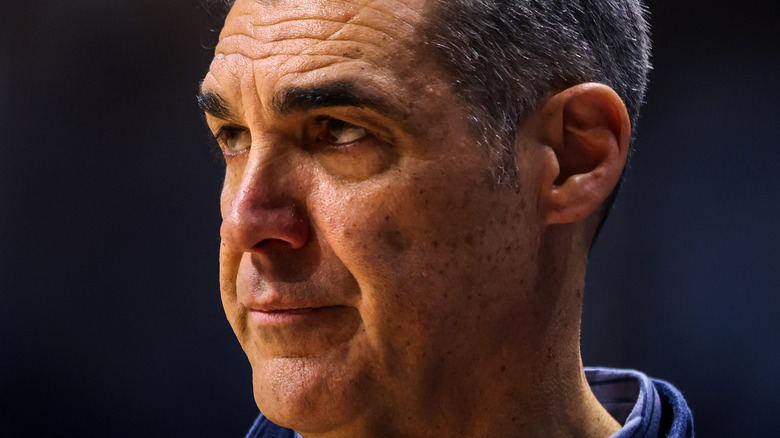 Brady Klain/Getty Images
The Villanova Wildcats have their sights on another national title after making it to the final four of the 2022 NCAA Basketball Tournament. The team has previously won two championships in a span of six years, per NCAA News, and the person who deserves the most credit is head coach Jay Wright.
According to the Villanova website, Jay has been with the team for 20 seasons and led the team to win the Big East Championships seven times. Jay has been lauded as one of the greatest NCAA coaches of all time and was inducted into the Naismith Hall of Fame in 2021 — an honor that he called "humbling," according to Forbes. He said that he didn't "feel like a Hall of Famer," but did celebrate the achievement with his wife, Patricia "Patty" Reilly, after he got the confirmation call.
Since then, Jay has focused on building his team for another championship run. But while fans wait to see if Villanova can make history again, let's take a look at how Jay rose to become one of NCAA's best coaches and what his relationship with his wife, Patricia Reilly Wright, is like.
Jay Wright played basketball during his college days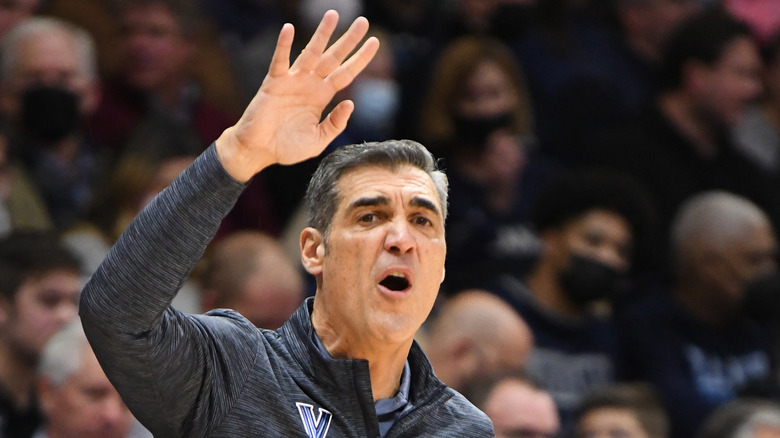 Mitchell Layton/Getty Images
Like many other NCAA basketball coaches, Jay Wright was also a basketball player in his college days. He played as point guard on the Bucknell University team during the 1982-'83 season, and credited his alma mater for instilling in him values that shaped him as a coach today. "As I look back on it, when I came to Bucknell I was so overwhelmed and unprepared," Jay said in a speech during a visit to Bucknell in 2017 (via Bucknell Bison). "But Bucknell helped me grow up as a person, as a teammate, and as a student."
After graduation, Jay had his sights set on becoming an NCAA coach and got his first assistant coaching job at Division III University of Rochester in 1983, according to The New York Times. He moved on to become an assistant coach at Drexel University three years later. However, Jay's success really began during his first stint at Villanova in 1987 — because of the connection the university had with his wife, Patricia Reilly Wright.
According to Fab Wags, Patricia, aka Patty, was a cheerleader at Villanova when she met Jay before he became an assistant coach. She studied law during her undergrad, but did not put her degree to use because she became a full-time mom to their three children — sons Taylor and Collin and daughter Reilly. Despite the fact that she had to sacrifice her career for his coaching ambitions, Patty has continued to support her husband through the highs and lows.
Jay Wright's wife has made him a better coach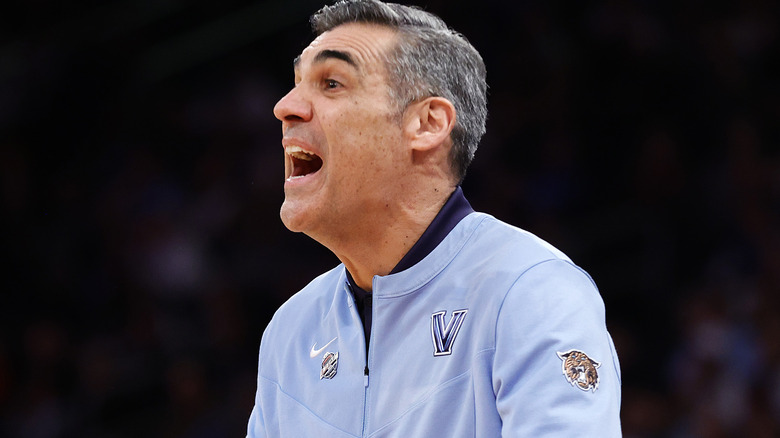 Tim Nwachukwu/Getty Images
Throughout his wildly successful career, Jay Wright has received the support of his wife, Patricia Reilly Wright, and has credited her for making him a better coach. In an interview with the Philadelphia Inquirer in 2010, Jay praised Patricia for keeping their family grounded despite their hectic lives. 
"I want to be there for them, but I want to keep it low-key. Because I'm not Jay Wright at that point. I'm just another father," he said of his role to his sons. "When some of the guys come over the house after practice, Patty cooks for them, they'll sit around talking about the game, imitating coaches, it's fun to be a part of that." Jay went on to say that he and Patty try to teach their children to be good people even in the face of adversity.
"You can still be a good person, no matter what," Jay said. "That's Patty's influence, as much as anything. We've tried to instill that in them. That's what I love the most." Besides having similar parenting philosophies, Patty also knows a lot more about basketball than one may think and actually helps Jay prepare for games by watching footage with him, according to GQ. A couple who watches game film together, stays together, right?