The Truth About Oregon State Coach Wayne Tinkle's Wife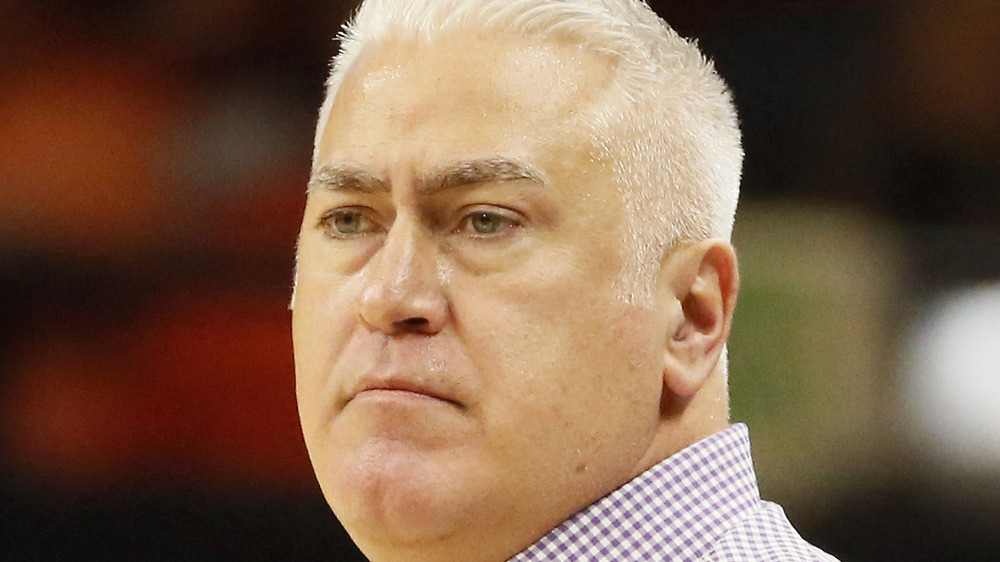 Soobum Im/Getty Images
Oregon State defied the odds and made an incredible run in the 2021 NCAA Men's Basketball Tournament as they reached the Elite 8 after being projected to not only fail to qualify for March Madness, but finish last in the PAC-12 conference, as per Independent Record. The coach of the Beavers is Wayne Tinkle, and his basketball-crazed family became mascots of sorts for the team.
As covered by Oregon Live, Wayne was one of 11 children in his family, and several of his sisters made it out to cheer on his team during their improbable March Madness run. He, his wife, Lisa, and their three children all had outstanding collegiate basketball careers. One of Tinkle's daughters, Joslyn, played for Stanford and told Independent Record that being on the sidelines was equally as exhausting as playing. "It felt like I was playing in those 40 minutes," she told the outlet after watching Oregon State make it to the Elite 8. "It's certainly way more stressful being on the sideline[s] than it ever was as a player," daughter Elle, who played at Gonzaga, told 406 MT Sports in March 2020.
Both Joselyn and Elle took jobs in Oregon to be closer to the family so they could watch their father coach — and their brother Tres play — at Oregon State. "We knew we wanted to migrate a little more toward Portland and cheer on Tres for the next few years," Joslyn said.
So, who is the matriarch of the Tinkle basketball family?
From basketball star to family rock, Lisa Tinkle has done it all
Lisa Tinkle grew up in Montana and played basketball for the University of Montana Grizzlies at the same time that her future husband, Wayne Tinkle, went there, per MontanaSports.com. She graduated in 1989 after leading the team to three NCAA Tournament appearances. The standout racked up 1,470 points plus 830 rebounds during her playing days, and she was enshrined into their hall of fame in 2011 (via The New York Times).
During the ceremony, Lisa recalled how her personal life overlapped with her life in basketball. "They showed one picture from our wedding night and my teammates were in the pic," she told the Missoulian. Lisa and Wayne got engaged while they were both seniors at Montana. Per MontanaSports.com, she was pregnant with their first when Wayne went to play professional ball overseas. The Missoulian asked her when she transformed from a basketball star to a mom. "Oh, that happened almost immediately," Lisa explained. "Now I have no identity other than their mom, but I'll take that."
Lisa told MontanaSports.com that the sport had been integral to her family's development. "Basketball was ... our ticket to go through the community and we've been awarded a lot of opportunities, have had wonderful experiences," Lisa said. The Tinkles recognize the sacrifices Lisa made so they could thrive. "I get emotional just talking about her, just what she's done for our family, for me and my sisters," son Tres Tinkle said.