Resurfaced Interview Reveals The Huge Way Will Smith Helped Bruce Willis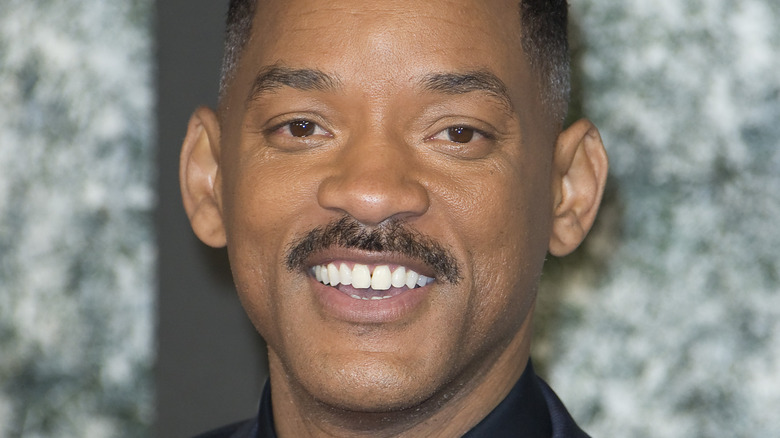 BAKOUNINE/Shutterstock
The aftermath of Will Smith's Academy Awards slap almost overshadowed sad news about another celeb — and that celeb happens to have a connection to Chris Rock's joke that so angered the "King Richard" star. On March 30, Bruce Willis' family announced that he's retiring from acting for a heartbreaking reason. In a statement shared on her Instagram page, Bruce's daughter Rumer Willis revealed her dad has aphasia, a disorder that makes communication difficult. According to WebMD, it's caused by brain damage. "We are moving through this as a strong family unit, and wanted to bring his fans in because we know how much he means to you, as you do to him," the statement read in part.
Bruce was married to actor Demi Moore when she filmed "G.I. Jane," the 1997 movie that Rock referenced when making fun of Jada Pinkett Smith's buzzed head, a style she rocks due to hair loss caused by alopecia, per Instagram. Moore shaved off all of her hair to play a woman training to become a Navy SEAL, and her daughter Tallulah Willis, whom Moore shares with Bruce, experimented with the same hairstyle in 2020. Tallulah shared an Instagram video of her dad manning the clippers after she decided she wanted a buzz cut.
Bruce's ties to Will go beyond the former's marriage to the woman who got a shoutout from Rock at the Oscars — the "Die Hard" star played a crucial role in shaping Smith into the Academy Award-winning actor he is today.
How Will Smith helped Bruce Willis cope with his divorce
Trevor Gillespie/Getty Images
Bruce Willis hadn't yet saved the world from total annihilation in "Armageddon" when Will Smith saved it from an alien invasion in the 1996 blockbuster "Independence Day." But it's not hard to see why Bruce was someone Will modeled himself after — Bruce had successfully transitioned from television to movies while filming the series "Moonlighting," and "The Fresh Prince of Bel-Air" star was hoping to do the same.
At a 1996 press junket, Will said that Bruce influenced how he played his character in "Independence Day," noting that Bruce "plays heroes that don't want to be heroes." As an example, Will cited the older actor's famous scene in "Die Hard" that required him to reluctantly run over broken glass while barefoot, per Showbiz Cheat Sheet.
But it was Bruce who turned to the younger star for advice when Demi Moore moved on with Ashton Kutcher three years after Bruce and Moore's 2000 divorce. Smith already had some experience with post-divorce dynamics; Will's ex-wife Sheree Zampino, and Jada Pinkett Smith developed such a close relationship that Jada described the three of them as being in "a non-sexual throuple" on "Red Table Talk." In 2007, Bruce recalled to Playboy (via Page Six), "[Will] said, 'Dude, you've got to do whatever it takes to get the kids and all the spouses or the girlfriend together. You've got to show your kids it's OK.' It was like a light went on. Ding. So Will, thanks." Now, Bruce has a very strong blended family.