Who Is North Carolina Basketball Coach Hubert Davis And Who Is His Wife?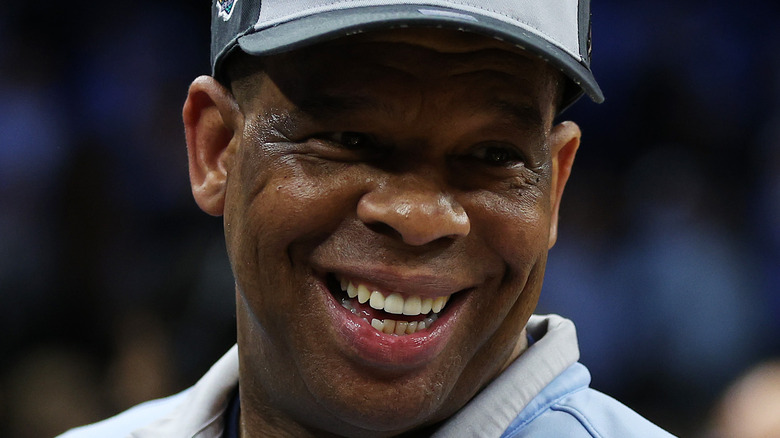 Patrick Smith/Getty Images
The North Carolina Tar Heels are looking to make another run at the 2022 NCAA Championships. The team has won six championships with the most recent one coming in 2017, per NCAA. The Tar Heels are looking to make history again, but they would not be in the Final Four without their head coach, Hubert Davis.
Per Sports Illustrated, Davis took over the head coach position after Roy Williams retired in 2021, and has spent the entire year executing his game plan so his team could contend for the championship. When the Tar Heels made the Final Four, Davis broke down in tears. "I really wanted this for them. I just desperately wanted this for them," he said of the achievement, per CBS Sports. "I love these guys so much, they trusted me in my first year, they allowed me to coach them and allowed me to be in their life."
As evident by his comments, Davis has a warm and likable personality, but there's actually a darker past to him. Here's everything we know about him and his family.
Hubert Davis played in the NBA before he coached in college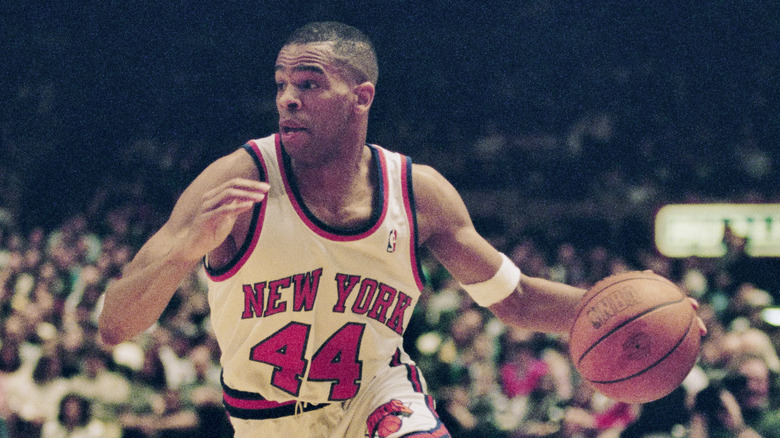 Rick Stewart/Getty Images
Hubert Davis knows the pressures his athletes are facing because he experienced the same as a collegiate and then NBA player. As per The U.S. Sun, Davis was born on May 17, 1970 in North Carolina and actually played for the Tar Heels in his college days, before moving onto the big leagues in 1992. He played for the New York Knicks, Toronto Raptors, Dallas Mavericks, New Jersey Nets, and more throughout his professional career.
Though he was successful in the NBA, Davis cherished his time as a Tar Heel and used his experience as a player to guide his coaching philosophy, describing it as "an act of service," per The Washington Post. "If I'm only coaching basketball, then I need to quit or be fired," Davis said in a post-match interview on March 27. "I'm not just a basketball coach. My job is to help and to teach and to care for them."
Davis' empathetic personality and willingness to persevere could be seen as traits he developed after suffering from emotional trauma as a teenager. According to ESPN, Davis' mother died from oral cancer when he was 16 years old, and he had to learn to grow up in a short amount of time. "She was my best friend," Davis said. "Going through that horrific experience hardened me." Fortunately, Davis also had the support of his wife, Leslie, during times of hardship.
Hubert Davis' wife is his number one supporter
Hubert Davis would not have achieved the level of success as he has without the support of his wife, Leslie Davis. The couple met in high school in Burke, Virginia, and they immediately hit it off. In an interview with Chapel Hill Magazine, Hubert said that his wife was the daughter of an Army child when they met and became "best friends" during high school. They also attended the University of North Carolina together. "We just did everything together," he said. "We've known each other a long time and been married almost 22 years. But it feels like even more because I've had my best friend with me since I was 16 years old."
While it's unclear what Leslie studied or does for a living, she does have the important role of being mom to their three children — Elijah, Gracie, and Micah — who are star athletes in their own right. However, Hubert made it clear that he didn't want to steal their achievements. "I've always wanted people to celebrate him, absent of my career. My life is my life," he told Chapel Hill Magazine of his son, Elijah, who plays for the University of Lynchburg.
Despite wanting to give freedom to his children, they are always supportive of their dad. Elijah revealed to The Fayetteville Observer that he, his mom, brother, and sister will be on hand to support Hubert and the Tar Heels during the Final Four matches.