Shawn Wayans Nearly Predicted The Will Smith Chris Rock Controversy Years Ago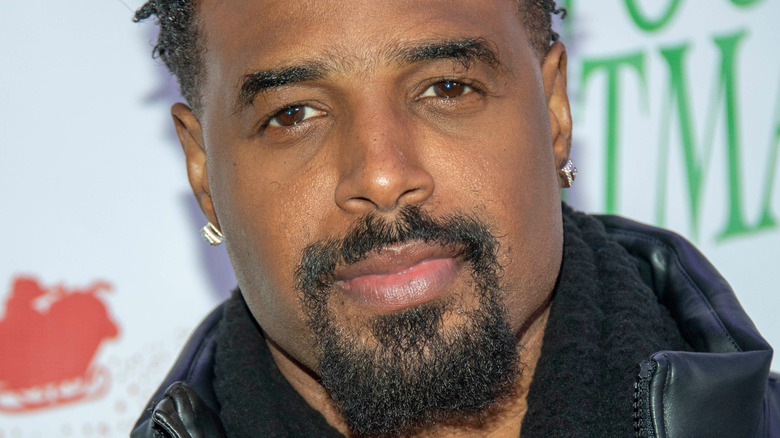 Eugene Powers/Shutterstock
Many on social media are still reacting to "The Fresh Prince of Bel-Air" star Will Smith slapping "Grown Ups" actor Chris Rock across the face on live television during the 2022 Oscars ceremony on March 27. The on-stage smackdown started after Rock made a joke about Will's wife, Jada Pinkett Smith, comparing her buzz-cut hairstyle to one in the movie "G.I. Jane." This wasn't the first time Rock used Jada's name for a joke, per Us Weekly, and "The Pursuit of Happyness" actor apparently couldn't handle it any longer. The Smiths took Rock's banter personally, as Jada has been open about having a medical condition called alopecia that causes her intense hair loss.
Now "White Chicks" actor Shawn Wayans is making headlines for seemingly predicting the Oscars altercation between Will and Rock more than two decades ago. While impersonating Rock at the MTV VMAs in 2000, Shawn went off and trash-talked the celebrity-filled audience. At the end of Shawn's skit, he acted out a scene where Rock ended up getting beat up on the stage for taking a joke too far. 
After the 2022 Oscars slap unfolded, Shawn's 2000 throwback parody of Rock getting beat up has gone viral with millions of views online, reported the New York Post. Shawn's youngest brother Marlon Wayans resurfaced the spot-on throwback clip on his Twitter, which followers are reacting strongly to. One person said, "Yikes! Spot on," while another replied, "This is scary funny, like y'all did that."
Shawn Wayans anticipated Chris Rock would get hurt
Actor and writer Shawn Wayans comes from a particularly large family, with all 10 of his siblings in the entertainment business, including his brother and "Scary Movie" star Marlon Wayans, notes Biography. On March 28, Marlon, who's a comedian himself, brought attention back to his older brother's MTV VMAs impersonation of Chris Rock in 2000.
Marlon sent out a tweet with a link to the clip, where Shawn does a parody of Rock getting smacked onstage, adding, "Maaaaan, not to 'kick' a brother when he's down... BUT we predicted this s**t exactly." He was referring to Will Smith slapping Rock at the 2022 Oscars, seemingly proving his brother correctly guessed that the "Madagascar" star would end up getting physically hurt for his jokes one day. Marlon told People at the 2022 Vanity Fair Oscar Party that Rock just "cracked the wrong joke on the wrong day." He argued that, "You've got to be able to crack jokes" and "sometimes you hit the wrong person in the wrong moment." Overall, Marlon stated that the overall altercation between Will and Rock "was just bad timing." 
But either way, Marlon is just asking for people to "laugh again" and put the situation behind them. Although he didn't forget to enjoy the reaps of his brother's portrayal of Rock, writing in his tweet, "We were way ahead of our time."