What's The Real Meaning Of When You're Gone By Shawn Mendes? Here's What We Think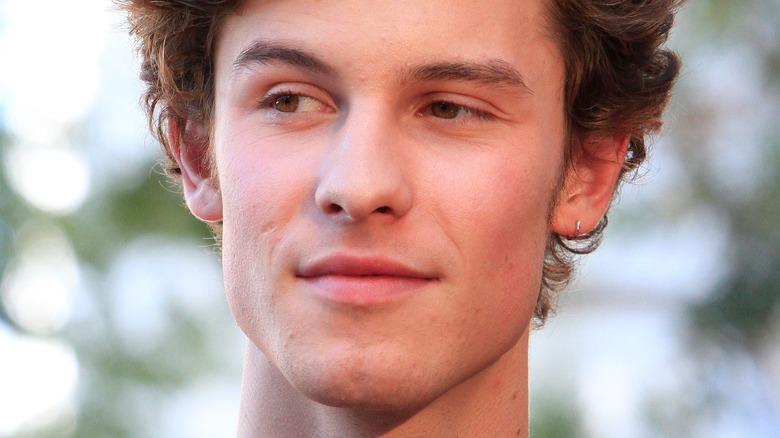 Kathy Hutchins/Shutterstock
Canadian singer-songwriter Shawn Mendes' relationship with Fifth Harmony member Camila Cabello seemed to all of us on the outside as #relationshipgoals, so many music fans were shocked in November 2021 when the pair announced in each of their Instagram Stories that they had broken up after two years together. "Hey guys, we've decided to end our romantic relationship but our love for one another as humans is stronger than ever," their prepared statements read. "We started our relationship as best friends and will continue to be best friends. We so appreciate your support from the beginning and moving forward."
While those of us in the #Shawmila fan club will forever hope for their reunion (it could happen!), Mendes has used his favorite tool to try and make sense of the split: music. On March 31, the Pickering, Ontario native dropped a new single and accompanying music video for "When You're Gone," and it seems almost obvious that it is a breakup ballad aimed at explaining his complicated emotions surrounding their split. TBH, the lyrics almost read as if Mendes wants Cabello back.
Shawn Mendes doesn't 'wanna move on'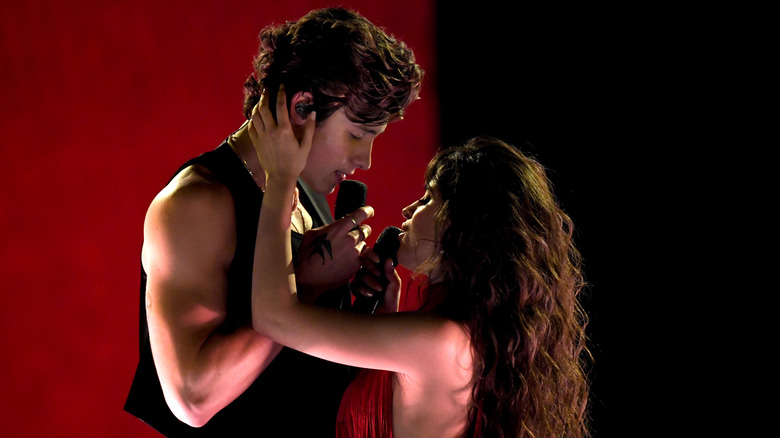 Kevin Winter/Getty Images
In Shawn Mendes' music video for "When You're Gone," the Canadian heartthrob sings the lyrics, "I don't wanna move on / I don't wanna know what it's like when you're gone for good," and then later, "You're slipping through my fingertips / A little bit, by a little bit / I didn't know that loving you was the happiest I've ever been / So I'm just tryna hold on."
Those are some really honest and raw lyrics that definitely come from a deep, personal place, yet we can already hear some naysayers insisting that there's no evidence this is about his ex-girlfriend Camila Cabello. Mendes, however, previously said that all of his romantic ballads have always been about Cabello, even when she didn't know it. During his 2020 tour documentary, "Shawn Mendes: In Wonder," he revealed to the camera that, when it comes to his songs, he told Cabello, "Everything is about you, they've always been about you ... They're all about you. Like, every song I ever wrote" (via BuzzFeed).
And let's not forget that this isn't even the first time Mendes has alluded to their split in his music.
Shawn Mendes dropped 'It'll Be Okay' soon after his split from Camila Cabello
John Shearer/Getty Images
In December 2021, Shawn Mendes dropped the music video for "It'll Be Okay," where we see him taking a walk through the snowy Toronto streets at night, singing about his state of melancholy after bidding farewell to a lover. "If you tell me you're leaving, I'll make it easy ... We don't have to fix it / We don't have to stay / I will love you either way," he sings, per Genius. 
That forlorn feeling of having the one you love leave you behind has seeped into some of Mendes' social media presence. Two weeks before "When You're Gone" dropped, the "Treat You Better" crooner posted a video to his official Instagram, where he talked about how isolating it feels to no longer have in his life the person he turned to when things went wrong. "Who do I call when I'm in a panic attack? Who do I call when I'm, like, f***ing, on the edge? ... Now, I feel like, finally, I'm actually on my own, and I hate that," he said.
Taking this into account, all of those in favor of a #Shawmila reunion, say "aye!"