Kim Kardashian's Impact On Pete Davidson Is Taking An Unexpected Turn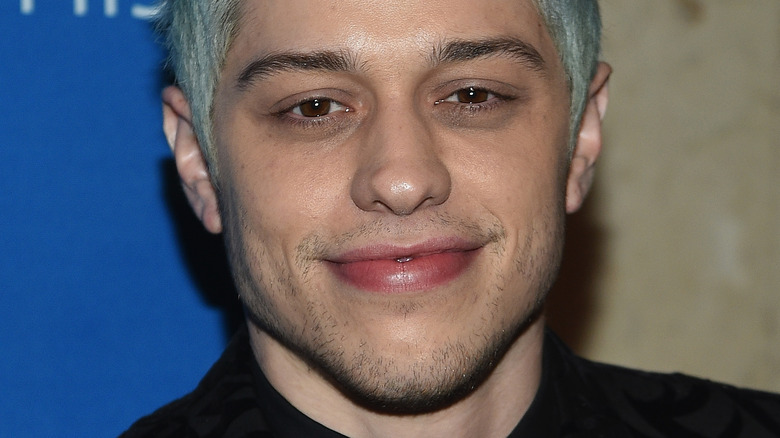 Dimitrios Kambouris/Getty Images
Taking it to the next level! Kim Kardashian and Pete Davidson just made their relationship even more official as the Skims founder is using her fashion knowledge on her man in the best way possible.
Since making their relationship official in November 2021, Kim and Davidson have had a rocky relationship — though not with one another. It was, instead, Kanye "Ye" West giving the two a run for their money — constantly harassing them online and threatening Davidson, per Page Six. Since the start of their relationship, Ye has been an outspoken critic of the two. Yet, despite the Ye rollercoaster, Kim and Pete stayed true to one another and their relationship, becoming more serious by the day. Recently, Davidson even put his feelings into writing by getting a few tattoos specifically for Kim — including her name branded on his chest, and "My girl is a lawyer" on his collarbone, per BuzzFeed.
But now, Kim is giving back to Davidson in the best way she knows how.
Kim Kardashian influenced Pete Davidson to get a huge closet makeover
Pete Davidson's closet just received a huge makeover, all thanks to his girlfriend Kim Kardashian. Luxury organizing company Spiff Organizing took to Instagram to show the end result, which included a chic, color-coordinated rack of shirts, a shoe display, and a row of color-coordinated sweatsuits. Knowing the "King of Staten Island" has such a big personality, it is no surprise the comedian had plenty of bright, colorful clothing to match.
Speaking on the interior space, the Spiff professionals wrote on Instagram that they "tied in the black shelving with some black sustainable storage boxes" for Davidson to use. From the photos, the black boxes sit at the bottom of Davidson's closet underneath the assorted racks and color-coordinated columns of clothing. While the professionals gave a sneak-peek into Davidson's wardrobe, they mentioned there is "more to come."
Obviously, with Kim being the ultimate fashion designer, it is no doubt that Davidson wanted to spruce up his wardrobe to impress his leading lady! Knowing how serious these two are, as a source confirmed to Us Weekly, it seems that after the closet clean out there might even be some room for Kim to add a few of her pieces in there — though we will all just have to wait and see if that's true in Spiff's update on Davidson's closet!