The Unexpected Grammy Appearances That Had Viewers Emotional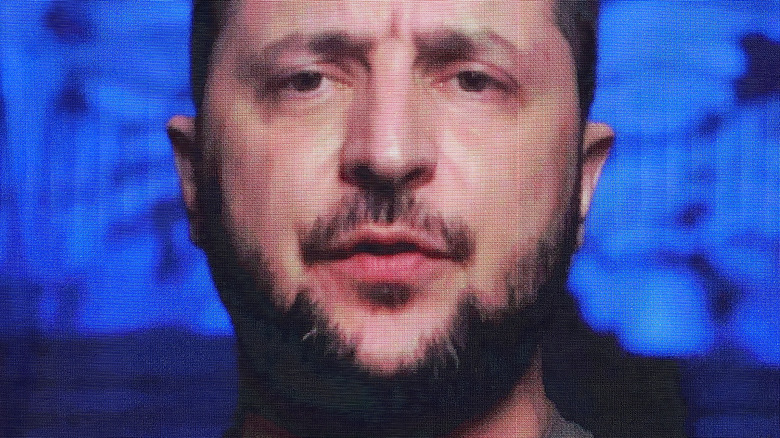 Rich Fury/Getty Images
Award shows are always full of surprises and the 2022 Grammys were no different. But instead of a surprise performance or an unexpected altercation between artists, this year's biggest night in music offered something different by giving Ukraine the spotlight.
According to Deadline, the Recording Academy partnered with Global Citizen and the "Stand Up For Ukraine" campaign for a special segment aired on live television. The partnership hopes to help the public gain a deeper understanding of what's happening with Ukraine now that the country is at war with Russia. "We are heartbroken by the situation in Ukraine, yet still moved by the resilient spirit on display there every day," Recording Academy CEO Harvey Mason Jr. said in a statement. "We hope the [Grammys] segment inspires our worldwide audience to get involved to support these critical humanitarian efforts."
This effort comes on the heels of Ukrainian President Volodymyr Zelenskyy urging notable personalities to support the country. "I'm inviting everybody: musicians, actors, athletes, businessmen, politicians, everybody," he said in a statement, per NME. And on Grammy night, it's Zelenskyy himself who delivered a moving speech about the situation in Ukraine.
President Volodymyr Zelenskyy made a surprise appearance at the Grammys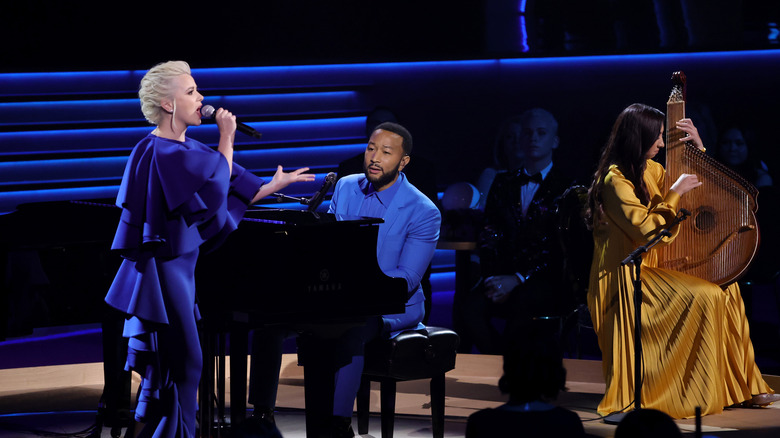 Matt Winkelmeyer/Getty Images
President Volodymyr Zelenskyy continues to deliver remote appearances, and his latest stop was the 2022 Grammys. The award show played a pre-taped speech of the president as he introduced John Legend and discussed the crisis happening in his country.
"The war. What is more the opposite of music," he said, per E! News. "The war doesn't let us choose who survives and who stays in eternal silence. Our musicians wear body armor instead of tuxedos. They sing to the wounded in hospitals. Even to those who can't hear them. But the music will break through anyway. We defend our freedom. To live, to love, to sound." He went on to urge people to offer their support in whatever way they can. "Fill the silence with your music! Fill it today. To tell our story. Tell the truth about this war on your social networks, on TV. Support us in any way you can," he added. "Any — but not silence. And then peace will come."
Meanwhile, Legend showcased a phenomenal performance dedicated to Ukraine. He took the stage with Ukrainian artists Siuzanna Iglidan, Mika Newton, and Lyuba Yakimchuk and performed the song "Free," a song apt for the dire situation the war-torn country is facing today.