Bruno Mars Had Twitter Talking And It Had Nothing To Do With His Grammys Win
Kevin Mazur/Getty Images
Bruno Mars, along with Anderson .Paak, just enjoyed one of the biggest nights in the history of their careers. Their R&B super duo, Silk Sonic, just took home a number of the most coveted awards at the 2022 Grammys, including Record of the Year, Song of the Year, Best R&B Song, and Best R&B Performance. They won every award they got nominated for this year, a distinction that only a few enjoy.
"We are really trying our hardest to remain humble at this point," .Paak quipped. "But in the industry, we call that a clean sweep." And while they bagged award after award, they still offered their support to other artists. "For all the other nominees, y'all know we love y'all. We love y'all! Drinks are on Silk Sonic tonight. We're getting drunk!" he added. "I know a lot of y'all fans might be upset, so we're gonna get out of here before the internet gets to talking."
And they did get the internet talking alright, but not because of the Grammy awards they're bringing home.
Bruno Mars lit a cigarette on the 2022 Grammys stage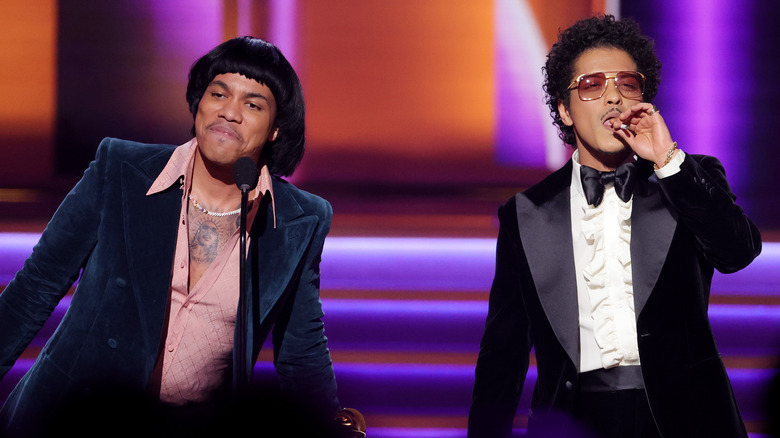 Rich Fury/Getty Images
In an absolutely boss move, Bruno Mars lit a cigarette on the 2022 Grammys stage while receiving yet another award. As the other half of Silk Sonic, Anderson .Paak, was delivering their acceptance speech, Mars pulled a cigarette from his pocket and lit it in front of the audience and the millions of viewers worldwide. It's unclear whether it was against the rules, but fans applauded the gesture, as it was as suave and indicative of, "This is my moment," than anything we saw on the Grammys stage.
"Bruno Mars lighting a cigarette on stage while receiving Record Of The Year is one of the greatest Grammy moments of all time," one fan tweeted. "Bruno mars lighting up a cigarette as he accepts [his] umpteenth Grammy with Anderson paak was unreasonably smooth," exclaimed another. Mars took a risk with that move, but people found it legendary. We'll surely remember it for years to come!