Bruce Willis Took Home Less Than You Think For His Role On Friends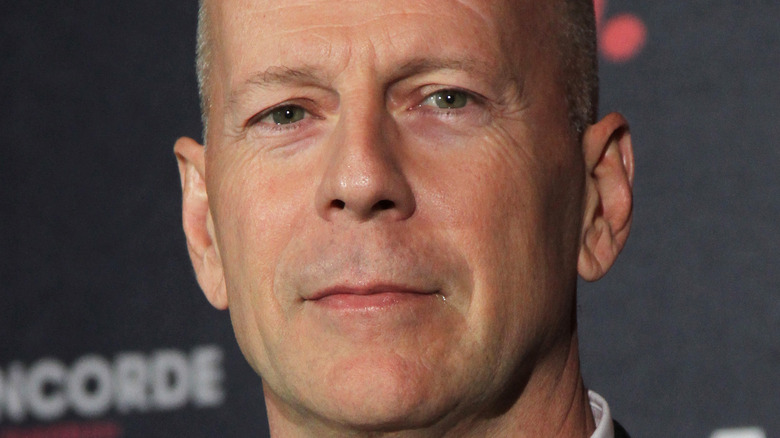 vipflash/Shutterstock
Over its 10-season run, "Friends" featured a star-studded cast – and we're not just talking about series stars Jennifer Aniston, David Schwimmer, Courteney Cox, Matthew Perry, Lisa Kudrow, and Matt LeBlanc. The hit sitcom was Must See TV for years thanks to the frequent cameos by A-list guest stars. From 1994 to 2004, "Friends" boasted an impressive list of celebrity guests that included Brad Pitt, Julia Roberts, Brooke Shields, and even movie legend Charlton Heston.
One of the most buzzed-about cameos came in Season 6 with Bruce Willis. In 2000, Willis made a memorable appearance for a three-episode arc, starting with the episode "The One Where Ross Meets Elizabeth's Dad." Willis played Paul Stevens, the overprotective father of Ross's (Schwimmer) young college student girlfriend, Elizabeth (Alexandra Holden).
Willis was 45 years old when the episodes aired. While he may have been too old to be a "Friend," he was not too old to land a make out scene with Aniston. But how did this match made in sitcom heaven ever come to be?
Bruce Willis revealed why he agreed to appear on Friends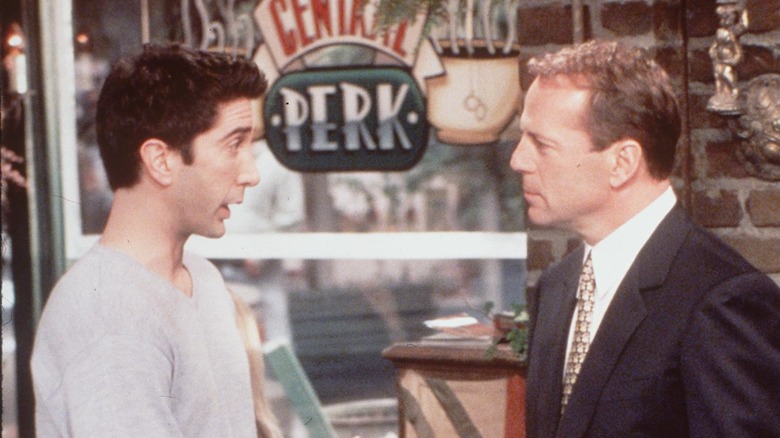 Getty Images/Getty Images
Bruce Willis first shot to fame on TV in the 1980s detective series "Moonlighting." But by the early 2000s, he was better known for his hot movie career. Willis headlined the "Die Hard" franchise, playing leading man John McClane in three films at the time. He also appeared in "Pulp Fiction," 'Unbreakable," and "The Sixth Sense." In 1999, he co-starred with "Friends" star Matthew Perry in crime comedy "The Whole Nine Yards," and later, its sequel, "The Whole 10 Yards." In an interview with The Eagle, Willis talked about working with Perry, saying, "Matthew and I both feel fortunate that we get to try to crack each other up. And get paid for it."
But did he get paid for "Friends"? Willis once teased that he didn't do "Friends" for the money. "I was on 'Friends' because I lost a bet to Matthew Perry," he told Wired in 2018 video interview. Willis did receive some sort of paycheck, although it probably wasn't the $1 million per episode that the "Friends" cast commanded at the time. In 2000, Willis' publicist confirmed that he donated his "Friends" paycheck to charity. Entertainment Weekly revealed that Willis donated his paycheck from the NBC sitcom among his five favorite charities, including the Elizabeth Glaser Pediatric AIDS Foundation and UCLA Unicamp for underprivileged children. The amount of Willis' donations was not revealed.
While he has no money to show from his "Friends" stint, Willis did walk away with something even more priceless: He scored an Emmy Award for outstanding guest actor in a comedy series.
Matthew Perry showed his support following Bruce Willis' retirement from acting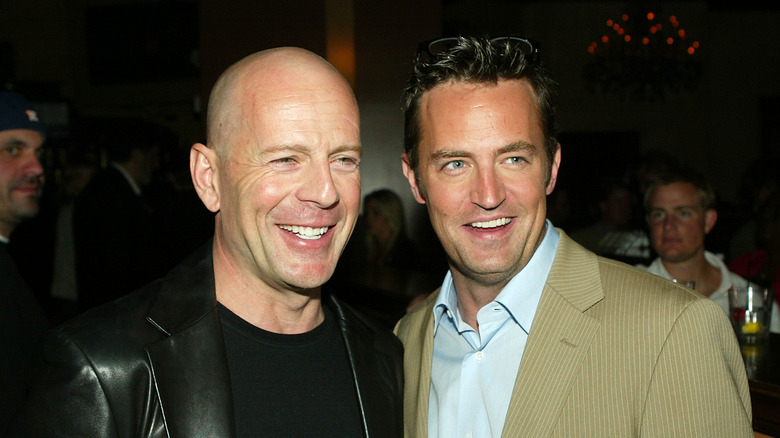 Kevin Winter/Getty Images
On March 30, Bruce Willis' family announced his retirement on Instagram, noting that he would be "stepping away" from acting, after he was diagnosed with the cognitive disorder aphasia. The condition affects the ability to express or comprehend language. The devastating news had fans recalling the 67-year-old actor's iconic career, including that famous "Friends" stint. Willis has received an outpouring of love from fans and Hollywood friends, including his "Friends" co-star Matthew Perry.
On Twitter, Perry penned a message to Willis that included a joke about their final film together. "Dear Bruce Willis, I'm so sorry to hear what you are going through, but you're still the coolest man I've met in my entire life," the "Friends" star wrote. "You will remain in my prayers for a long long time. Maybe we should get together and watch the whole 10 yards and get a couple of hours of sleep."