Olivia Rodrigo's Grammy Red Carpet Incident Is Reminding Everyone Of Another Huge Star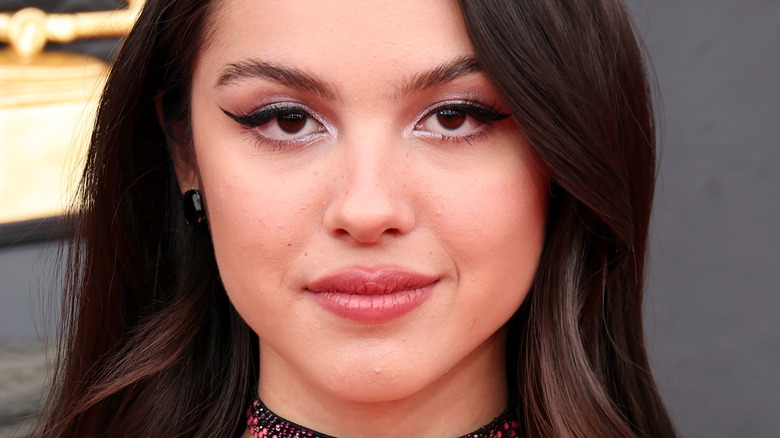 Amy Sussman/Getty Images
OLIVIA + TAYLOR = BFF
Singer-songwriters Olivia Rodrigo and Taylor Swift have been two peas in a pod since the pair first met at the Brit Awards on May 11, 2021, per Billboard. In true Gen Z fashion, following the famous encounter Rodrigo immediately took to her Instagram to commemorate the moment with a photo of herself and Swift along with four pleading face emojis in the caption. 
Prior to that platonic meet cute, however, the pop princesses had been engaging with one another on social media. "I was dead asleep and my friend called me on the phone and I was like, 'Oh my God, it's 6 a.m. Can I call you back in two hours?' And he's like, 'No. Absolutely not. Check your Instagram right now,'" Rodrigo dished to host Zane Lowe about the first time Swift dropped a comment on her Instagram account during a January 2021 appearance on "The Zane Lowe Show" (via Billboard). "And in the grogginess of my sleep, I checked my phone and she commented on my photo and I just about died ... just about died. Literally, I've looked up to her as long as I can remember, so it was so sweet of her to do that," she gushed. But now it appears the famous pals have more in common than anyone initially thought... 
Olivia Rodrigo and Taylor Swift can't seem to hang on to their Grammys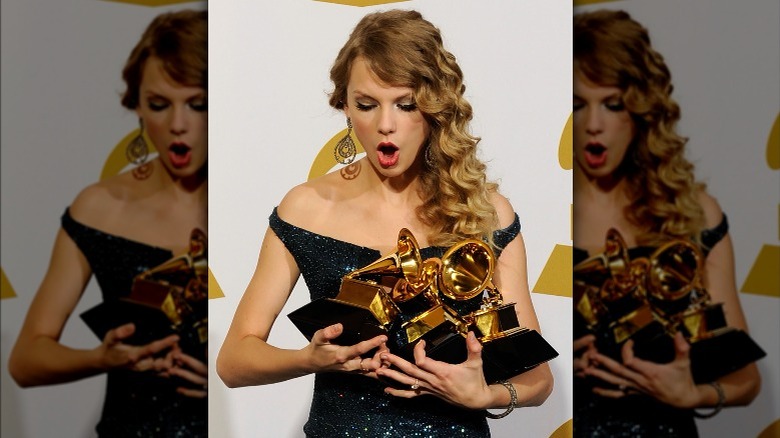 Kevork Djansezian/Getty Images
On April 3, "Drivers License" crooner Olivia Rodrigo snagged not one, not two, but three Grammys! Well done, Rodrigo! Alas, some might argue that Rodrigo only took two and a half of those awards home with her. Per ET Online, while posing with the hard-earned hardware, Rodrigo accidentally dropped one of the gilded gramophones and broke it in half... much to Twitterverse's dismay. "Only olivia rodrigo would drop and break her grammy award," one user tweeted along with the crying face emoji. 
Still, other users pointed out how Rodrigo was simply following in Taylor Swift's famous footsteps. "Legends drop their grammys. taylor swift and olivia rodrigo can confirm #GrammyAwards," one user wrote. Meanwhile, another penned, "Taylor swift and olivia rodrigo winning so many grammys they drop and break them on the red carpet." 
As the old saying goes, birds of a feather flock together! Perhaps these two can laugh the whole thing off while polishing their Grammys together...