Do Hilaria Baldwin And Kim Basinger Get Along?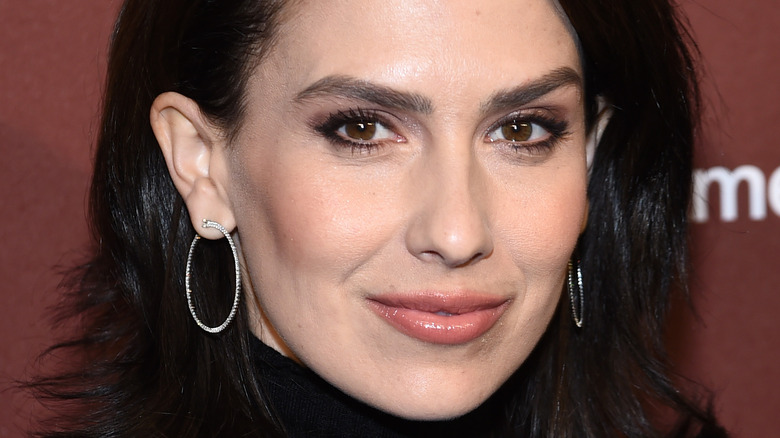 Jamie Mccarthy/Getty Images
There have been a lot of headlines about Alec Baldwin's marriage to his second wife, Hilaria Baldwin. The actor was previously married to Kim Basinger, and their 9-year union ended in a high-profile divorce. Kim Basinger and Alec Baldwin share an adult daughter, model Ireland Baldwin. Today, the older sister often spends time with her dad, Hilaria, and their growing family. In fact, when Ireland made a TikTok spoke out about the media back in February, Hilaria showed her support. "Love you, Ireland, speak up against senseless bullying. It is abusive, and those who partake are abusive people," Hilaria responded in her own Instagram story. 
But do Kim Basinger and Hilaria Baldwin get along? There doesn't seem to be any evidence of Baldwin and Basinger spending time together, but the two have shared some clues about how they really feel about each other.
Baldwin and Basinger are supportive of each other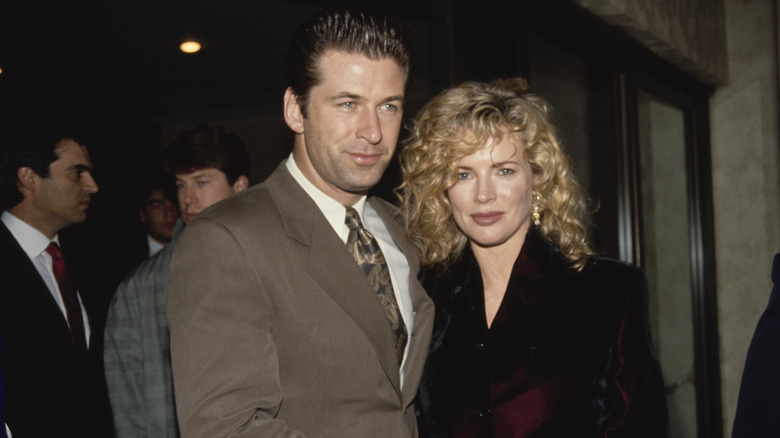 Michael Ochs Archives/Getty Images
While Hilaria Baldwin and Kim Basinger have yet to be seen together, it appears that Basinger is supportive of her ex-husband, Alec Baldwin, and his new family. In August 2021, the Hollywood siren made a rare comment about Alec and Hilaria's child Carmen on her daughter Ireland Baldwin's Instagram page. Kim commented, as per the Daily Mail: "Carmen ... such A beautiful twosome ... you are so beautiful ... I love you 2 .... together in this picture ... But YOU Know how to get it done and she will learn from you ...[sic]" 
Basinger doesn't seem inclined to comment on Hilaria's posts, but she did have a bit of fun at her ex-husband Alec's expense after he posted an Instagram photo of his three sons Romeo, Leonardo, and Rafael back in December 2021, as per "Today." Basinger commented with, "So cute .... them I mean ...." along with a string of laughing, clapping, and rainbow emojis. Kim and Hilaria aren't going out on the town, but Hilaria Baldwin had a loving message for Kim Basinger.
Hilaria Baldwin shares her thoughts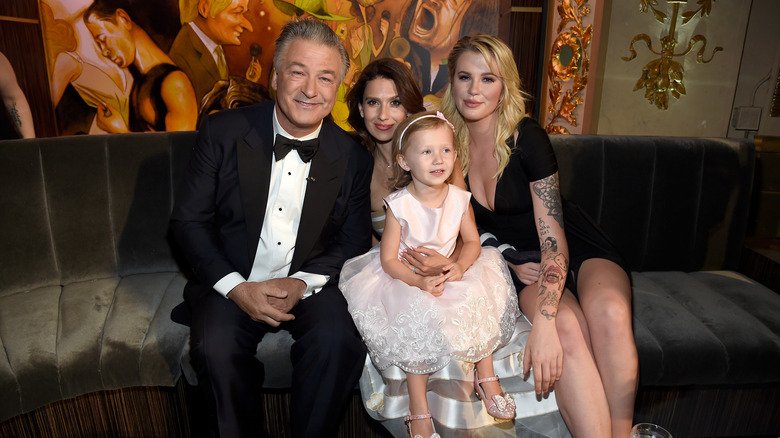 Kevin Mazur/Getty Images
Hilaria Baldwin often talks about her children and her life as a mom to ger growing family with Alec. She posted her thoughts about her stepdaughter, Ireland Baldwin, back in April 2019. Sharing a throwback photo on Instagram, Hilaria wrote, in part, "I think my relationship with her has been so successful because I never tried to step in as her mommy." 
Hilaria also went on to say that Alec Baldwin's ex Kim Basinger is a "good mother, who I have tremendous respect for," while also adding, "When I met Ireland, I said to Alec: if she is not ok with our relationship, I cannot go further. We have never had a fight or a bad moment. Nor have I with her mother."
Alec also Dr. Oz in October 2018 that he was grateful for his large family. As per Page Six, he said: "I'm grateful that both daughters I have — from two different marriages — have very capable mothers. Because the mother is the one who is going to teach the girl, I think, how to get around in the world." Luckily, those two women are supportive of each other and their kids.