The Bizarre Eminem Conspiracy Theory Explained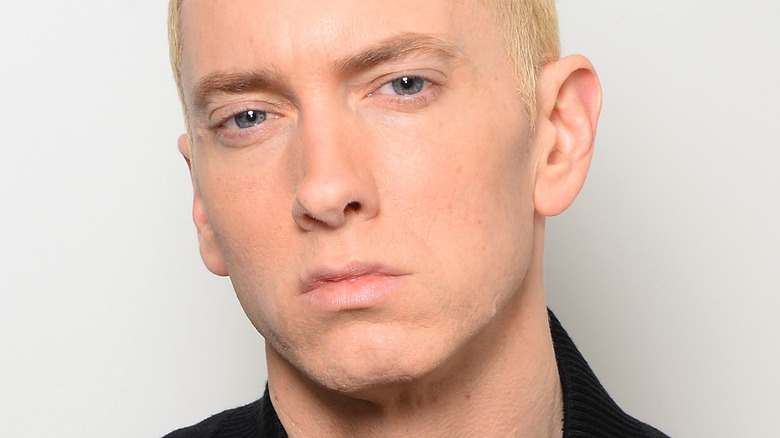 Dave J Hogan/Getty Images
Will the real Slim Shady please stand up? We repeat, will the real Slim Shady please stand up? We're gonna have a problem here. Well, if conspiracy theorists are to be believed — which is usually most definitely not — we really will have a problem. Because apparently, there is no real Slim Shady anymore. The actual, real Slim Shady aka Eminem aka Marshall Bruce Mathers III is no longer of this world.
There's a multitude of strange celebrity conspiracy theories lurking out there, many involving musicians. Per Popdust, the O.G. Paul McCartney apparently died in a tragic car crash in 1966. "The Beatles" star was replaced by a guy called Billy Shears, who happened to be the spitting image of McCartney. As Mirror notes, many swear Jim Morrison is still alive and kicking. He faked drowning in a bathtub and is supposedly living happily in New York City under the guise of some random called William Loyer.
Then, there's the infamous Tupac Shakur conspiracy theory that claims the rapper wasn't really killed in a Las Vegas shooting. ABC 13 KTNV reports that one conspiracist is so obsessed with the idea that Shakur is alive — and living in New Mexico, of all places — that he's even making a movie about it. However, the Eminem covert collusion hypothesis ramps the cray up a notch. So, put one of those fingers on each hand up and be proud to be outta your mind and outta control, because here's the bizarre Eminem conspiracy theory explained.
Eminem's drug and body battle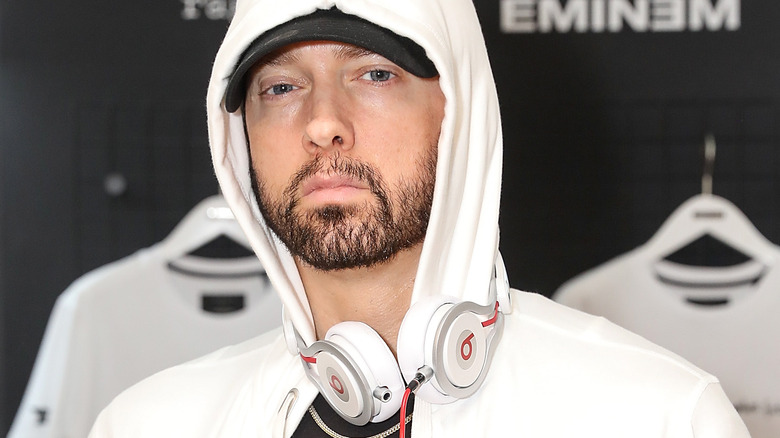 David M. Benett/Getty Images
Eminem grew up in Detroit on the wrong side of the tracks. His struggles and strifes are what make him such a great rapper. His music comes from the soul. It's authentic — unlike aspiring rappers who grew up on the right side of Rodeo Drive — mentioning no names. Sadly, those struggles and strifes are also what fueled Eminem's drug addiction.
Eminem worked his way up to become one of the best rappers. Per Britannica, he's won 11 Grammys and an Oscar, among other awards. However, as his fame grew, his life began spiraling in addition to his weight increasing. "In 2007, I overdosed on pills," Eminem told Men's Journal, adding, "I was close to 230 pounds. ... The coating on the Vicodin and the Valium I'd been taking for years leaves a hole in your stomach, so to avoid a stomachache, I was constantly eating — and eating badly." 
Post-rehab, Eminem swapped his drug addiction for a running obsession, resulting in his weight plummeting to 149 lbs. Not surprisingly, he'd been out of the limelight while he took time off to focus on getting healthy and sober. Eminem admitted to Gray Rizzy that he even had to "[learn] how to rap again" after quitting drugs. When he re-emerged in 2009, Eminem looked different – he looked healthy and alive again. Or not, according to the bizarre Eminem conspiracy theory.
Eminem's Illuminati murder and cloning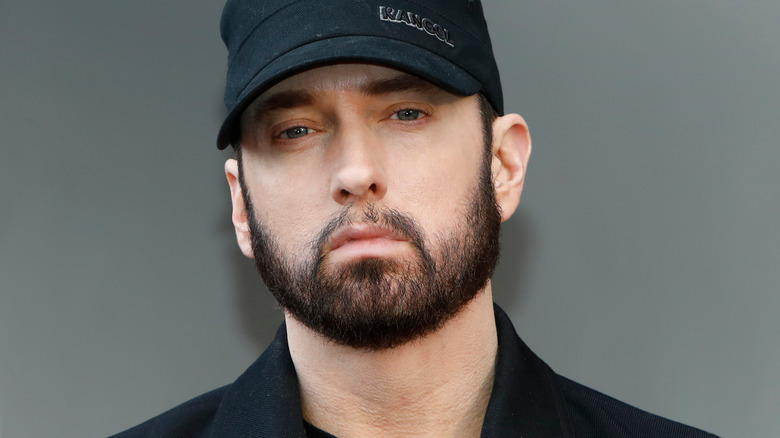 Kathy Hutchins/Shutterstock
All you other Slim Shadys are just imitating, because the real Slim Shady died over a decade ago. This could be a metaphor for addiction and recovery. But, no, it's just a bizarre Eminem conspiracy theory. The Lowdown Truth insists you'll be blown away by evidence of the real Eminem dying in a 2005 car crash and being replaced by a clone. In fact, blogger Robbie Lowdown, who has apparently done his own research, declares, "They can make synthetic clones in a matter of months."
Who is the mysterious "they"? The Illuminati, of course. In a surprise twist, Lowdown claims Eminem spurned the Illuminati's recruitment attempts. So, the nefarious New World Order organization offed him and swapped in a gay, devil-worshiping, morally void, mind-controlled cloned Eminem. Lowdown also insists that if you don't believe it, then you're probably a clone, too.
Meanwhile, Vox lists other A-listers who conspiracists do believe fell for the Illuminati's charms, including Jay-Z and Beyoncé Knowles. "[The powerful and celebrities] seem to live in a different universe than us," Mark Fenster, an expert on conspiracy theories, explained. "They have secret lives and secret access that seems reptilian. We notice how bizarre their lives seem to be and how powerful they seem to be." He points out how ludicrous it is that people still believe in "this sacred group" three centuries later. "The fact that the discussion is alive is amazing," notes Fenster, clearly an Illuminati clone himself.