Body Language Expert Dissects Olivia Rodrigo's Flirtatious Grammys Moment With V From BTS - Exclusive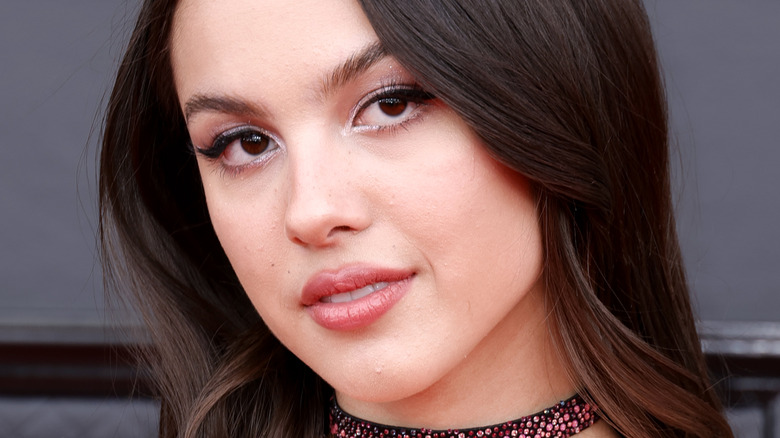 Frazer Harrison/Getty Images
We may receive a commission on purchases made from links.
The 64th Annual Grammy Awards was full of surprising moments at every turn. Reality star Kourtney Kardashian bucked the seating assignment and instead popped a squat on fiancé Travis Barker's lap, guitarist Omer Fedi grabbed a handful of Addison Rae's derriere for all the world to see, and even Grammy Award winner Olivia Rodrigo shared a flirty moment with K-pop boybander V, née Kim Taehyung. 
Per US Weekly, the talented duo pleasantly stunned the masses when V reached over and whispered something mysterious in Rodrigo's ear during BTS' performance of their hit song "Butter." Shortly after, Twitter lit up like a Christmas tree. "I'm sorry but that moment with Olivia Rodrigo and V was hot," one user tweeted. Meanwhile, another gushed, "It was V's quick, sexy look back over at Olivia Rodrigo after he had her watch the stage, for me." 
So what's the real story behind the coquettish celebrity encounter? Nicki Swift spoke with body language expert and communication coach Jess Ponce III to break it all down for you...
Body language expert says the encounter was 'purposefully done'
now bts kim taehyung sir tell me how does it feel to be this close to olivia rodrigo bcs that should be me whispering little nothings to her ears that should be me she's smiling at pic.twitter.com/su4SgD3eWS

— ch STREAM DID YOU LET ME GO (@queenvoree) April 4, 2022
While we may never know what BTS band member V (aka Kim Taehyung) whispered in Olivia Rodrigo's ear, body language expert and "A.W.E.S.O.M.E." author Jess Ponce III told Nicki Swift that he's certain that "it was purposefully done to get a reaction, not only from Olivia, but also fans. Mission accomplished." 
Still, Ponce is adamant that Rodrigo's reaction to the moment V "made his move" and "leaned in and whispered into her ear" was twofold. "Initially, Olivia definitely seemed to be flirting. Her body leaned slightly forward with her eyes looking down, then up to V as she smiled and made small talk. At the same time, she seemed slightly nervous as he sat close to her, looking intensely in her direction," Ponce noted about the encounter. "There were four different parts to Olivia's reaction. First, was shock or surprise as her mouth dropped. Followed by a bit of confusion, seen in her eyebrow movement. She then looked directly at V, as if to seek clarity. Then, when he pulled out a note from behind her, she once again seemed surprised, moving back slightly, but easing into a smile. Those few seconds produced an explosion of expression," he continued. 
As Rodrigo once waxed poetic, "it's always 1 step forward, and 3 steps back."