Jennifer Aydin Reveals She Was The Victim Of A Scary Crime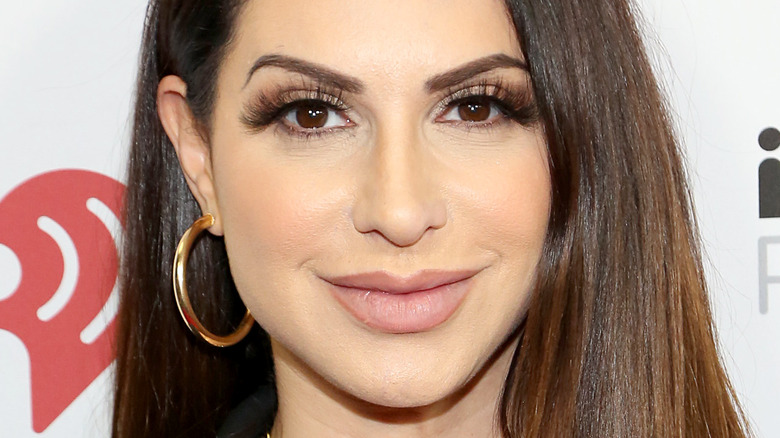 Monica Schipper/Getty Images
"The Real Housewives of New Jersey" star Jennifer Aydin has never been afraid to put her lavish living situation on full display. In a chat with Bravo in 2018, Jennifer gave a tour of her 12,000 square foot mansion that boasts nine bedrooms and 16 bathrooms. The home also had a sizable guest house. "That little house back there, that's actually my shed," the reality star said, per People. "Yes, I know, it's the size of some people's homes, but what can I do? I have a lot of stuff," Jennifer added.
For Season 11 of "RHONJ," Jennifer was given a cash-centric tagline that producers believed matched her preoccupation with wealth. "Whoever says money can't buy happiness, clearly doesn't have my credit limit," Jennifer said in her intro for the season. However, the Bravo-lebrity admitted to being disappointed with the catchphrase because she had become less fixated on material goods. "I'm so over the money thing. We've all established, I'm not the richest housewives ... I don't care," Jennifer told Showbiz Cheatsheet in 2021.
Later that year, another Bravo reality star, Dorit Kemsley, was the victim of a terrifying home invasion. "The Real Housewives of Beverly Hills" star was robbed in her bedroom at gunpoint. "In fear for her safety, the victim complied with the suspect's demands and directed them to valuables," the police said in October 2021, per NBC News. Sadly, months later Jennifer was also the victim of a frightening crime that took place at her own home.
Jennifer Aydin shares break-in footage
Jennifer Aydin took to social media on April 3 to announce that thieves had broken into her home and stolen a car. "Bill and I just got a phone call that Bill's Ferrari was stolen from our garage," Jennifer said in a video posted to her Instagram Stories while away in Miami with her husband Bill Aydin. "The Real Housewives of New Jersey" star also took to Twitter to alert fans in hopes they might spot the stolen vehicle. "Please message any info or if anyone has seen a red Ferrari California, please notify Paramus PD," she tweeted shortly after the incident. Jennifer uploaded surveillance footage to Instagram which showed three masked thieves enter her garage, and three pairs of shoes before one of them sped off in the Ferrari. The reality star mentioned that her children and parents were home at the time, but that was not even the scariest part on the break-in.
Jennifer's 17-year-old son, Justin, had almost come face-to-face with the culprits. "Justin pulled up right as they were leaving my house," Jennifer wrote in the caption of another Instagram post that showed surveillance footage from outside her home. Apparently, Justin initially wanted to pursue the thieves. "It was his instinct to go chase after them, and gratefully, my mom encouraged him to let it go," Jennifer told Page Six on April 4. She was just happy her son did not cross paths with the burglars and that everyone at home was safe.