How Tall Is Conan O'Brien?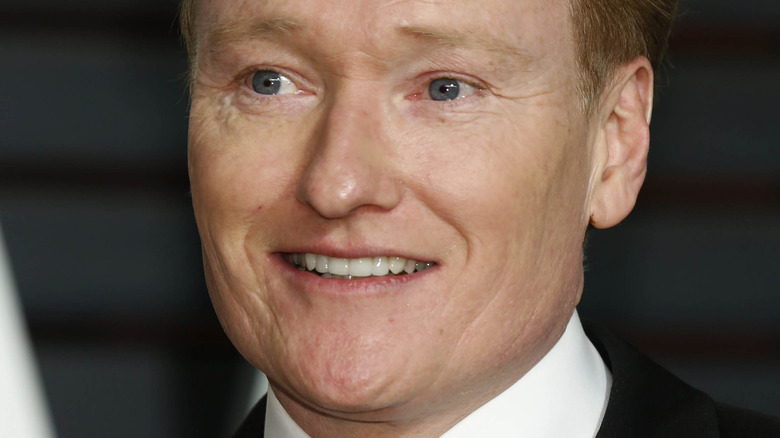 Kathy Hutchins/Shutterstock
There are a lot of things you may not know about Conan O'Brien. Maybe you're familiar with Conan because he's been hosting late-night television for almost three decades. He's won four Emmy Awards for his onscreen work. However, the star is also famous for something else: his appearance. Time added Conan O'Brien to their 2010 list of Top 10 Redheads describing him as a "pale, freckled, redheaded talk-show host with a receding pompadour."
Conan's look was still being talked about in November 2020, when he announced that he was ending his talk show. He told his "Conan" audience at that time, "I'm quite proud of the show that we've been putting out under these very difficult circumstances. Everyone here works hard ... so it seems almost disrespectful to watch a clip of the show and then go to the comments and harp on the one thing nobody really put any effort into, which is my hair." To be fair, his hair had reached a particularly eye-catching state of growth during the pandemic.
Of course, Conan O'Brien is not just known for his red hair. He's also made any number of self-deprecating jokes about his height. But how tall is Conan, exactly?
Conan O'Brien is much taller than average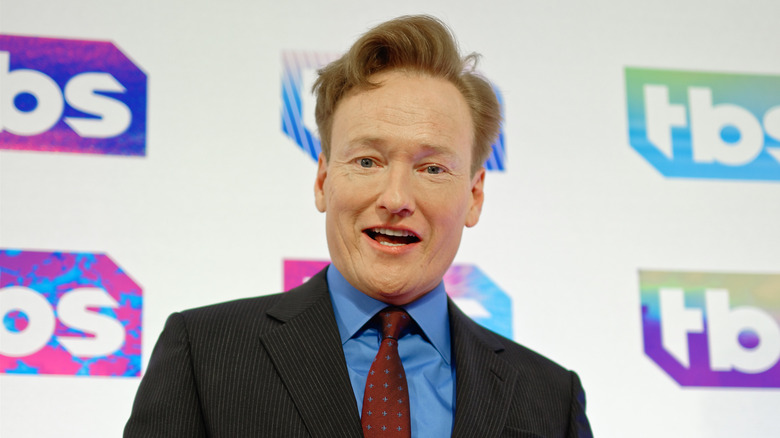 lev radin/Shutterstock
Have you ever wondered how tall Conan O'Brien is? Well, you'll be interested to know that he's six feet four inches tall, according to Celeb Heights. For comparison, the average height of a man in the United States is closer to five feet nine inches, as per VeryWellFit. The talk show host knows that he towers over others, saying to the Chicago Tribune in May 1993, "I'm not radioactive. I'm not growing out of control."
O'Brien, however, is the same height as 19 Campbell's soup cans stacked, and around one-and-a-half hobbits, but not quite eight garden gnomes, according to Bustle's estimations. Other stars who are the same height as O'Brien include Ben Affleck and Liam Neeson, as per Best Life. Tyler Perry and Blake Shelton are a bit taller at six feet five inches, while Prince William is six feet three inches tall. O'Brien is also seemingly taller than famously lanky actor John Lithgow, which led one social media user to tweet, "Wow, for the first time I understand how tall you are, Conan! You're more than one full Lithgow in height!"
It also turns out that O'Brien towers over all of his late-night peers.
How tall is Conan O'Brien compared to other hosts?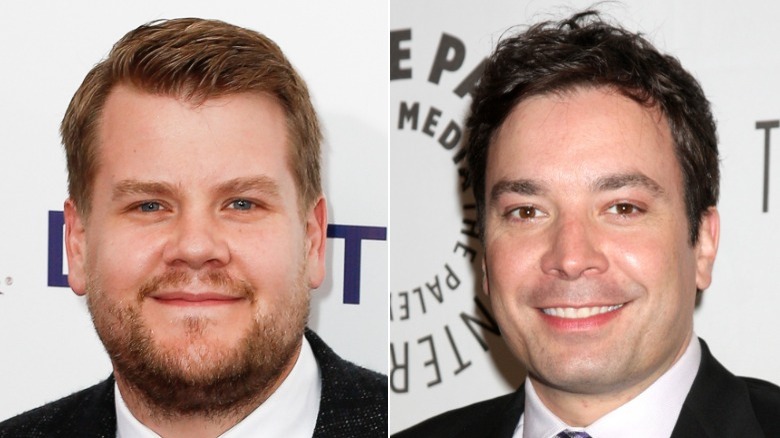 Shutterstock, Shutterstock
Conan O'Brien's height helps him stand out among other celebrities. That's something he pointed out himself while interviewing fellow TV host Wendy Williams — who also happens to be tall, at around five foot ten or eleven inches, as she said on "Conan" in 2012. He explained, "Over the years, I've noticed that a lot of celebrities — especially the men — are smaller ... and I always try to crouch down when I'm near them ... because you want to make them look good on camera."
O'Brien also towers over other late-night television hosts. James Corden, host of "The Late Late Show," is five foot eight inches, according to Celeb Heights, while "Late Night" host Seth Meyers is five foot ten and three-quarters inches. Both Jimmy Kimmel and Jimmy Fallon are just above five foot ten inches tall. "Full Frontal" host Samantha Bee is taller than the average woman at five foot seven inches, according to Celebrity Tall, and "The Late Show" host Stephen Colbert is five foot ten inches tall.
As a longtime and beloved television personality, as well as the tallest person in late-night TV, Conan O'Brien will always be someone that those around him can look up to in more ways than one.