This Is How Far Kanye West Really Got In School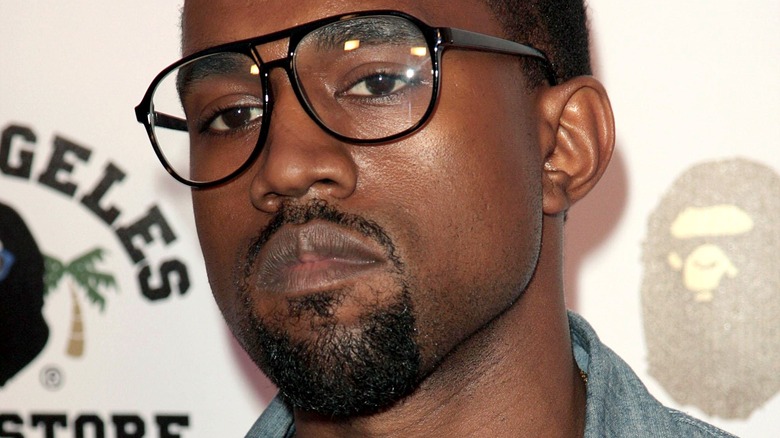 Everett Collection/Shutterstock
Kanye "Ye" West routinely makes the news for his personal life, public feuds with other celebrities, and temporary social media bans. But in spite of it all, the "Stronger" rapper continues to be revered by many in the music industry as nothing short of a genius. 
Countless publications and fellow artists have weighed in on Ye's aptitude over the years. Nicki Minaj told MTV News in 2010 that in spite of her initial reservations about him, "[Ye] is everything that I didn't think he was, and a genius." Even after the "Gold Digger" rapper attacked Trevor Noah in the Instagram tirade that got him banned, the "Daily Show" host responded to the racial slur-filled diss by acknowledging Ye's undeniable talents. "You took your pain and through the wire turned it into performance perfection," Noah replied on Ye's since-deleted IG post (via TMZ). Ye's ex, Kim Kardashian, has also pointed at is brilliance on many occasions, even post-split. "He's the richest Black man in America, a talented, legit genius," she famously described him in her "Saturday Night Live" opening monologue. 
So, aside from his numerous professional achievements, what is it that qualifies Ye as a genius in the first place — and does he have any academic accolades to back it up?
Kanye West hated being a college dropout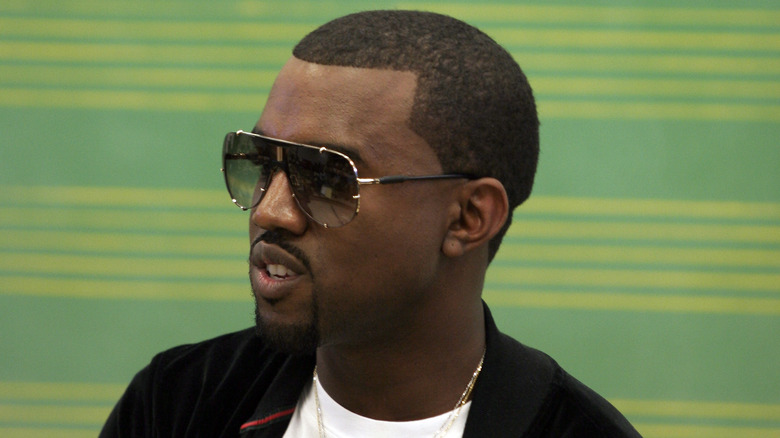 Tim Klein/Getty Images
Kanye "Ye" West took his first steps towards superstardom with his debut album, "College Dropout," which was released in February 2004 — a full seven years after he actually did drop out. Having transferred to Chicago State University from Chicago's American Academy of Art, the then-aspiring 20-year-old left school to chase his musical dreams. It's unclear exactly how far Ye made it into the English program at CSU, but People reports that he attended and left both schools in 1997. 
Despite the fact that, in hindsight, the gamble on his rap career paid off, Ye has been open about how he wished he had continued with his tertiary education. In 2005, Ye held a benefit concert at Santa Monica High School for educational charities he supported. Speaking backstage with MTV, the rapper urged students to seek out an education whenever possible. He also revealed that while he was able to succeed without completing his degree — and that others would be able to do the same — dropping out made the journey significantly more difficult than it could have been.
West expressed similar sentiments in a 2015 address at The Oxford Guild, sharing that he wished he had done more research ahead of going to college. "If I could have done it all again, I would have gone to the Art Institute [of Chicago]," he said (via BlackBook). There, he felt he "could have got the best and strongest education."
From dropout to honorary doctorate
Timothy Hiatt/Getty Images
There's no denying the impact Kanye "Ye" West has made on the arts since dropping out of college. One esteemed establishment set out to recognize those achievements. In 2015, Ye was commended for his contributions to the arts with an honorary PhD from The School of the Art Institute of Chicago (SAIC). In its announcement of the honor, SAIC wrote, "West often provokes cultural discourse. He is an advocate for education, and a thinker and maker who often uses his work — his lyrics, videos, performances, fashion designs, and paintings — spur cultural discourse on important social issues." 
In his acceptance speech, Ye doubled down on his prior statements regarding the importance of education, as well as how much easier his path may have been had he chosen to complete a degree from somewhere like SAIC. Well, with not just a degree, but now a doctorate from that very institution under his belt, it's safe to say, mission accomplished!
As a bonus for West's fans, and true to form, the rapper also joked in his acceptance speech, "This honor is gonna make your life a whole lot easier. ... You don't have to defend me as much." By that, he seemingly meant that his expertise has been officially acknowledged, and debates to his genius have been settled, once and for all. Personal life aside, there's no denying that West is a musical mastermind — and he's got the degree to prove it!