Kanye West Goes Too Far With Attack On Trevor Noah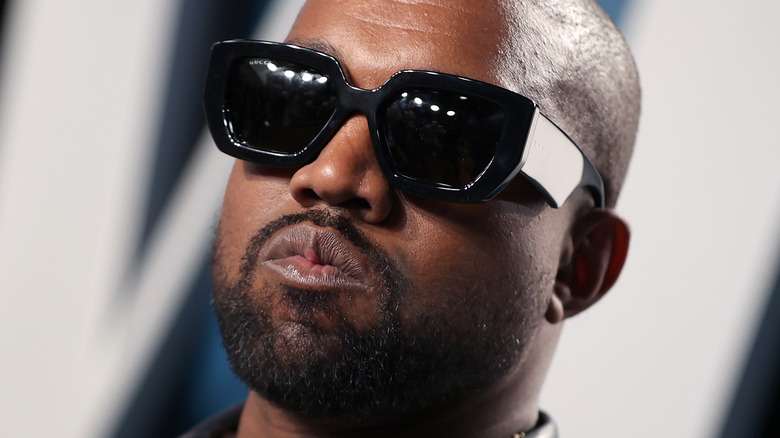 Rich Fury/vf20/Getty Images
Ever since Kim Kardashian went public with her romance with Pete Davidson in October 2021, Kanye "Ye" West has taken to his Instagram account to make his feelings about the matter well known. Ye has dissed Davidson so much that it's been hard to keep track of all the times the rapper has called the "Saturday Night Live" star "Skete" or had something to say about his appearance and character. If that weren't enough, Ye has also sent disturbing messages to Davidson, not-so-subtly threatening Davidson on his song "Eazy." 
After staying quiet for months, Davidson reportedly had enough of the harassment and reached out to Ye in a series of scathing text messages. "I've decided I'm not gonna let you treat us this way anymore and I'm done being quiet," Davidson wrote to Ye, per BuzzFeed News, adding, "Grow the f*** up." When Ye asked where Davidson was, the "SNL" star savagely responded, "In bed with your wife." 
And while Davidson is thankfully finding some humor in the situation, if there's one person who probably isn't laughing right now, it's "The Daily Show" host Trevor Noah. That's because after Noah publicly questioned West's controversial behavior, the rapper responded with an attack that has everyone saying he went too far.
Kanye West used a racial slur to call out Trevor Noah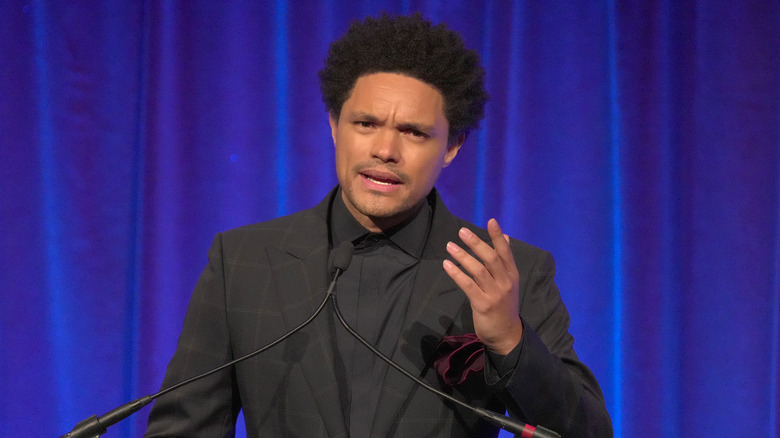 Kevin Mazur/Getty Images
Kanye "Ye" West took aim at Trevor Noah after "The Daily Show" host suggested the ongoing feud between the rapper, Pete Davidson and Kim Kardashian could have some serious consequences. On the March 15 episode of "The Daily Show," Noah recalled his mother's own experience with domestic abuse and spotlighted Kim's pleas for Ye to leave her alone. "If Kim Kardashian cannot escape this, then what chance do normal women have?" he said, per the Daily Beast.
Ye seemingly responded to Noah's statement on March 16 by sharing a since-deleted screenshot of Noah's Wikipedia page to Instagram, writing, per Page Six, "All in together now... K**n baya my lord." It didn't take very long for Noah to respond, commenting under Ye's now-deleted post, "If you're just joking about it all and I'm an idiot for caring, then so be it. But I'd rather be the idiot who spoke up and said something to you in life, than the cool guy who said nothing and then mourns for you in prison or the grave." 
As explained by Page Six, Ye used a racial slur to replace the lyrics in "Kumbaya" and fans were outraged by Ye's choice of words. "For someone who claims how close they are to God, and then using a gospel song to use a racial slur," one Twitter user called out Ye. "No racial slurs were needed for Ye to fire back," another wrote.