Selling Sunset Star Amanza Smith's New Face Tattoo Is Turning Heads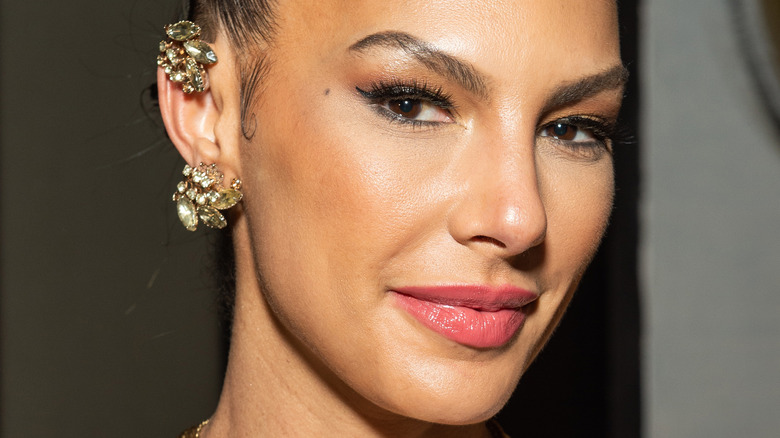 Amanda Edwards/Getty Images
Tattoos are often seen and thought of as a form of expression in celebrity culture. Many celebrities choose to get inked to mark a special occasion or to add to their collection with styles, ranging from delicate and detailed to large and in charge. The amount of tattoos one can get are endless. Celebrities like Justin Bieber and Adam Levine have most of their bodies covered in tattoos, while Selena Gomez and Hilary Duff have been more deliberate about their tattoo placements.
While tattoo culture is big among celebrities, there are lots of cases of celebrities making bad decisions. Presley Gerber, son of supermodel Cindy Crawford and businessman Rande Gerber, raised eyebrows after he tattooed "MISUNDERSTOOD" on his face a few years ago. He has since removed the tattoo from his face, according to Page Six. However, it seems like the face tattoo trend has not gone away, as "Selling Sunset" star Amanza Smith has debuted a new tattoo — and its placement has fans turning heads.
Amanza Smith went 'hard' with her new ink
Amanza Smith has shown off some brand new ink. The "Selling Sunset" star took to her Instagram on April 5 and gave fans a look at her last tattoo session, where she got several new tattoos — including one on her jawline. "Go hard or go home," Amanza captioned the Instagram carousel, which showed a video of her getting the word "invincible" tattooed below her jawline. "Yes technically it's a fave [sic] tattoo," she said, before reassuring fans, "You can see it only when I look way up though! I'm crazy y'all but not totally crazy!" Amanza also got other smaller tattoos on her hands and ear.
The designer's friends weighed in on her new ink in the comments, with Tina Louise writing, "That's ma girl." Meanwhile, Emma Hernan wrote, "You're the coolest human I know!" However, fans were less receptive to her jawline tattoo, with one user writing, "Love tattoos but can't believe you would have one on your beautiful face."
Although Amanza hasn't explained the meaning behind her "invincible" tattoo, it is likely that she got it to commemorate winning her custody battle last September. Per Us Weekly, Amanza was awarded full custody of her children — daughter Noah and son Braker — after her ex-husband Ralph Brown went missing. "I'm relieved that this long process is over. It's been incredibly hard on me and especially the children," Smith said after the ruling was handed down.