The Real Reason Andy Cohen Felt Distressed After Taping The RHONJ Reunion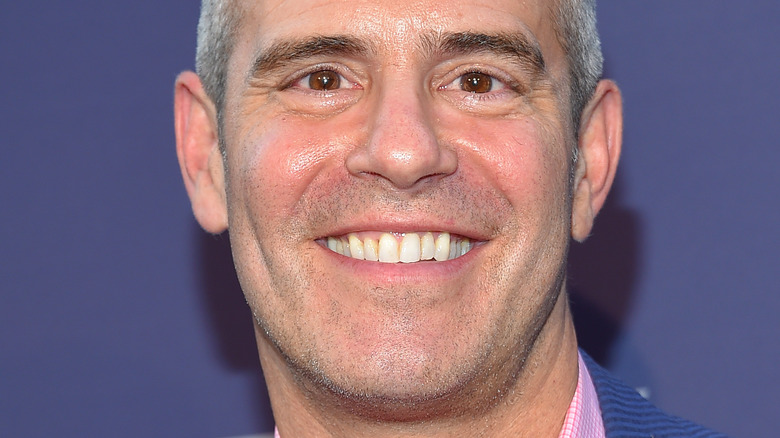 DFree/Shutterstock
"The Real Housewives of New Jersey" fans cannot contain their excitement. It seems as if Andy Cohen is teasing that a fireworks reunion is in store that may even rival the early days of the Bravo show. Season 12 of "RHONJ" had its fair share of drama with Teresa Giudice defending her beau, Bill Aydin cheating on his wife Jennifer, and the mysterious reason Jennifer is mad with Dolores Catania after she defended her. Dolores herself admitted that "things could get ugly" because tensions are high.
As "RHONJ" fans know, original cast member Teresa does not hold back when she gets emotional. Who can forget how she shoved Andy Cohen into the chair while going after Danielle Staub at one of the first reunion shows? It was for this reason that her daughter Gia shared on her Instagram Story that Tre would not be able to yell during the reunion show, as the OG "RHONJ" star had emergency surgery to remove her appendix shortly before filming.  Andy also told Teresa before taping the episode that she "can't yell today. Doctor's orders." The host explained, "You're someone who gets typically very fired up." Andy also ordered Tre, "You're going to grab me if you need to scream."
It seems as if he was nervous that things could get out of hand. And while the reunion episode is still to be aired, Andy has revealed that what went down was shocking.
Andy Cohen says RHONJ Season 12 reunion taping was 'upsetting'
Andy Cohen has now made it clear that it was not easy taping the reunion show for Season 12 of "The Real Housewives of New Jersey." The host posted a video on the "Watch What Happens Live" Twitter feed that revealed that it was "upsetting." He told Dolores Catania, "It reminded me of the early Jersey reunions." She confirmed that it was "The Wild West." Both Dolores and Andy seemed to still be processing what went down at the recording, with Andy noting that "nobody would listen to me."
While everyone expects Teresa Giudice's volatile personality to take over, she is not the only one who had beef during the season. Dolores herself predicted that things would go down at the reunion show. She appeared on Access Hollywood's "Housewives Nightcap" and revealed that she and Jennifer Aydin had not reconciled since Season 12 ended. When the hosts wanted to know what the deal between them was, Dolores could not answer. She only said that Jennifer would clarify things at the reunion. Dolores was angry but said she was at the point where she doesn't "give a f*****g m*****f***." Did things blow up between them?
The only certainty is that something riled Andy up so much that he wasn't "right from it" after the recording, and neither was Dolores. After all, Andy pointed out, "This is what I do," so he isn't easily spooked. And for "RHONJ" fans, that sounds amazing.