The Truth About Tim McGraw's Tattoos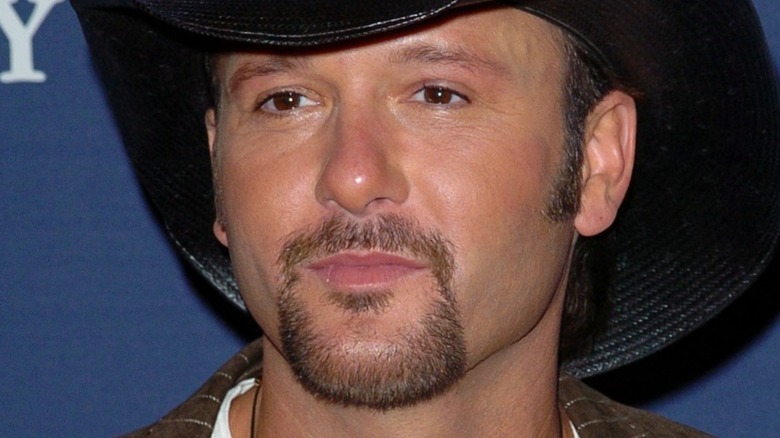 DFree/Shutterstock
Country mega-star Tim McGraw has been around for over three decades. While his self-titled debut album, "Tim McGraw," was no commercial success, per Biography, his second album "Not a Moment Too Soon" did a fantastic job launching him into stardom. The record peaked at No.1 in its first week on the country charts and retained the position for 26 weeks. Between 1994 and now, McGraw has come a long way. He has released over 10 more studio albums, headlined several shows and tours, won multiple awards, and proved himself to be a musical powerhouse.
Outside of his career, McGraw also has a thriving personal life. He got married to fellow country singer Faith Hill in 1996, and for over two decades, the pair has enjoyed a blissful marriage. "We like each other; we do actually do like one another," Hill said on the Today Show when asked about their success. The two also have three daughters: Grace McGraw, Maggie McGraw and Audrey McGraw.
 So when he is not making music or living up to his role as a husband, what does McGraw get up to? Getting inked, apparently!
Tim McGraw's tattoos have deep meaning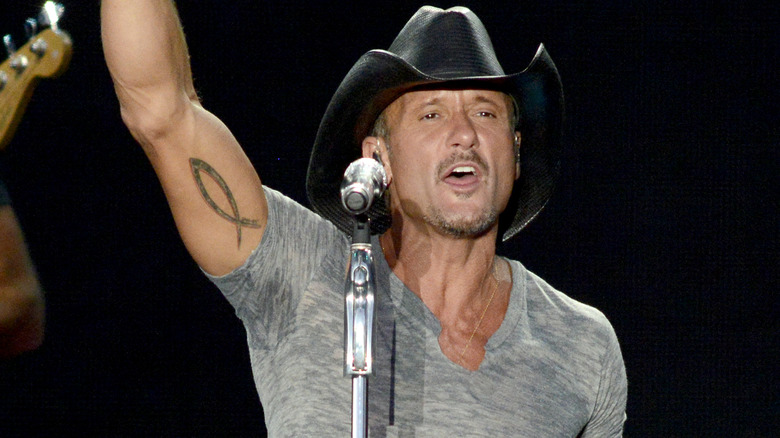 Tim Mosenfelder/Getty Images
For most people who get inked, tattoos hold significant meanings to them. Tim McGraw is not any different. Of his five tattoos, two are tied to his unwavering religious beliefs, like his Ichthys ink, otherwise called the "Jesus Fish," a symbol of Christianity. The Ichthys is next to his "Jan 07" tat, the meaning of which is unclear. However, it could be a nod to his single "Last Dollar (Fly Away)," which was released in January 2007.
Of course, the huge religious symbol on McGraw's arm should come as no surprise seeing the singer and his wife have been very vocal about their religious views in the past. Speaking to Esquire in 2021, McGraw gave his own definition of faith saying, "Blind faith is not true faith. Asking questions and constantly dissecting faith—and still having faith? That represents a truer faith." Speaking of faith — Faith Hill, that is — McGraw wife's name is inscribed on his upper right arm — proof of his love and total commitment. In a 2006 interview with People, McGraw teased Faith about getting a tattoo of his name — and when she declined, he protested, "But, baby, look at my tattoo! That shows how much I love you."
McGraw's fourth tattoo — an ornate cross, is in honor of his family with the different letters on it representing the initials of their three daughters. Additionally, the "I Need You" singer has a "DHD" text on his right leg, an acronym for DanceHall Doctors from his seventh studio album.
McGraw doesn't want his kids to repeat his tattoo fails
Tim McGraw has a lot of meaningful tattoos but there is still one he regrets — his first tattoo. Speaking to People in 2008, Tim revealed that his first tattoo — a leprechaun wearing a hat — was done back in the '80s. At the time, he was only 22 and unsurprisingly, the decision to get the colorful tat ranks high on his list of worst decisions. "It was 3AM in New Orleans, and I was about 22 and drunk," he said "It's not hard to connect the dots!" The arguably weirdest part of the story? The tattoo is on his thigh! 
McGraw has since moved on, and now the country singer tried his possible best to help his daughters avoid similar mistakes. When asked in 2015 by hosts of The Talk whether any of his daughters would be getting inked, McGraw didn't mince words. "My answer is that as soon as you can pay for every bill that you have then that's your choice. I don't like it all," he said.
But one of McGraw's daughters, Gracie, did get a tattoo in 2021 when she was 23. The aspiring actor got an outline of a boot filled with meaningful references to her family, including her parents' initials, and she felt proud enough to share it with her Instagram followers, per Pop Culture. However, Gracie since deleted the pic — so maybe she had a change of heart. Either way, there's a good chance Papa McGraw had a strong opinion on the ink!