Kim Kardashian Reveals How Much Her Kids Know About The Kanye West Divorce Drama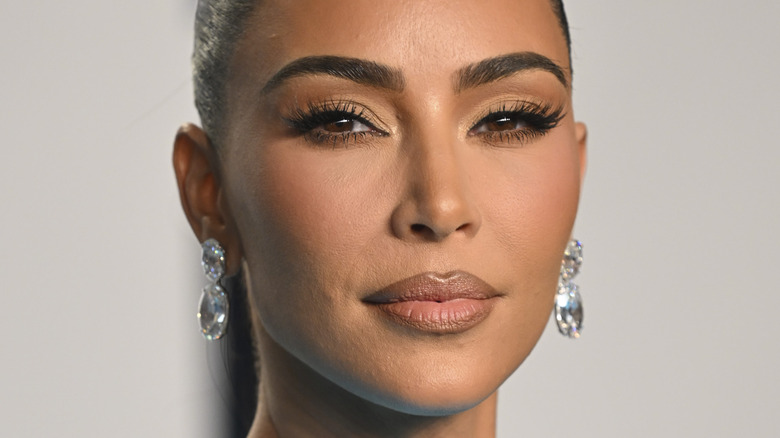 Karwai Tang/Getty Images
Kim Kardashian said that her kids are not entirely oblivious to the drama happening surrounding her and their father, Kanye "Ye" West.
Kim and Ye decided to part ways in early 2021 due to what she described as a "general difference of opinions on a few things." The former couple initially remained civil despite the divorce, with Kim even offering him her support during his latest album release. But things turned upside down when the SKIMS founder started dating Pete Davidson, prompting Ye to constantly attempt to publicly humiliate the comedian and accusing Kim of keeping their kids away from him. Kim managed to be declared "legally single," amid their divorce proceedings and offered a public explanation that none of Ye's claims were true and that all she wants is to co-parent and settle things with the rapper in peace.
With the drama going on between Kim and Kanye being highly publicized, one might wonder if their kids North, Saint, Chicago, and Psalm have any idea of what's happening. According to Kim, she's not keeping her children in the dark.
Kim Kardashian revealed that her older kids "know what's going on"
The last thing Kim Kardashian wants to do is lie to her kids. She shared that her main priority is to be honest with her kids amid the public drama happening with their father, Kanye West.
"The younger ones don't understand as much, but as far as with my two older ones, they know what's going on. You have to really be there for them no matter what," Kim dished during ABC's April 6 special, "The Kardashians", per E! News. "Even in this crazy life we live. You have to have a really open dialogue with your children," she explained, adding that she and Kanye talk regularly. "Kanye and I have had conversations, we have to talk daily for the kids. I hate that it had to play out like that, but when it comes to family, Kanye and I will always be family."
Ye's tirade over Kim and Pete Davidson stopped when he got banned from Instagram, so she might finally have the peace she's been yearning for with her new boo. "I went for it and I took my time," she confessed on "The Ellen DeGeneres Show" in March. "I found it and it feels so good. I want to hold on to that forever."